I found this red pine at a nursery approx 8 years ago. I repotted it into better soil, root pruned and let it grow. I took it to a Walter Pall workshop in Richmond, VA (approx 5 years ago) and took his advice by pruning a major branch and creating a shari. This simplified the tree. I want to find a nice pot; I'm thinking of a flared semi-cascade type pot with nice feet, but am open to suggestions. I keep changing my mind on the front, which leads me to a round pot (again...

). I may change the planting angle to let it slant more. Any thoughts? All comments welcome. Thanks!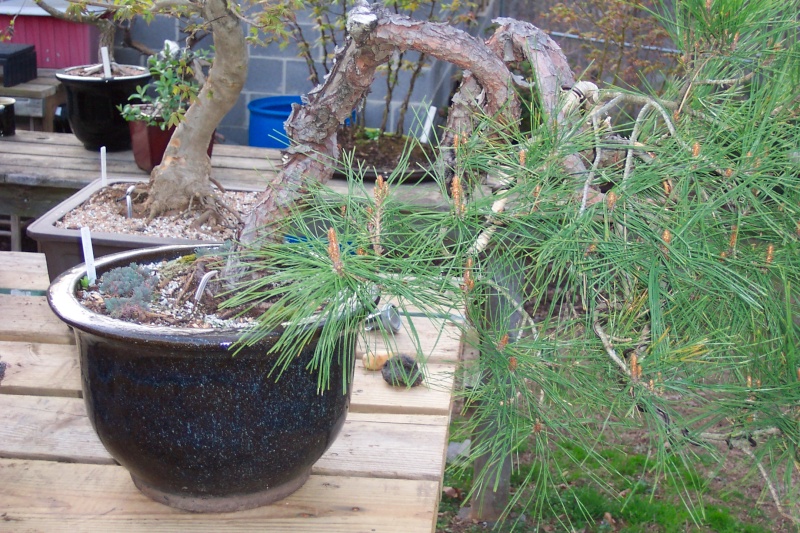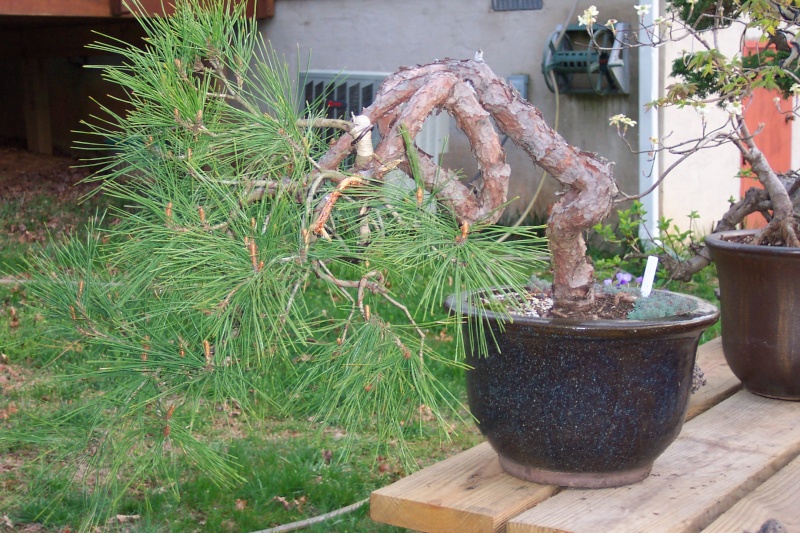 Todd Ellis

Member





Hi Todd.
I like your tree very much.
Concerning the front I would go with the front on the second picture. The movement of the trunk is much more visible from this side. The only reason why go with the other side is a better nebari, which I'm not able to see on the photos.

rolandp

Member





Hi Todd, Very nice pine! I like the front view of the first and third pics, opening the foliage a bit so you can view the movement of the trunk through the foliage instead of looking right at it. A bit more tantalizing and somewhat more mysterious than a full frontal shot. I think a round pot would simply say that you couldn't make up your mind one way or the other. The tree has definite movement left or right, whichever you choose, but not much up and down. A tall pot would give some vertical movement and a square or rectangle would define front from back. I see the same nebari I've seen on several nursery stock trees, caused by topping off the pots with soil and allowing roots to circle around the base of the trunk. Very nasty and I have'nt yet discovered how to alleviate the situation. The roots fuse to the trunk in horizonal lines instead of radiating outward from the base like you want a good nebari to do. On one Mugo I've been cutting away a little each season, trying to get to the original roots without killing the tree. I can see the good roots beneath these ursurpers. I made the mistake early on and will not buy trees that have this root formation anymore. There's just too many good trees to buy. Good luck with this one, can't wait to see what you decide to do


RKatzin

Member






---
Permissions in this forum:
You
cannot
reply to topics in this forum