I thought I'd show this Elaeagnus I've been working on for a few years now. I bought it as unstyled prebonsai/nursery stock several years back from a vendor at a bonsai event our club hosts here in Mobile. At that time all of the surface roots were buried and it stuck straight up out of the pot like telephone pole. I wish I had taken a picture before the hard pruning, but it won't take long to fill back out.
In a funny Chinese pot with "feet"...
From the top...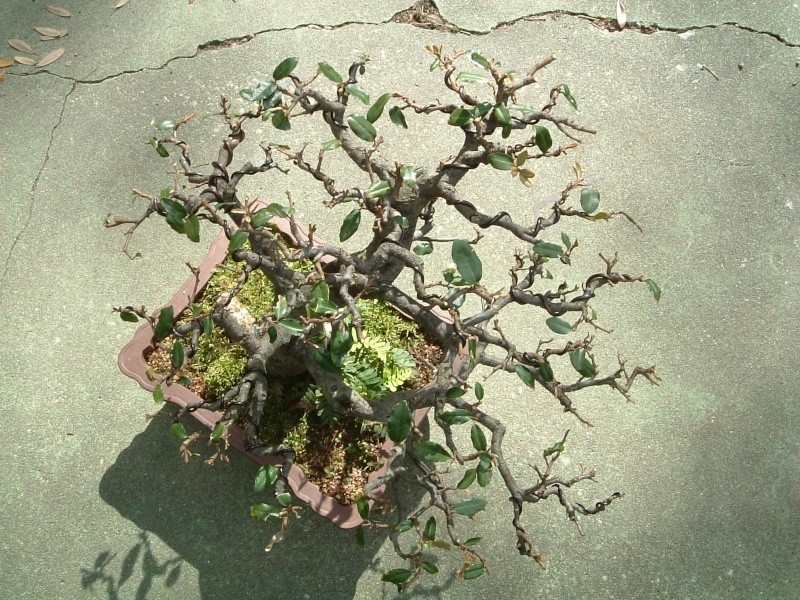 In the new pot, old Yamaaki...
Russell

Russell Coker

Member





Russell, love the pot but the combo is even better! Good job.
Wood
Howzit Russell,
Nice job on the tree.
Good pot selection.
-Tim


Hawaiian77

Member





I like this pot a lot more. Good work with the progression. You should be very satisfied


Joe Hatfield

Member





Very nice tree and beatiful pot Russel .
One question , what soil mix you use?

Hombre

Member





Thanks y'all.

The soil mix is sifted pine bark, turface and crushed red lava (flower rock) - 1/3 part each. What you're seeing is sphagnum that I soak in water for a week or so. You have to soak it until it really almost starts to break down. Then I pull it out of the bucket dripping wet and cover the loose soil with a solid but thin layer mashing it into place. It helps keep the soil evenly moist and helps hold it in place until the new fine roots can grab. We did this in repotting satsuki in Japan when using Kanuma soil and the difference between with and without was dramatic. I do it with everything and it really helps.

Russell

Russell Coker

Member





Hey Russel,

Nice tree. How small is small?

Even though I have not seen one as a bonsai in my neck of the woods, I recently noticed the hedges at Melbourne Airport parking lot (where I seem to spend a lot of time) were all Elaeagnus so this past year I started 3 on their bonsai journey.
A shohin, a medium size and a large one.

Rob Kempinski

Member





Thanks.

The pot is 13 inches long (outside) and the tree is 16 inches tall from the pot's lip.

Small in my book, anyway.

R

Russell Coker

Member






---
Permissions in this forum:
You
cannot
reply to topics in this forum