toggsie

Member





"WOW" Cuz.... thats really nice!!
I love Azaleas. I just got in a "Niigara Kirin" Azalea a few days ago that I repotted. About how old is this azalea?
-Tim


Hawaiian77

Member





Hi Hawaiian77, it is approx 25 years old and is called 'ozakazuki'
It never lets me down and flowers like this year on year it the first of my trees to flower.
Can I suggest that you visit
www.satsuki-azalea-society.org.uk
web site - look after the site as webmaster and you might find it interesting.
Thanks for your post.
regards
toggsie

toggsie

Member





A "Big" Mahalo (Thank You) for the link.
Just went to the website and they have a lot of great information.
Do you have and more Azaleas? All mine are pre-bonsai. I have besides the "Niigara Kirin" a "Chinzan", "Kokinshi", "Hoshi no Sato" and a "Nuccio's Carinval". Thats the only one that is not Japanese.
-Tim

Last edited by Hawaiian77 on Sun Mar 28, 2010 10:06 am; edited 1 time in total

Hawaiian77

Member





wonderful !!!
Hi Tim and Mendo80 - thanx for your comments.
Tim I have approx 50 azaleas including pre-bonsai some of which can be seen on the link I gave you.
I have several pines, larch, elm and some rhodo's - keeps me busy!
I am web master for the
www.cornwall-bonsai-society.co.uk
as well as the SAS which you might like to visit.
Thanx again for your comments and interest
Regards
Barrie
[img][/img]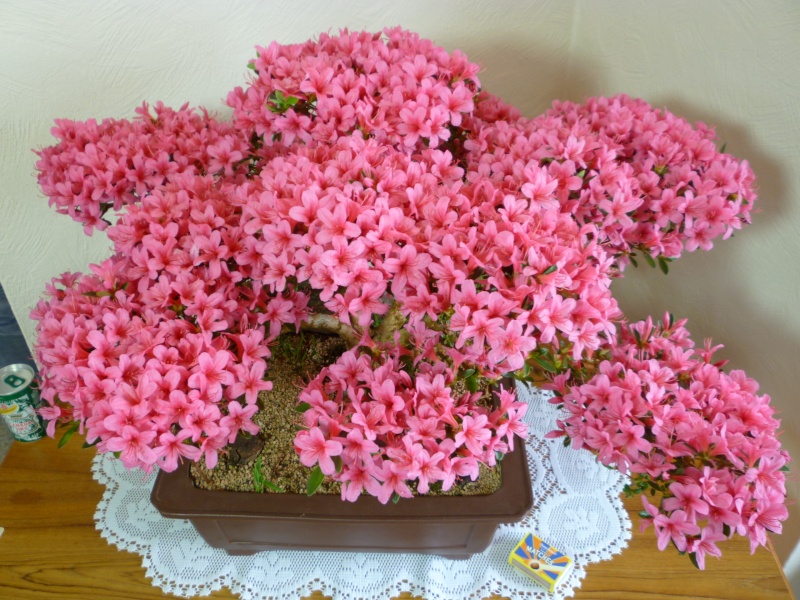 toggsie

Member





Nice little tree . . . but you do need to weed your pot before all that gets away from you.
_________________
Jim Lewis - lewisjk@windstream.net - Western NC - People, when Columbus discovered this country, it was plumb full of nuts and berries. And I'm right here to tell you the berries are just about all gone. Uncle Dave Macon, old-time country musician

JimLewis

Member





Hi Jim - thanx for your comments.
The Weeds that you see are minature bamboo - which I think enhances the appearance of the tree. It is a personal viewpoint though. I do understand where you are coming from though.
Regards
Barrie

toggsie

Member





Bamboo, like grass, has a very dense root system. I'd think it would soon fill your pot and compete with he tree.
_________________
Jim Lewis - lewisjk@windstream.net - Western NC - People, when Columbus discovered this country, it was plumb full of nuts and berries. And I'm right here to tell you the berries are just about all gone. Uncle Dave Macon, old-time country musician

JimLewis

Member





Hi Jim - thanx for your comments.
I am sure that you are correct in pointing out the competition between tree and bamboo. However as you can see the pot is very large for the size of the tree and I suppose that traditionally I should reduce this size by half, I feel sure that then I would need to 'Get the Rake and root cutters out.' If the bamboo gets a bit rampant I just cut it back and I have done this for several years.
I guess that I like my bamboo and it always gets talked about when my bonsai buddies see it, however if I was a traditionalist I would be 'drummed out' of the clubs.
Best wishes and thanx again for your observations.
Barrie

toggsie

Member






---
Permissions in this forum:
You
cannot
reply to topics in this forum