I've been getting bonsai ready for the big show next week at the San Mateo Event Center, March 24-28.
The image is a collected Coast Live Oak, quercus agrifolia, in a pot by Dale Cochoy. Height including pot is about 38 inches.
Several years ago I removed all the lower branches and carved the shari in the trunk. I've been working to develop the foliage canopy, and it's come along this year to the point of being show ready.
The foliage is all new this spring. Feeding and trimming off the old leaves has caused all the buds to develop new shoots, and luckily, just in time for the show.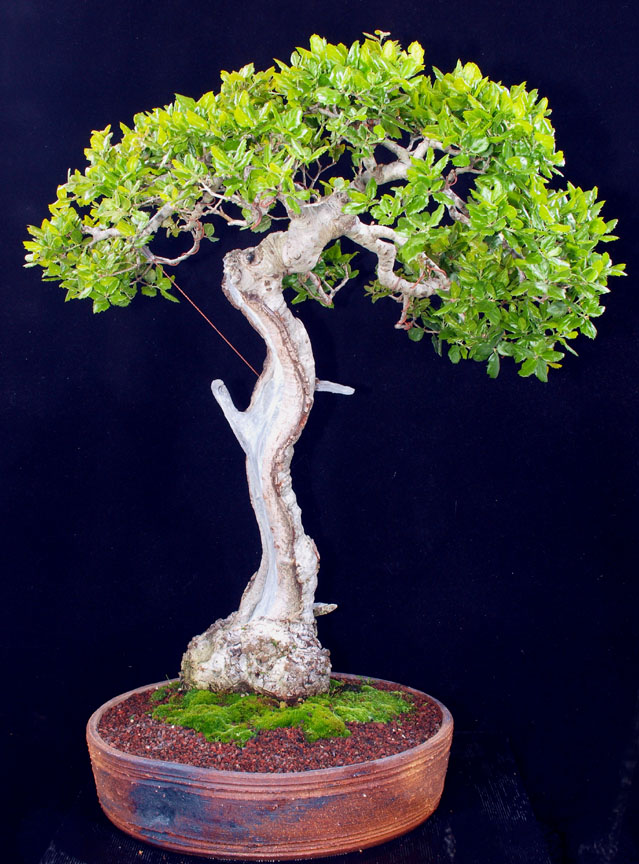 mike page

Member





Howzit Mike,
When you go the flower show tell Tricia from
http://essenceofthetree.com/
that Tim from Maui said "Aloha". BTW, nice job on the Oak, cool looking bonsai pot!!
-Tim


Hawaiian77

Member





Beautiful tree, Mike. Will you post pictures of the show for us?
Thanks, Todd

Todd Ellis

Member





Really nice tree Mike. Are you going to show it with the wire?

Enjoy the show!

Jaco Kriek

Member





Todd, I'll try to get a few good pictures of the show to post.

Jaco, the wire has to stay. It doesn't stand out as much in real view as it does in the picture. I think it's more important to keep the foliage canopy in proper shape. Also, this show is more for the general public, and it gives them a question to ask about training branches.

mike page

Member





Wonderful Live Oak Mike...one of my favorites...enjoy the show...

Pat…mounted on my trusty stead, riding off wildly in all directions…

bonsaistud

Member






---
Permissions in this forum:
You
cannot
reply to topics in this forum