A
National Bonsai & Penjing Museum
stone collected & donated by Bob Carlson (active in
California Suiseki Society
) is displayed in a Japanese-style alcove prior to entering the
Potomac Viewing Stone Group
exhibition...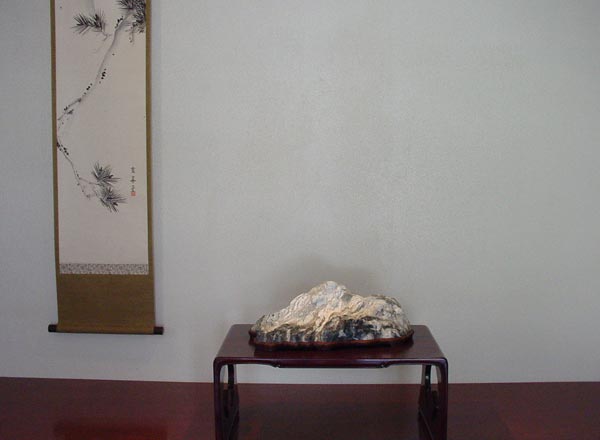 Exhibit poster...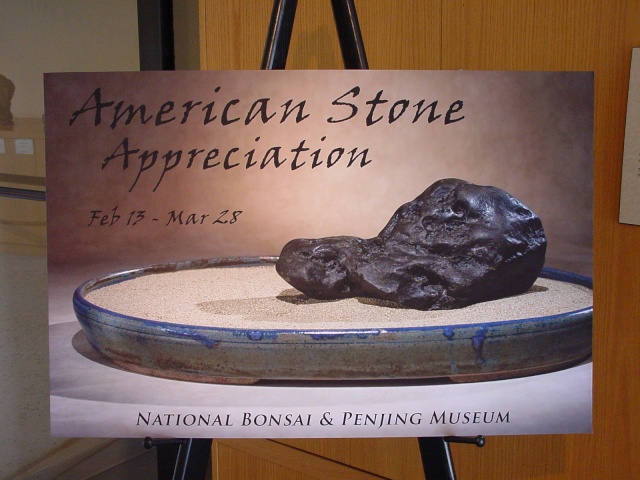 Entrance view...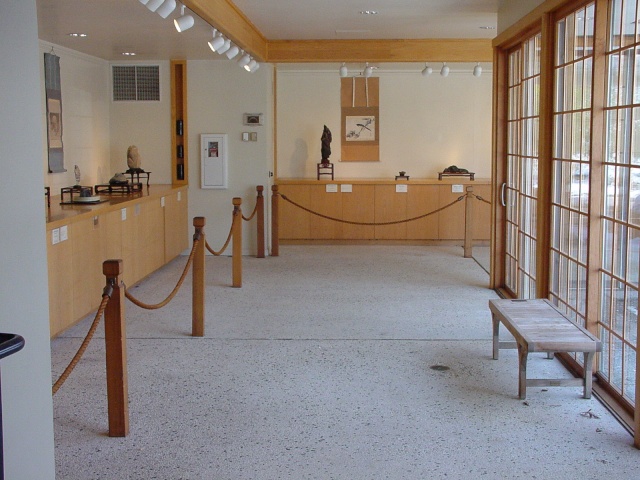 First stone in exhibit-- 21" long x 13" deep...
Continuing along the first of three long tables...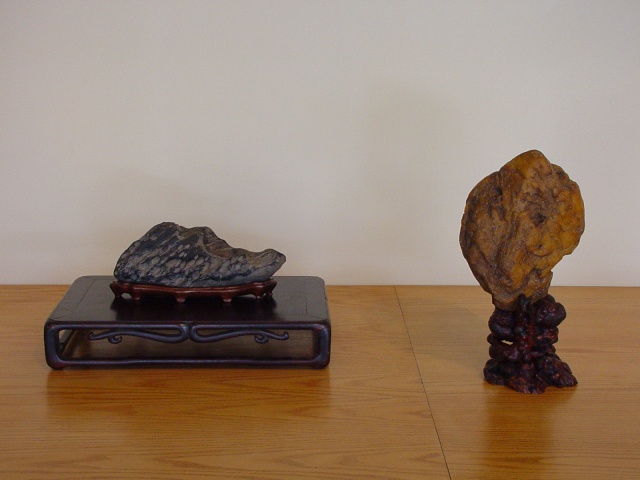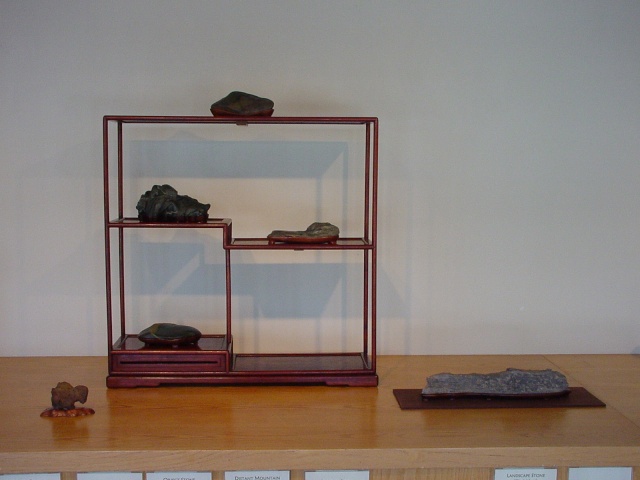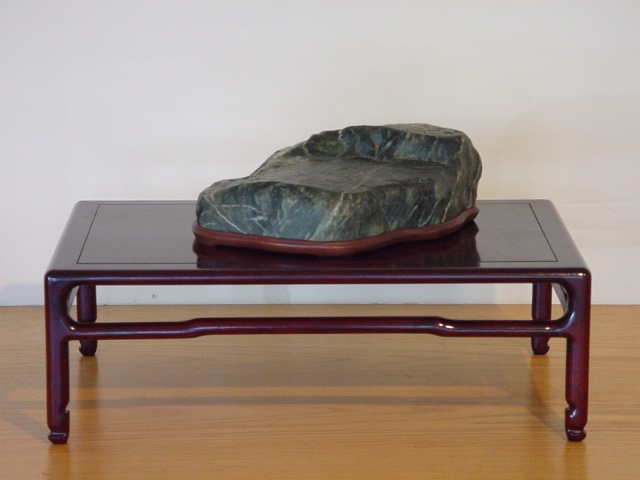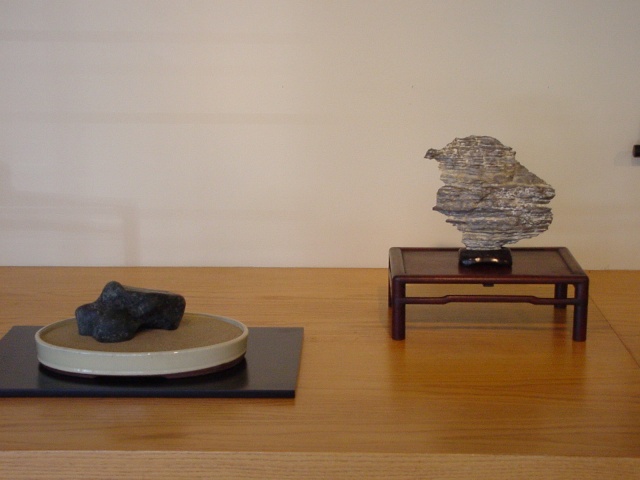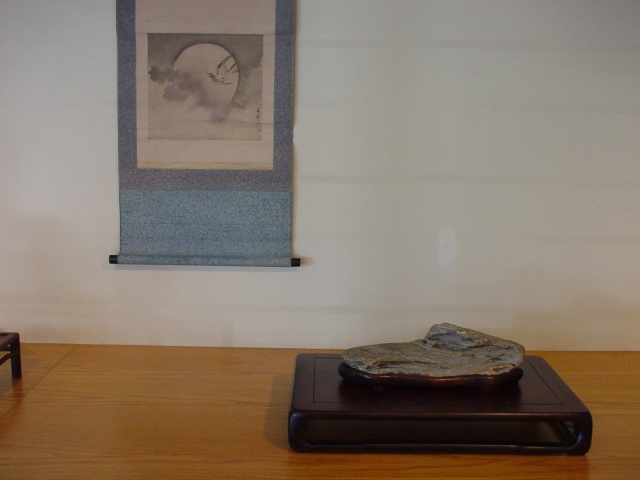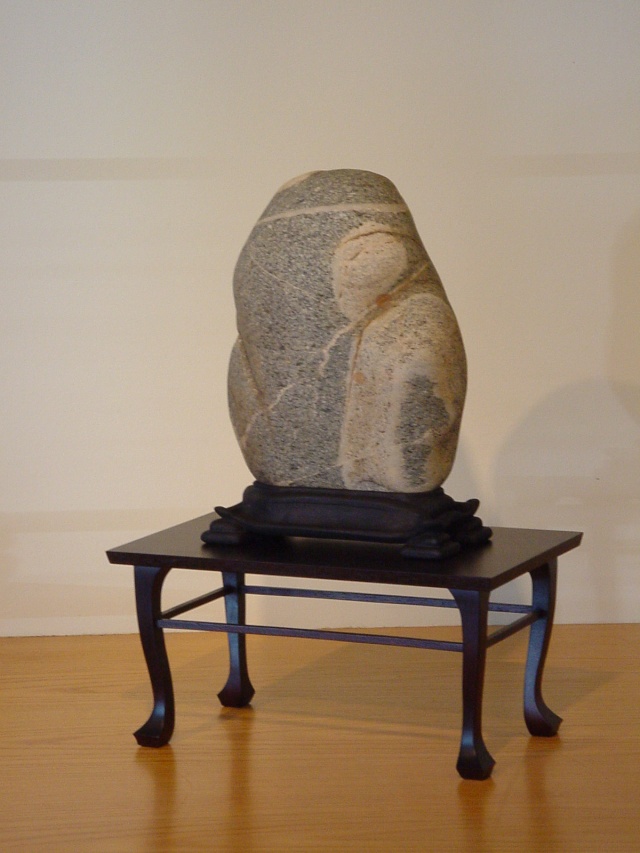 Looking back on first of three tables...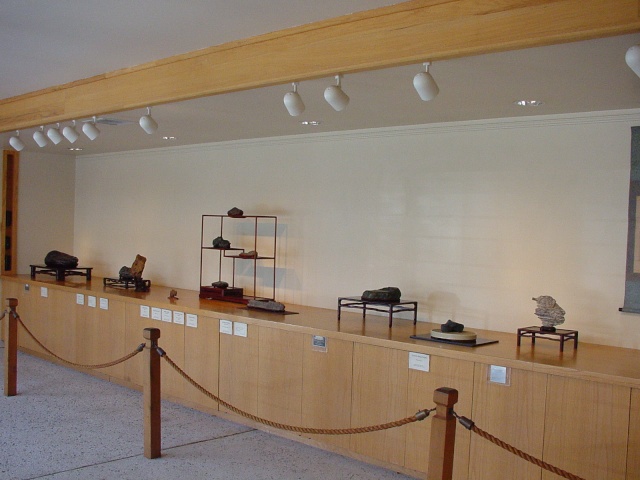 Chris Cochrane

Member





Chris – Thank you for sharing these. What a beautiful exhibition! In particular I like the "First stone in exhibit." It's beautiful and the seat is very nicely done. Do you have any particulars on it such a provenance, collector, stone type, etc.?

Thanks again,
David Brunner
Hi David... It is great to hear from an IBC friend whose interest in stones is a VERY pleasant surprise. I wrote the stone's owner as well as an NBP Museum curator & the club show coordinator to get better answers than I can readily give, but haven't heard from them, yet.
The stone was collected by Eorl Carlson, who has been president of
California Suiseki Society
& only recently moved to Washington DC to study law.
Potomac Viewing Stone Group
has lots to learn from his experience. Eorl very generously had the stone shipped from California by his father Bob. Thomes Creek (California) is a favorite collecting site for Eorl, and this stone might have been collected there. The location is tagged in the exhibit. Here is a closer photo...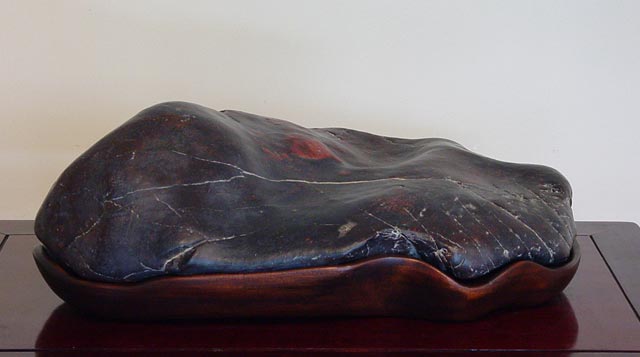 At 21" in length, this stone is massive. Eorl amazingly lifted it over the display table to set it by-himself in the daiza. I should have snapped a photo of that feat, but was awkwardly gawking. Ahh..., youth!

Chris Cochrane

Member






Chris Cochrane

Member





Chris,

Thanks for the additional information and the additional photos. As to my interest in stones… you might be surprised. I just don't seem to get around to posting any! That needs to change. (There's always tomorrow, right?)

David Brunner
Chris -

Thanks very much for sharing the stones from the exhibit. There are a few that I recognize, and I still wish I had just one more trip to the Shenandoah. Oh well, no matter how many times I went, I would always want one more. Do you have a close up of the two stones that are next to last on the center table? From what I can see (and what I can remember), they look like they may be Glenn's stones (metabasalt)? I seem to recall similar looking stones from the Richmond Bonsai Society meeting on stone appreciation. I could be wrong, and either way they look like they have wonderful color.

One last question, is the first stone on the center table Shenandoah limestone? Do you have a closer shot of the stone (and stand)? I'm oscillating between using either a stone trough or building a wooden stand for my large limestone stone (the one with the hole at the top).

Best regards,

Christian
Wonderful show, great stones and really good photography, thanks for posting them Chris.

Eorl Carlson's big stone looks like it could be jasper to me. Lovely specimen with an excellent daiza. I'd be frightened of placing the stone in!

_________________
"It is not the strongest of the species that survives, nor the most intelligent. It is the one that is the most adaptable to change." - Charles Darwin.

Kev Bailey

Admin





Thanks for continuing thoughtful sharing & encouraging me to learn more... David, Christian (chansen) & Kev.
Eorl Carlson has sent detailed information on the first stone in the exhibition.
... the stone was collected on the Eel river when I was thirteen years old; the area the stone was collected in can be seen in Dr. Rivera's book. It was collected roughly 100 feet from where the picture was taken. While not exactly sure of the stone type, I believe it may be jasper given the black and red colors.

The stone would be classified as a Doha-ishi (slope stone). It has been exhibited at the Asian Art Museum of San Francisco twice as well as two California Suiseki Society shows. My father, Robert Carlson, made the daiza out of teak; it was certainly quite an undertaking. Most of the base needed to be hand carved because the stone is uncut.
The crafting of the daiza for this immensely heavy stone is
truly
amazing. To find that stone at age 13 & have its daiza crafted by your father...
!!!

Chris Cochrane

Member






---
Permissions in this forum:
You
cannot
reply to topics in this forum