Page 2 of 2 •
1, 2

Chose the branches, wire them initially, wait till you get your desired thickness of the branch then hard prune then wait again etc.etc.
Bougies are fast growers so you realy dont have to wait too long maybe three years will be enough to finish one. Bougies being flowering bonsais dont need too detailed ramifications although its good to have one you dont have to show them in the leafless stage, show them when its in full bloom like this one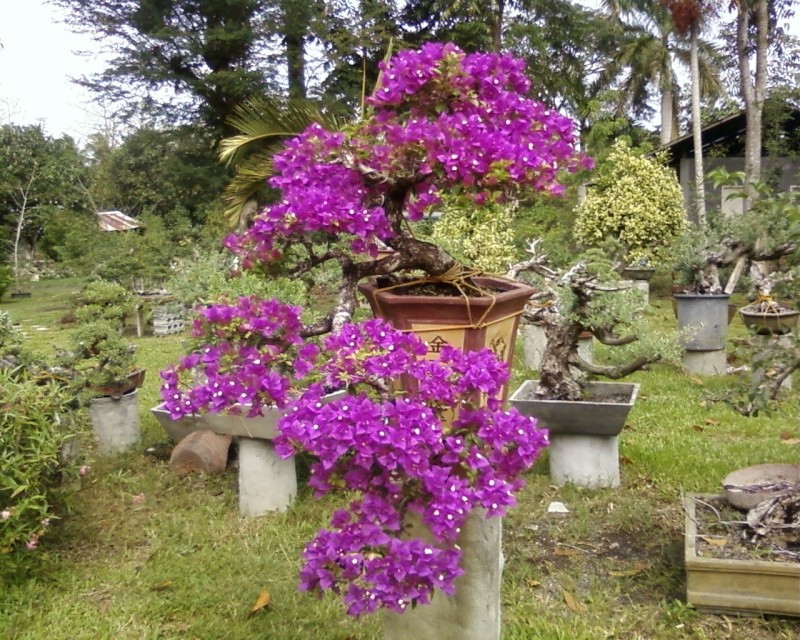 Ka Pabling

Member





very nice pre-bonsai material. this year i am working on one but Literati style. nice to see good pre-bonsai. i hope i get to see you and Ernie at our October convention in Miami. Yes the Bonsai Society of Miami is having our Annual Bonsai Show. Keep up the nice work. Hiram

hiram

Member





Dorothy,

That's a very nice tree. I really agree with ROb and Pabling (by the way, excellent comments about climate control over bougainvillea, Rob). Combining both wiring and directional pruning is the best way to achieve maturity on this species.

If i might point out, your tree is currently suffering from chlorosis due to excess water in the root system. From the pictures, i can see the tree is planted in stright volcanic cynder. If this is true, i think it might be the root of the problem. Colorado Lava holds entirely too much water. Please take a closer loof at the left side of the base for any water damage, as i suspect that close to the anchor wire there might be a little sap withdrawal.

Kind regards,
Jose Luis

jrodriguez

Member





Excellent observation Jose Luis about chlorotic leaves and green near bottom of trunk on Dorothy's tree. I was wondering with all the extremely cold night time temperatures(below 48 degrees almost nightly past 1 1/2 months) plus limited daytime hours where temp. rises above 72 degrees that tree has gone into extended dormancy. I use very large particle size lava rock from Utah(it is red and black) instead of that Colorado lava rock company(too mushy) and I think gravitational pull of water from spaces between particles keeps it from being trapped among roots. Just another thought. Dustin
I don't know, This tree doesn't look like it has any real potential.
You should probably throw it away...
Better yet, you should throw it MY WAY!

Nice tree, nice start!
Jay

Jay Gaydosh

Member





Jay,
Thanks...I think

Sure...Its on its way..any room in that cold frame of yours? It was once an Illinois resident. Not too far down the road from you either.
Take care,
Neil
It would be a tight fit, but I guess I could sqeeze it in, if I had to. But, then I wouldn't have room for the 20 or 30 trees I will collect this year. It is, after all, an addiction!

Please take the time to post pictures when you remove the old lead. I would love to see how that transitions the tree for the future.
As for OK, I travel through every year or so when we make the trek to Dallas to visit my wife's sister. How far are you from the main highway if we were to travel by way of St. Louis, MO southwest to the SW corner of Missouris and through OK?

Jay Gaydosh

Member





PMing you Jay. You can visit any time!!
Page 2 of 2 •
1, 2

---
Permissions in this forum:
You
cannot
reply to topics in this forum