This is the last tree I will be adding to my collection as it stands .It is a japanese maple butterfly. I know varagated leaved trees dont make the best bonsai but once people thought only the japanese and chinese style were concidered proper bonsai.(we will further the previous statement in another topic if necessary).This tree has been grown in the ground for almost 25 years. It is believed it is some form of a dwarf variety due to its size and time in the ground. So here it is for your viewing pleasure.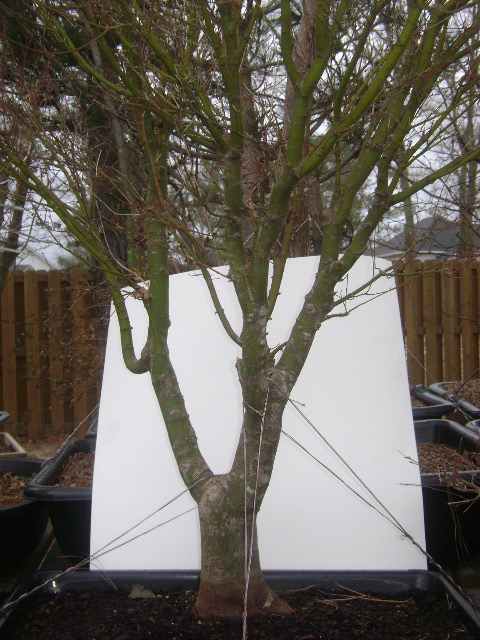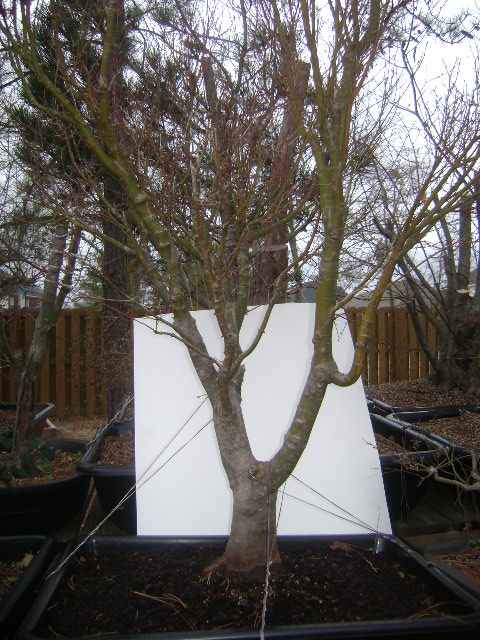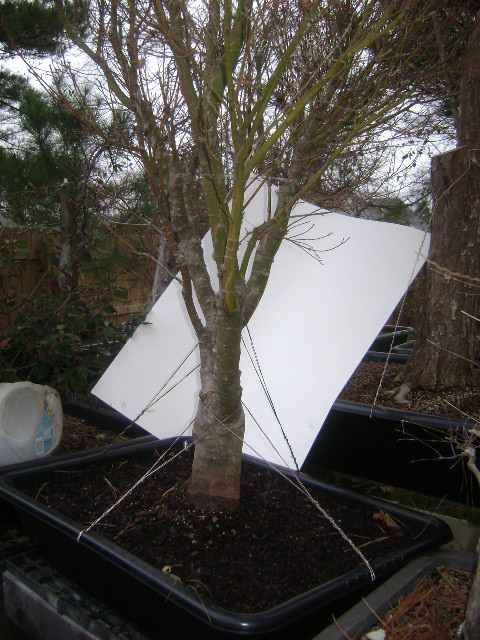 These next 2 pics are where I see the front of the tree being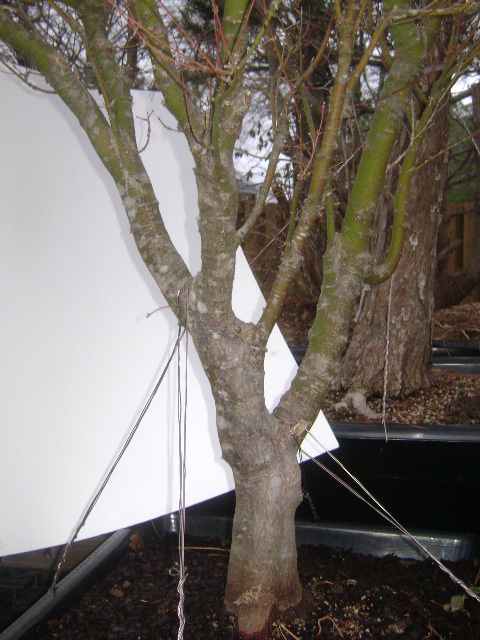 It has a nice size trunk girth and the nebari that is currently hidden to keep all the fine feeder roots moist is good also.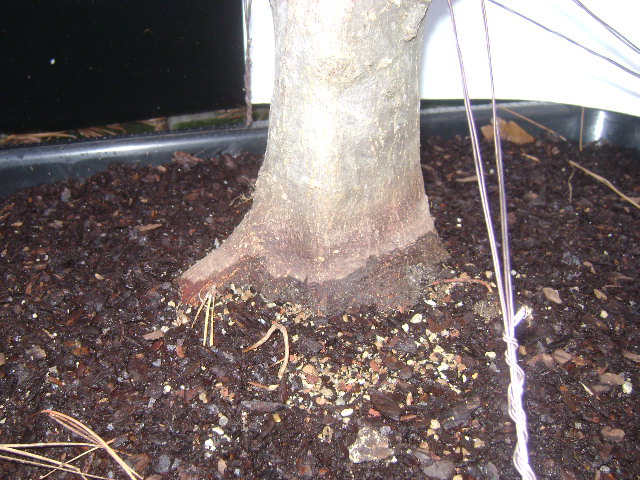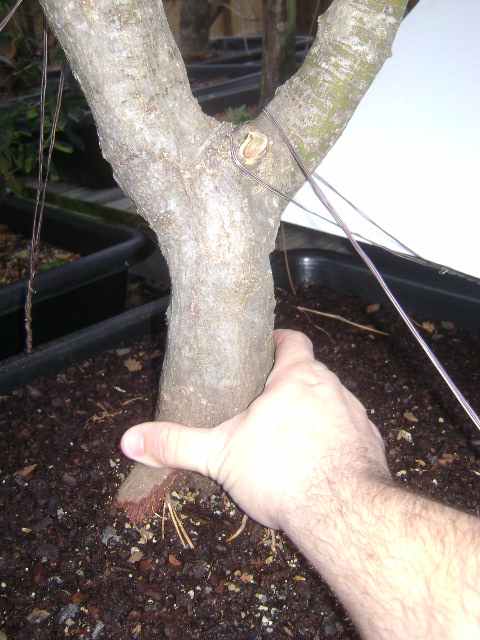 I do not know much about this particular species but I would like to airlayer the 2 largest branches .One of wich is promised back to the previous owner and the other I will figure out somthing to do with it.Any advice on ability to airlayer this species of japanese maple and what time of year for best sucess would be greatly appreciated.
Not to sure about this variety..But in general acer palmatum airlayer pretty easily. Wait until the first set of leaves harden off and the tree is vigorous. If the tree is slow in pushing shoots due to the shock of being collected then wait another season until its established and thriving.

You can use that waiting year to develop the branches you want to harvest into decent pre-bonsai.

What kind of soil is this in? Looks like mulch. Hopefully that's just some top dressing. A death sentence for a collected a. palmatum is not removing all old soil before potting up with bonsai soil.

Neil
I removed all old field soil and was able to retain a good amount of fine feeder roots .90% of the soil this tree is in is bonsai mix what you are seeing is a top layer of composted pine bark due to me running out of my pre mix i make.
Hey Seth... Looks like a big project:) I have about a dozen varieties of J. Maples in my garden. I have successfully propagated most of them. I have had a butterfly maple in the ground for about 5 years now. I have yet to successfully propagate this particular cultivar by either cutting or air layer. Ken has also had difficulty propagating this one. Although, the one I have was started as a cutting by Cooper's Nursery on Parklane so at least cuttings are possible.

John
Thanks for the info John .I would love to have you and ken over for a comprehensive evaluation of my current material.And of course some mouth watering BBQ

Mabye we can get togeather b4 spring hits I have a lot of carving and need some alternate opinions on some of my material I still have your number and will give you a cal to sort out the details.
hello Seth.
this cultivar is possible for airlayering.
the time for making it, spring ( february-march) and final spring (june-july)
i make it in end of spring (in hemisphere sur august-september) june-july.
i use hormone, the root not very fine.
i sorry my bad english.
Regards.
Acer palmatum 'Butterfly' is usually sold grafted in the garden centers, but it will grow on its own roots, hence it is a candidate for air layering and cuttings. Mine was cutting grown. I originally intended it as a bonsai but decided it was too busy & put it in my garden. I have since seen other specimens in Central NY. Here in Zone 5 it is a vigorous grower, and laughs at our winters unless really attacked in an ice storm. One precaution: as with many variegated plants, it occasionally throws a solid green branch. You must be vigilant & prune these out promptly. Otherwise it has no problems. Mine is on the northeast corner of the house, so no sun scorch. Of course if it were a bonsai, the internodes would be too long.
Iris
Last edited by bonsaisr on Wed Jan 27, 2010 3:25 am; edited 1 time in total (Reason for editing : To clarify)

bonsaisr

Member





Thanks for the info I will attempt to air layer 2 of the larger branches on this and keep my fingers crossed I do not think they would make good cuttings at almost 2 1/2 inches in diameter.Wish me luck and good fortune.

---
Permissions in this forum:
You
cannot
reply to topics in this forum