This pot was given to me by my father many years ago...he has since passed and I would like to learn more about it. Thanks in advance for any info. It has a resemblance to some tokoname ware that I have viewed on the internet.

Regards,
Tom

Tom Simonyi

Member





Tom

Is there a "Makers Mark" stamp, chop, hanko on the bottom of the pot?

Regards

Andy

Stone Monkey

Member





Hi, Andy:
Here is a picture of the chop, albeit very faded and not legible. Hopefully it will help a bit.
Regards,
Tom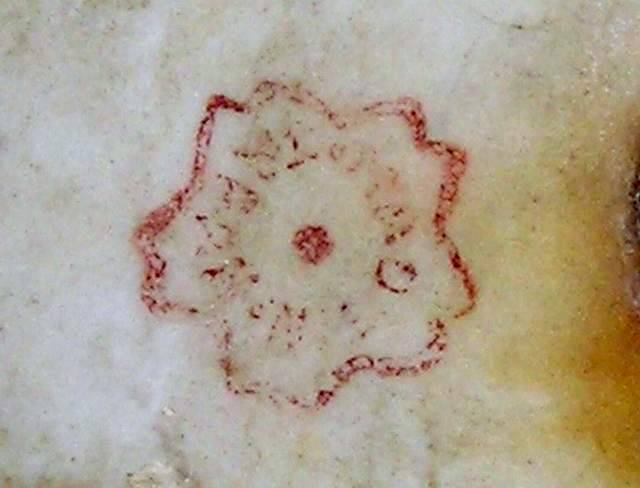 Tom Simonyi

Member





Dear Tom

The pot You show is a very nice celadon.
Celadon is the name of the chinese green glaze , which is on Your pot.
On the picture it looks indeed old , because the shiny patine has gone in front
and is still present inside in the background.

The chop You show looks French or Dutch to me ,
also because of the flower shape.
I don't know , i see european capitals.

The pot is lovely , sweet and i wish i had it in my collection.
A little gem to cherrish.
Kind regards
Morea

Morea

Member





Hello Tom -

The seal on the base of your pot looks very similar to several on mine. I'm sorry not to include a photo, but they each have trees in them making picture taking more problematic than I care to engage in at present. Each has the same five-lobed cherry flower outline as yours with the words "CHERISTAR" and S. Japan. I wish I could tell you more about them, but alas I am pretty uninformed. I acquired my pots from Yoneo (Johnny) Uchida, the proprietor of Grove Way Bonsai Nursery in Hayward CA. He informed me at the time of purchase that these pots were no longer available as the manufacturer had ceased production some time ago.

The seal on your pot is not an exact match with those on mine, however, the similarities are striking and I am certain your pot in much older than mine so it may be simply an earlier iteration of the brand design.

Perhaps this will send you in the right direction.
David Brunner

PS: I've tried to "Google" cheristar pots several times but I always give up in a deluge of responses for cherstar pomeranians. I can't understand why small dogs are more popular than bonsai pots, but... they are.
Good day, Morea and David:

Thank you so much for your helpful information....already it is much more than I have gathered up to this point, and for that I am grateful. My father's interest in bonsai was kindled in the 1950's when he was making frequent business trips back and forth to the West Coast. I think that is where he acquired most of the containers that he gave to me. He became discouraged because he tried unsuccessfully to grow trees that he purchased on the West Coast back where we lived at the time (the north shore of Long Island in New York). I am so glad that he kept his pots, however. They continue to provide many good memories for me. Sorry to ramble...

Best regards,
Tom

Tom Simonyi

Member





I found an item on E-Bay with the cheristar logo.
http://imagehost.vendio.com/bin/imageserver.x/00000000/jeff2662/22969_18.JPG
S. Japan could mean Shigaraki Japan, one of the six ancient kiln sites.
I hope this helps.

prestontolbert

Member





It could be Shigaraki, or it could also be Satsuma.

Alan Walker

Member





---
Permissions in this forum:
You
cannot
reply to topics in this forum