This is one of my favorite stones collected about 15 years ago from the Temperance River by my son. The original daiza was made from a root and showed the stone beautifully but for one problem...stability. It's new seat is a baked polymer clay with the support of the doban and sand. Now my cat can rub against it ..... no worry

The stone stands 12" (31cm)....
Norma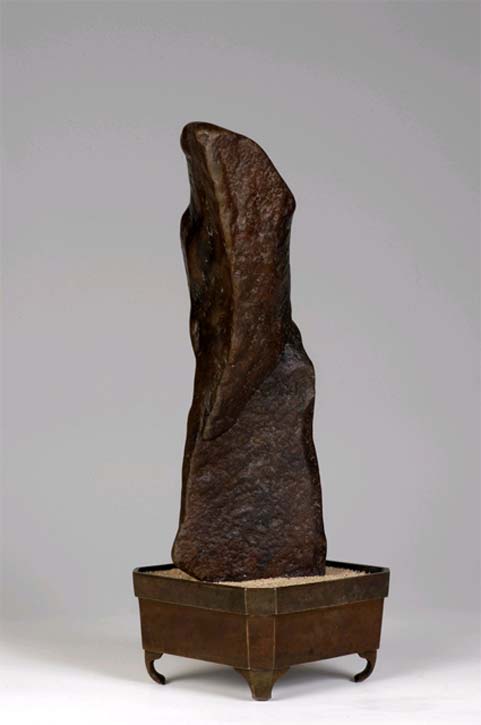 Last edited by Chris Cochrane on Thu Feb 19, 2009 6:00 am; edited 2 times in total (Reason for editing : resizing image (725 pixel height))

Norma

Member





I'd like to show you another figure stone I found in the Buffalo Gap Grasslands of South Dakota. This is Lakota Sioux territory just south of the Badlands....there are large rocky outcropping with areas legally designated for rock hunters. Much of what our group found was jasper and wind polished stone. My small figure stone is tan jasper.
Norma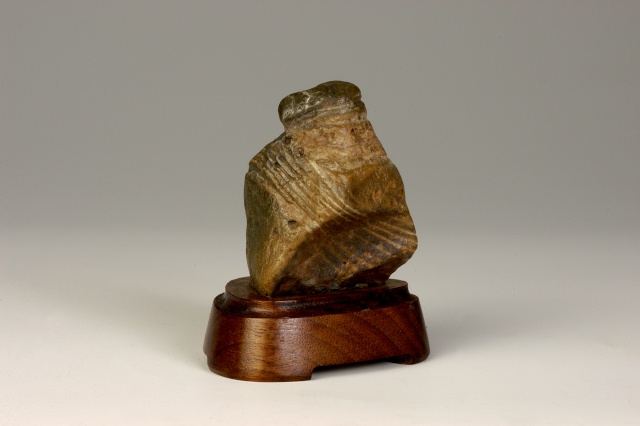 Norma

Member





Hi Norma... The first stone is a on a tray, and suiseki enthusiasts would say it should be imagined a "landscape view" rather than a figure stone. Trays aren't commonly used for display of an independently-mounted, desktop-sized stone in modern Chinese practice.

Should viewing stones be displayed in trays when not presenting landscape views?

Chris Cochrane

Member





Hi Norma,
I like your stones, the mountings are not comfortable to me.
It is interesting that lately stones which appear suitable for horizontal display are displayed vertically.
As interest grows in Chinese stones and display I see this happening more often.
I would be interested to see this stone displayed differently. Have you tried different orientations? For me, the stone seems better suited to a landscape or possibly even a boat? I am thankful that the baked polymer is hidden from view. Like corian suibans, I think it is an idea hatched in hell! I do like the doban, it is quite elegant but for me, this view is cramped.
Your small stone is quite nice. I can see a Native American wrapped in a blanket surveying the plains and perhaps his life. I do find the daiza over powering although nicely carved.
Thanks for sharing!

Mark
Hi Chris,
Thank you for resizing my photo....I did preview the photo but could not find anyway to delete at the preview stage.
I see the stone as a young woman and have looked at the stone horizontally as a landscape with no effect. My choice of doban would be second to a daiza which I will consider in the future. The inspiration for this type of display came from Greaves' book, American Viewing Stones on page 108, a human-shaped stone is displayed in a doban with sand. Granted.. the stone I show has the feel of Eames Era rather than ancient Chinese but.. is it wrong only in the asian historical sense? Could American display also see it's own form?

Thanks Chris, for your thoughts of which I value highly!

Hi Mark,
It's really a treat to have you respond to my figure stones ! What is a "corian" suiban? I'm not hugely fond of baked polymer daiza because most have a "cookie-cutter" look but they can serve a purpose for someone new at carving daiza.
The small stone is, to me, as you have noted a Native American with blanket protecting the face from the brutal winds of the Plains. I did, however, see her on a butte and thus the taller daiza. These type of hills are seen all over the Buffalo Gap Grasslands....remnants of the Badlands?

Norma

Norma

Member





The Temperance River stone looks sinister, like the literary Death, hooded, no face, dark....Imagine this stone rising up out of a dark, inky pool....



Will

Will Heath

Member





WHAT
......my sweet young girl.....a figment of Poe's imagination

I love it..... She's much more interesting as a figure of Death !!
Thanks Will.. and by the way I like your accompanying Avatar......"third time's a charm"
Norma
Last edited by Norma on Sat Feb 21, 2009 4:35 am; edited 1 time in total

Norma

Member





Norma wrote:

Thanks Will.. and by the way I like your accompanying Avatar......slightly "sinister"!
Thanks? I think?


Will Heath

Member





Hi Mark, Norma & Will... Bonsai tends to take chunks of time in late winter approaching Spring. My local club mounted its Spring Flower & Garden Show exhibit Thursday night (including a single Chinese scholar's rock & roofed gate, a wedding kimono (huh...?), two scrolls and twenty-plus bonsai. I loved the exhibits & display crafting among vendors and exhibitors. There is much to learn talking to professionals doing the lighting & by watching.

Yesterday, I needed to catch-up on a PowerPoint presentation of PVSG's stone exhibition at the National Arboretum for a presentation & walk-through on Sunday. Thanks to Alan Walker, Norma and others, here, there is already a lot to discuss. Today, I get to talk with bonsai exhibit visitors for 2 shifts (8 hours); it is always interesting.

Norma seems on the right track to allow a wider range of images to engage us. The balance between open expression and deep expression found through tradition isn't elusive but neither is it obviously complementary. Mark expresses an opposing balance leaning toward tradition. Nice discussion. I'll comment on a bit of difference in ways of seeing that may or may not represent the tradition issue in a separate post.

RE' sizing photos, there is always the option of reducing a photo to the size you want & posting it in that resolution. A native resolution photo upload should conform within limits Kevin has noted (800 pixel length maximum @ 72 dpi). I prefer the 640 pixel length as longest unless a narrow photo requires some tweaking (Norma's tall, narrow photo looked about the visual weight of a normal 640 pixel photo at ~725 pixel length). It was obvious she had tested options. The key for me in resizing is to right click the image which shows size & offers the location where a photo is uploaded. Norma is a suiseki friend who I trusted would appreciate an image easily discernable.

Last night, the artificial stone suiban was presented to me in a fitted cardboard box to share with PVSG members on Sunday. Dan asked a relatively modest amount for this tray. It is handmade rather than mold-injected if that holds any attraction for the owner, & Dan is ready to make them on order to size & color. I wouldn't hesitate to display a stone in it for myself & would be relatively pleased to see it as opposed to some silly-suiban crafted for club presentations. Still, I deeply feel Mark's distain for extending expression by breaking tradition—as he says, introducing unseen "baked polymer" or "artificial stone/TM-Corian" as a pseudo-suiban has the flavor of "hatched from hell." Some enthusiasts go beyond the vendor allowance of displaying a cut stone—e.g., California Aiseki Kai for public "suiseki" exhibits.

A lot of value accrues to a stone for being collected by your son, Norma. I feel that is important & not a minor detail. It resonates for anyone who appreciates human bonds. We aren't just arranging objects for a disinterested aesthetic response, though that is also important. I have to run to get to the show, NOW, and look forward to returning…
Last edited by Chris Cochrane on Sat Feb 21, 2009 9:45 pm; edited 1 time in total

Chris Cochrane

Member






---
Permissions in this forum:
You
cannot
reply to topics in this forum