I'm almost ashamed to tell you where I found this stone. Far from collecting it whilst scaling some crumbling cliff face or from beside a raging torrent deep in the heart of an exotic country, I found it on the floor of my local B&Q garden centre. Exciting stuff, eh?
I know that it may not be in the same league as the beautiful stones regularly displayed here but, as with bonsai, beuty is in the eye of the beholder. I have named it "Moonlit waterfall" or "Moonlit cascade" as this is exactly what it reminds me of. My wife thinks it looks more like a meteor shower. What do you think?
The stone measures 3 3/4 ins tall by 2 1/2 ins wide at the base. It sits in a beautiful Doug Mudd daiza (which I still haven't paid for! Whoops, sorry Doug

)
Sorry for the poor photo, I'll try to make a better job of it next time when I show you my new stone found by Matt on our recent trip to the lake district.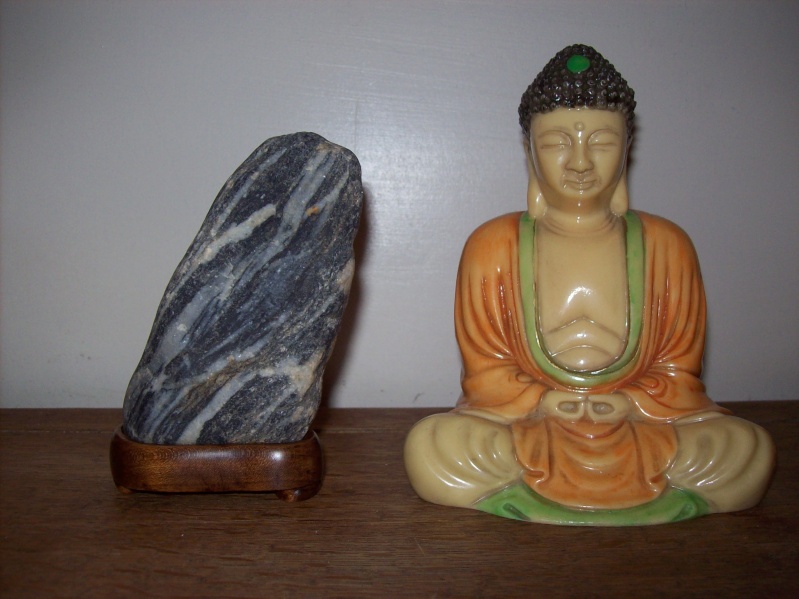 Harleyrider

Member





that's nice
I like the Buddha, he looks happy
I guess he likes the stone as well


sitarbonsai

Member





A beautiful stone.

The sculpture looks like Chinese Buddha.

Heven

Member





Did you carve the base yourself ?……..If so nice job.


Fuzzy

Member





@ Heven. Thank you for your kind comment. I think it is a Chinese Buddha, although I bought it from an Indian shop! I have about a dozen different ones. I'm not really religious, but Buddhism contains many thoughts and ideas that appeal to me.

@ Fuzzy. I wish! The credit for the daiza goes to Doug Mudd.

Harleyrider

Member






---
Permissions in this forum:
You
cannot
reply to topics in this forum