I do go for bigger trees, 2' and over, but I wanted a 'Welcome' tree for the front of my house. The idea was something drastic that I could spend some time working on and, in the end, have an attention getter. The pics show the work so far. I'd looked at this tree in a local Bonsai nursery a few times and finally decided that it was butt-ugly enough for my 'project' tree. The guys also cast the pot and delivered it when I was ready.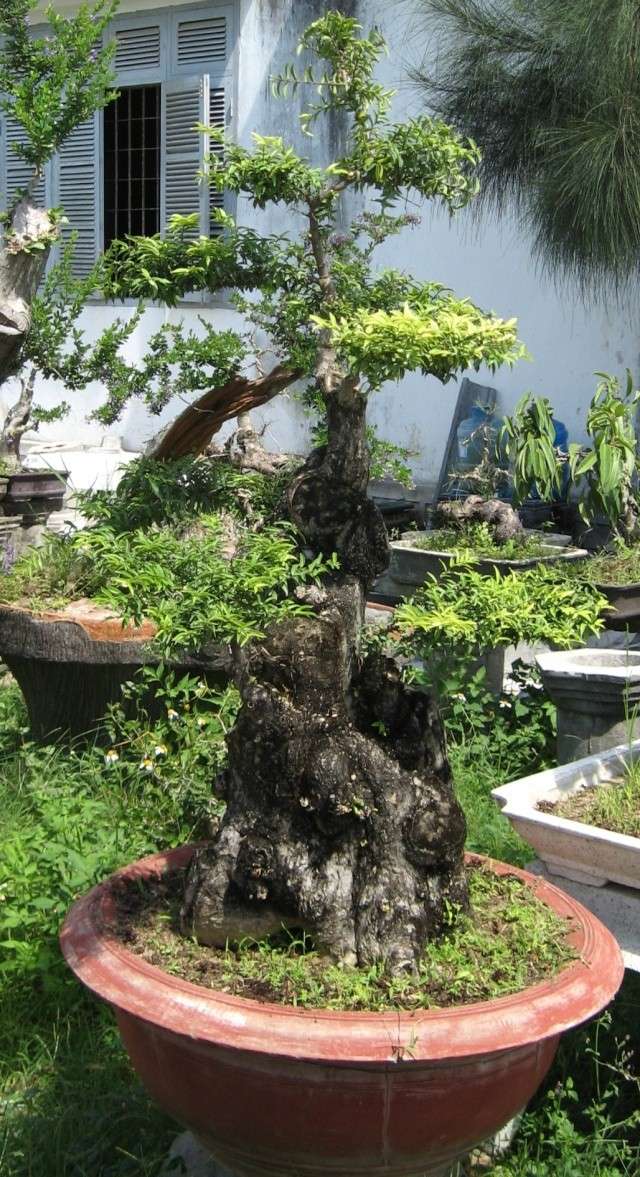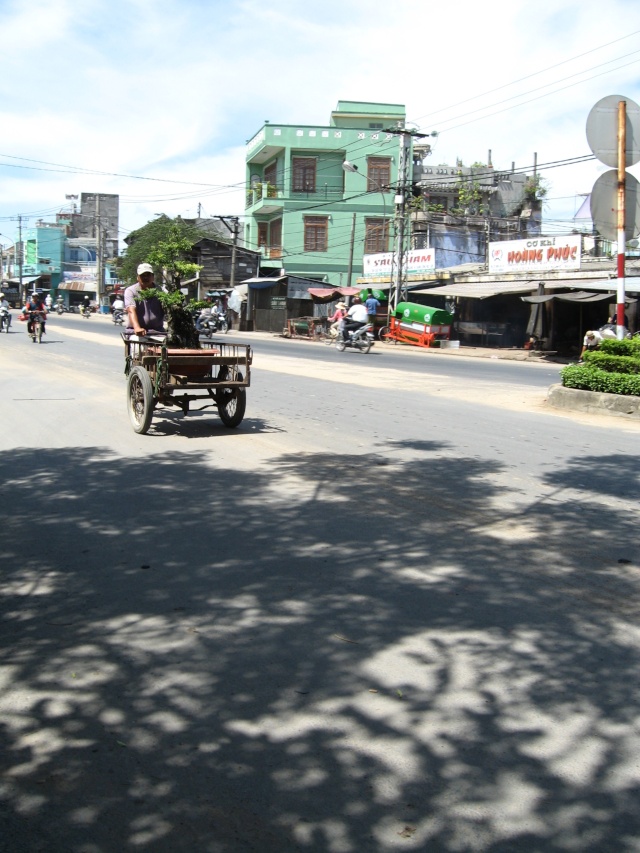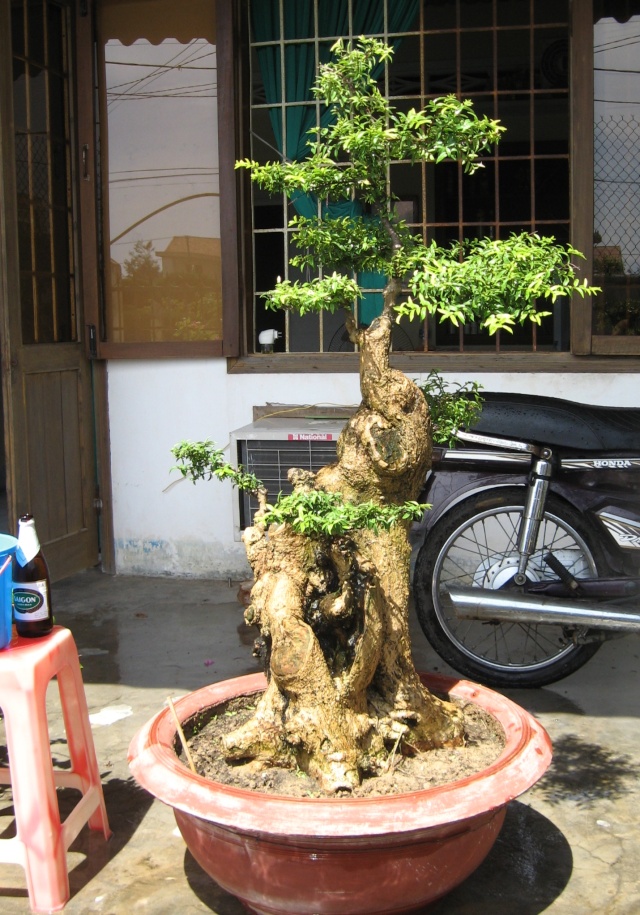 [b]After a few hours of weeding, trunk scrubbing and digging down around the roots.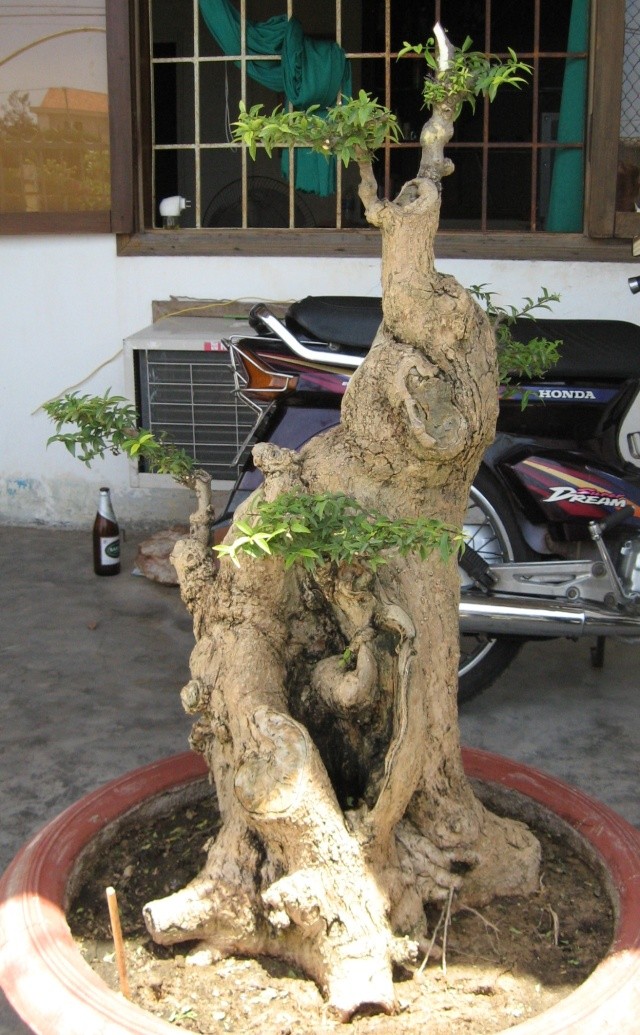 Sooty mold removal some pruning and other work.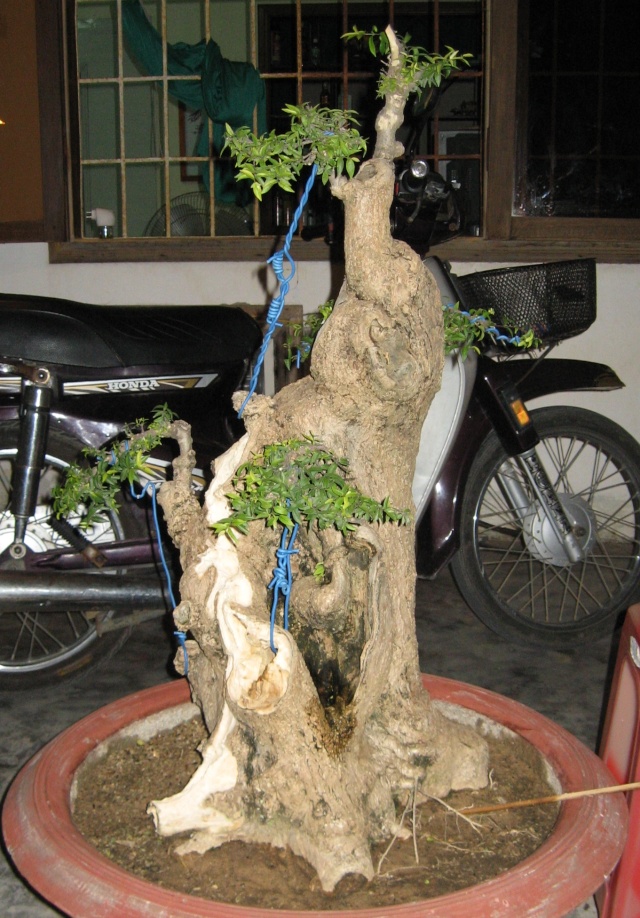 The beginning of some die-grinder action.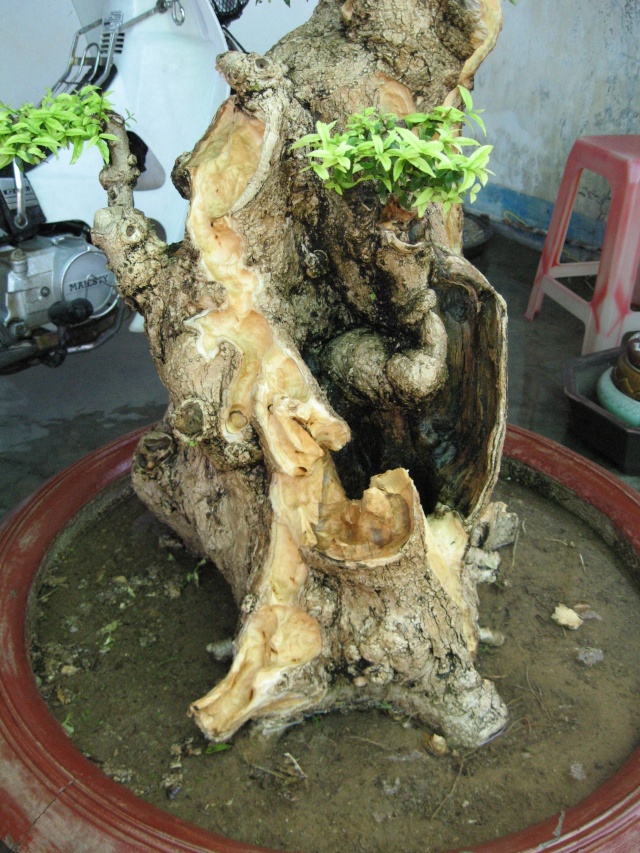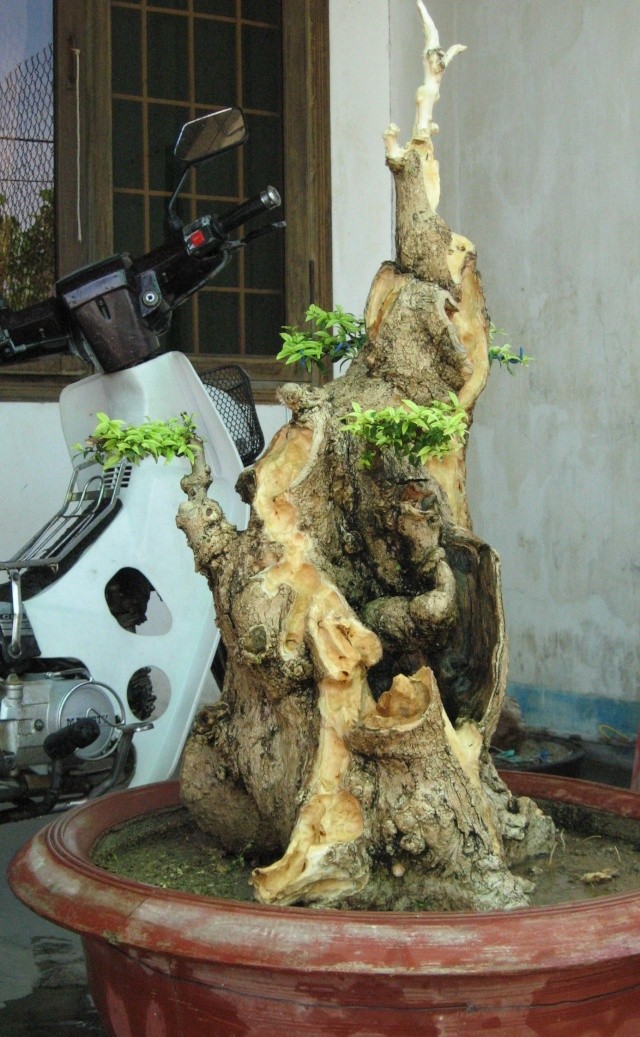 tuyhoabob

Member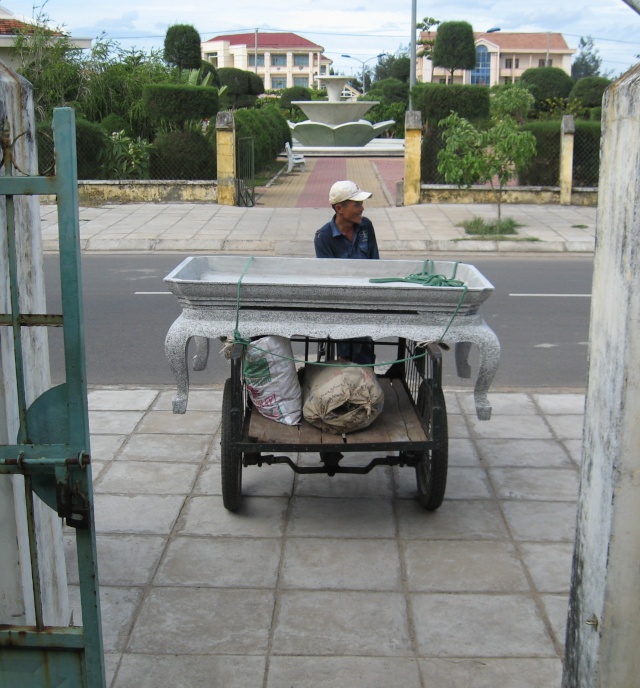 [b]Pot delivery day, it took 4 of us to move each piece into place.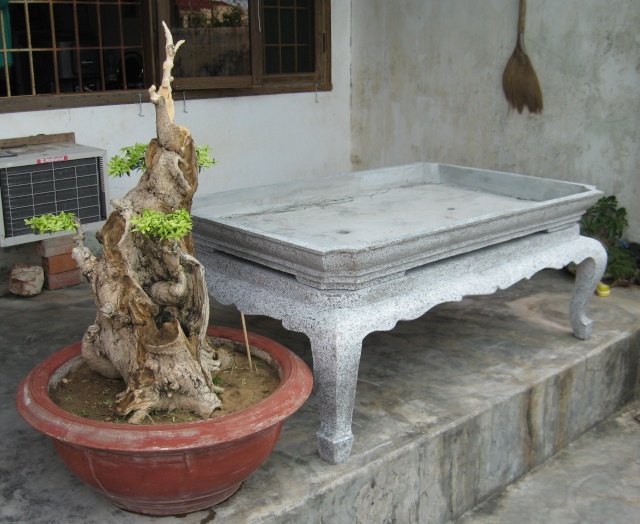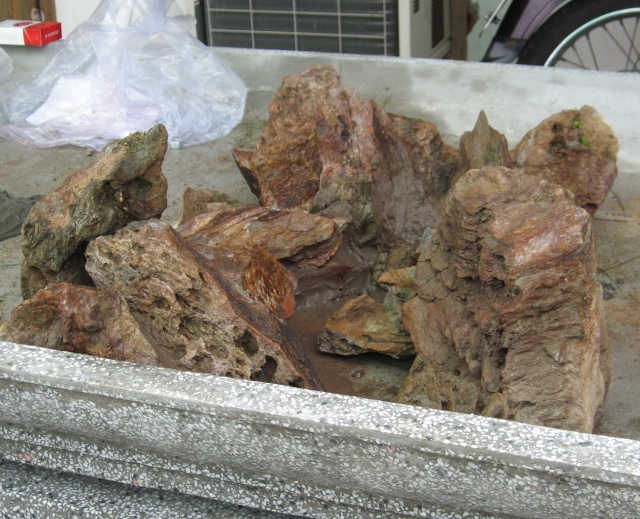 Building the wall for the pond/beer cooler.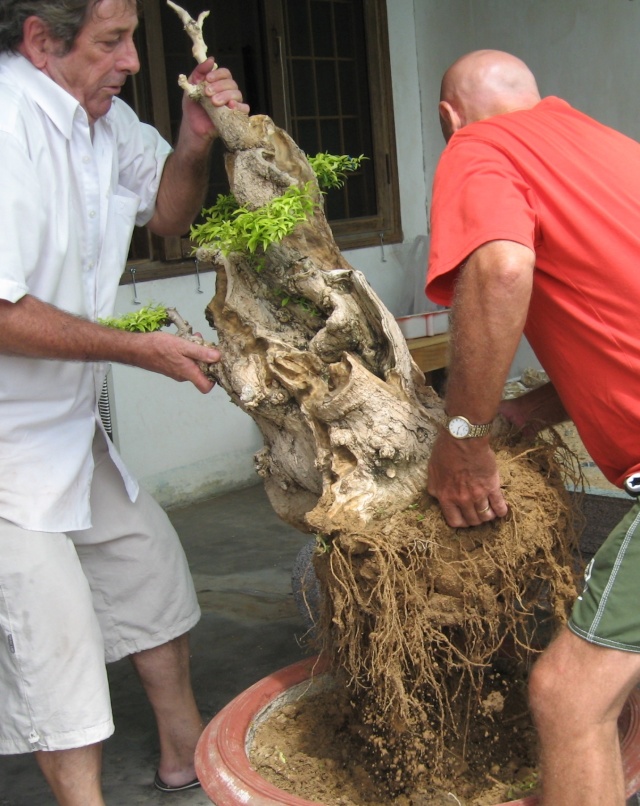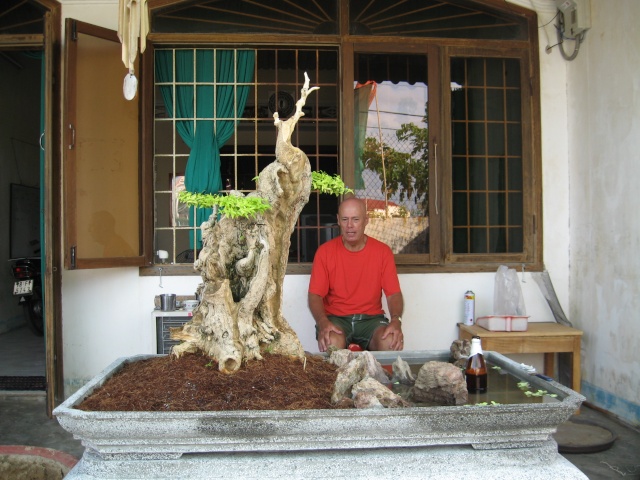 Tree in, pond filled and water lettuce added.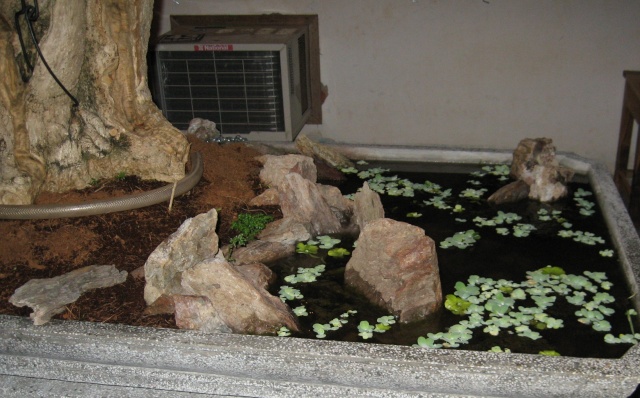 Last edited by tuyhoabob on Wed Jan 06, 2010 7:49 am; edited 1 time in total (Reason for editing : add pic)

tuyhoabob

Member





Wow!! Great progression!! Thanks for taking the time to post it!!

Paul Landis

Member





Yes, it is an interesting composition. But why fir Christ's sake did you removed the top ?!
The bonsai looked much better before.

Nik Rozman

Member





Bob,
Nice work. I like where you are heading.
Jerry
www.bonsaihunk.us

Jerry Meislik

Member





Sorry about removing the top but I went for something more dramatic. I'm still not done with the die grinder, want to hollow the trunk out more over time. The finished tree should only have 3 large pads of foliage, the largest (top one) will partially wrap around the trunk. Right now things are at a standstill, it's winter (sort of) and it is only getting about half an hour of sun a day so growth has stopped. I'd move it but can't get a forklift!!

When it begins to get more sun and growth begins again I'll get a more current picture.

Jerry---in our chat about preservation I think the weather here is against about everything we thought about. I can't get my hands on any lime sulphur anywhere. What I will probably do is what's most common here. As I get the grinding to the point I want it I'll use some matte polyurethane and just paint the dead wood, let it soak in good over a few coats and that's it.

I may get it to last for about 10 years before it starts to crumble but it should look pretty good for most of that time.

Bob

tuyhoabob

Member





I think you have the start of atree that has wonderful round nebari and trunk taper. The base looks very balanced with root spread in many directions;the deadwood looks very natural and not too much "artsie carving". I think you did the right thing by shortening(taking top off); Initial height was confusing-like tree trying to tell 2 different stories- one of power/majesty, then switching appex to delicate survival. I believe with care(good soil) this tree will continue to get better. Water Jasmine has great dense foliage(amazing fragence). With that powerful trunk I see potential for giving movement in branches(asymetrical as opposed to balanced static branching to off set vertical trunk. Just a thought. Dustin Mann
That's the way it's going, rugged and asymetrical. Right now I'm trying to borrow a small chain saw to finish the carving because the bits I can find for my die-grinder are too small. Soil...did you say SOIL? Here we have one thing...sand...there is no soil, no Pine bark, no Turface, no nuttin...lots of sand. What I have done is found 1/8th inch Basalt rock (used for paving) and mixed it with the sand to make 'soil'. The top dressing is ground coconut shell to hold the sand in place when I water.

For those of you into numbers:
Tree was 2.5 Million VND when I asked. I sent my buddy Tuan and his price was 1 million (without the white guy tax).
Cost 70.000 ($5) for the guy with the bagette to pedal it 5 km to my house in 100 degree heat.

The pot and stand are hand cast, 5' X 3' and weigh about half a ton (ya really).
Cost: 1 million VND or $60
Delivery was 50.000.
Chain and locks: one for the tree one for the pot--priceless!

Bob

tuyhoabob

Member





Bob, sounds like bonsai heaven. Everythings so cheap there. I wish it was like that in Australia.

Tzung Tzan

Member





wonder if theres any update so far ? do keep us updated =)

sixhunter

Member





It went through our 'winter' pretty well, just stopped growing completly for about 3 months but has begun to get excited again in the past few weeks. I'll do an update on the carving/wiring and some other things in the near future. I've also been out of town a lot and doing some 'collecting' of the female variety...got married the beginning of the month.

Now that it's awake and growing again I'm going back to work on it.

Bob

tuyhoabob

Member





nice man, take care and have fun =D

sixhunter

Member





Congrats on the wedding! I wish you the best of luck and warmest wishes of happiness.


Joe Hatfield

Member





---
Permissions in this forum:
You
cannot
reply to topics in this forum