Hi All,
I recently picked up this Escallonia stump at a local club auction for what I consider a bargain - no-one else seemed interested which was great for me!
It was collected from a garden in September 2009 but I was a little concerned it was planted in what looks like straight potting compost, whereas I would be happier if it was in a much more open mix.
So my question is
:- should I repot into a better draining mix in March/April - only 6 months after it was lifted? Or should I risk 2010 in poor draining soil before repotting? Any advice greatly appreciated!
To illustrate, here is the fellow:
Possible Front 1 (nice piece of deadwood running up the trunk, but the tree leans away from you. Possible to correct with new planting angle?):
Close up of deadwood: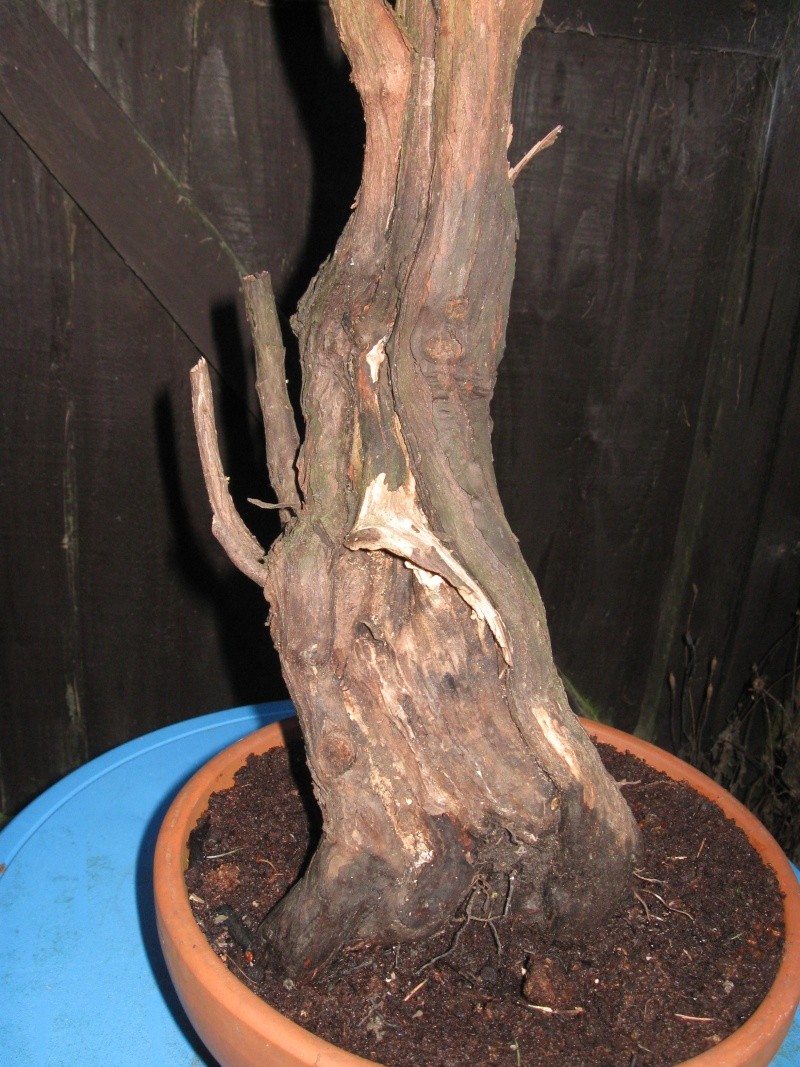 Possible Front 2 (tree leans toward you, better nebari IMHO)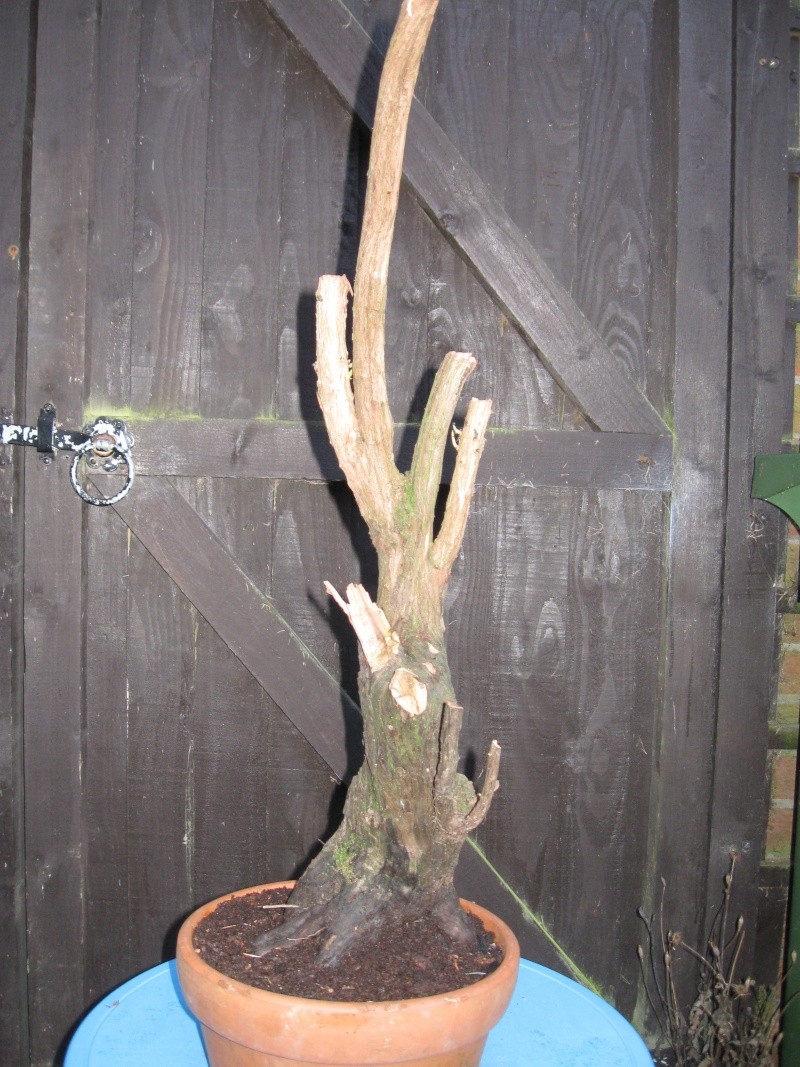 Close up of base for Front 2: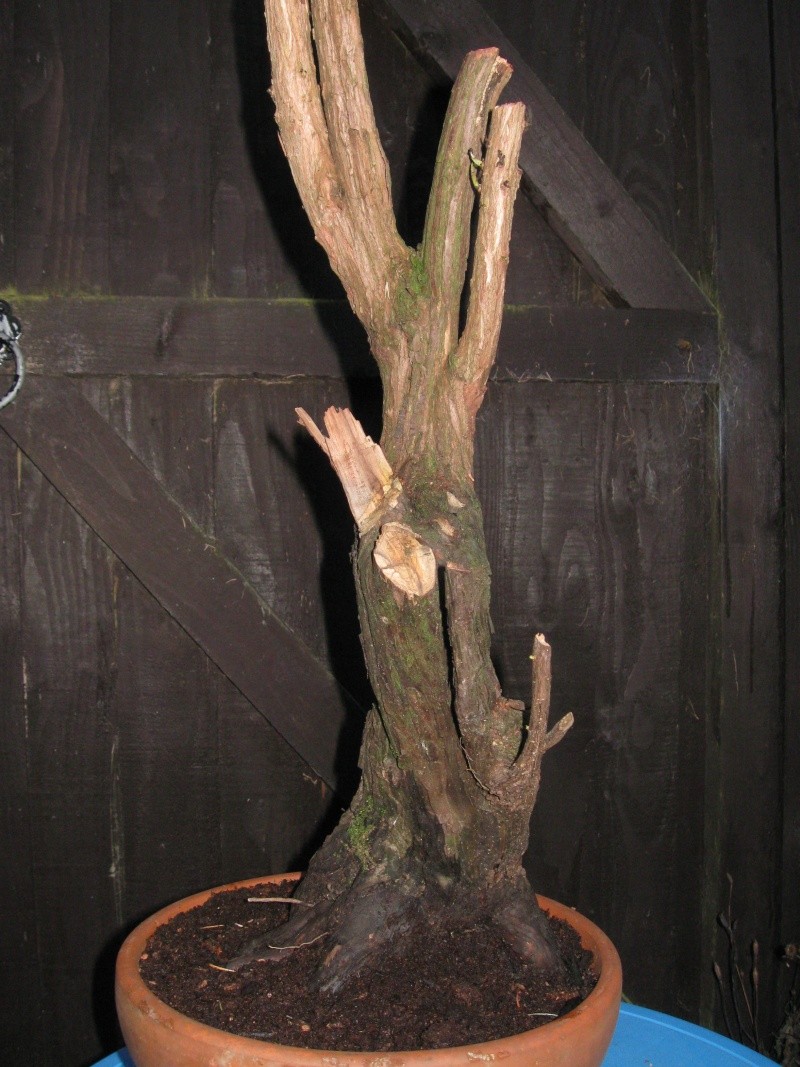 Many thanks
Matt
ps sorry about the flash photography but true daylight seems to be sadly lacking in NW England at the moment!

matt addie

Member





Hi Matt....nice Matt-erial...

My recently purchased Escallonia (Not unlike yours) was potted in pure compost, and has been a year collected... so I would leave yours as is... give it one year in the SMALL pot... then sort the roots to create a nebari.

Its a we bit tall at the moment too... leave well alone till the tree is established.

Tony

Tony

Member





Hi Tony,

Wow! That was quick! Thanks for the advice, I'll leave it as is for this year and see how she goes.

I was aware of the height problem but I was considering just leaving it for the time being to see where new shoots come (if any! fingers crossed!). Would you consider cutting back soon? I guess it might save "wasted" growth up top which will eventually be cut off anyway?

By the way, I like the new sunny pic - makes a change from all the snow we're having at the moment!

Happy New Year!

Matt

matt addie

Member





Is the Escalonia wired into the pot properly, ie no movement at all? If it is I see no reason why you cannot cut back those branches to save on wasted growth. I would be mindful to leave a good inch of stub and seal the cut ends to stop dieback but leave until spring before doing so. Lovely bit by the way

Thanks for the comments, Will. I still can't believe no-one else was interested at the auction but I'm not complaining!

There is very little movement at all of the tree in the pot but I'm not sure how it's secured in - no obvious wire, but it's pretty secure.

The more I think about it, the more I think I should save wasted growth and cut the branches to stubs. I'll be sure to wait until the the weather warms up a wee bit though, as you suggest...!

Cheers!

Matt

matt addie

Member





Looking forward to seeing how this one developes. It'll be a cracker!
Although the tree my have some wasted energy up top if it has only been in that pot for a short period of time(less than 1 growing season) I would leave it alone. It is just starting to develop very small feeder roots and if you go sawing on it it will tear those roots further inhibiting the development of the aerial part and possibly kill the tree. If it were my tree I would let it grow un touched and have a little patience and in the long run you will thank yourself. Let it bud out this season and this fall/spring perform the cut to reduce the height once you see where it pushes new growth to do the initial styling.And feed feed feed

OOh and I like option 2 as the front just my 2c.
Great piece of material you have there Matt some good advice from everyone too, I would just reiterate, don`t touch it, protect it from this severe weather then just let it grow. It`s gonna be a cracker.

Ian.
Thanks for all the advice from everyone, I'm much happier to leave it be for this year now - just water/feed and see what happens.

My prime concern at the moment is protecting all my trees from the severe (for the UK!) cold weather, -13 C the lowest for me so far. All my trees have been in our garage since mid-December which is unheated but offers the best protection I have (short of bringing them into the house!). I don't know about the trees, but I'm ready for spring now!

Thanks again for all the advice, all much appreciated!

Cheers

Matt

matt addie

Member






---
Permissions in this forum:
You
cannot
reply to topics in this forum