I acquired this oak 20-25 years ago in a trade, It's one of the trees that gave me the idea for the "sumo style". The height from pot rim is 24 inches. Circumference at trunk base is 30 inches. Today's project was a severe trimming to prepare for repotting in February. I'll post the before picture here.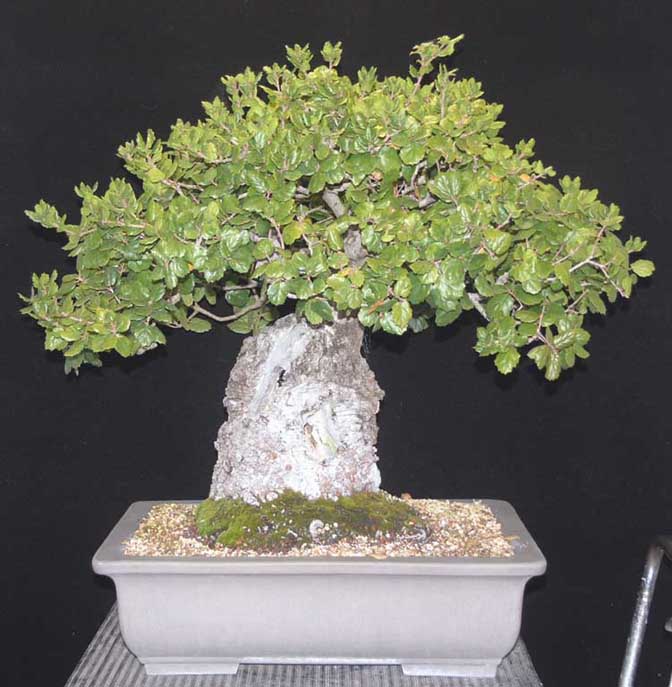 mike page

Member






mike page

Member






mike page

Member





Mike . . . Have you considered filling the hollow center with cement so moisture won't get inside any more?
_________________
Jim Lewis - lewisjk@windstream.net - Western NC - People, when Columbus discovered this country, it was plumb full of nuts and berries. And I'm right here to tell you the berries are just about all gone. Uncle Dave Macon, old-time country musician

JimLewis

Member





Jim, I see this as part of the character of the tree. I keep the interior deadwood well preserved and there's never been a reoccurance of rot.
When I exhibit the tree, people are fascinated by the hollow trunk.

mike page

Member





JimLewis wrote:Mike . . . Have you considered filling the hollow center with cement so moisture won't get inside any more?
How is cement going to stop water getting in? Cement is porous and totally unnecessary, as long as the water has an exit. By treating the inside with teak oil, or some other water repellent, there should'nt be a problem.
Hi Mike: Very nice Oak. I take it you are referring to sumo style were ht. of tree and trunk are about equal in size. In photo it says tree is 24" in ht. and trunk is 30" ? Trunk does not even look more than half the ht. of tree in photo. It looks like proportion of normal upright bonsai tree, as opposed to huge trunk nebari Trident,fig,olive,illex with quick taper. Maybe I am off or missing point. I don't see visual distance distortion by scale/proportion reduction. Dustin Mann

mike page

Member





What a marvelous trunk my friend...

That trunk is stunning, to say the least.

I'd like to add Mike, that I like your Oak better after the trim...I have a thing about majestic ancient looking bonsai that look like they just came from the hair dresser. Just my personal feeling...opinion...whatever.

Does this "stout one" have adequate drainage as Will suggested?

By the way Mike...will you be at Santa Nella in February?

Pat

bonsaistud

Member





Hi Pat
Thanks for your comments. I agree with your "hair dresser" observation concerning so many bonsai. There's a recent post on this forum of a juniper with a deadwood trunk that has the mountain tree appearance, but the foliage is, as you say, from the hairdresser. It is a contradiction. I'm tempted to take the image to Photoshop and make the foliage match the trunk. I'm sure that would insult someone.
Sorry, but I won't see you at Santa Nella.
BTW, the oak drainage is very good. Never been a problem.
Mike
Added later.
Pat, I photoshopped the juniper to make it "less pretty". I hope I haven't insulted anyone.
Not my intent to critisize. Just offer a different viewpoint.

mike page

Member






---
Permissions in this forum:
You
cannot
reply to topics in this forum