I recently finished styling a tree I collected a couple years ago. At the time I knew it wasn't really a whooper and of huge quality but I was itching for a spruce and due to location and root mass, it was ideal for collecting.
I gave it the best conditions I could offer and then stuffed it away into the dark corner. Not really a dark corner but I think you get my point that this bush stick didn't command much attention. I was also a bit lost on how I would eventually style it but I knew the time was near and I had to commit to a design or this tree would never move forward. Here are the results:
This was almost a year after collecting
Some cutting and general shortening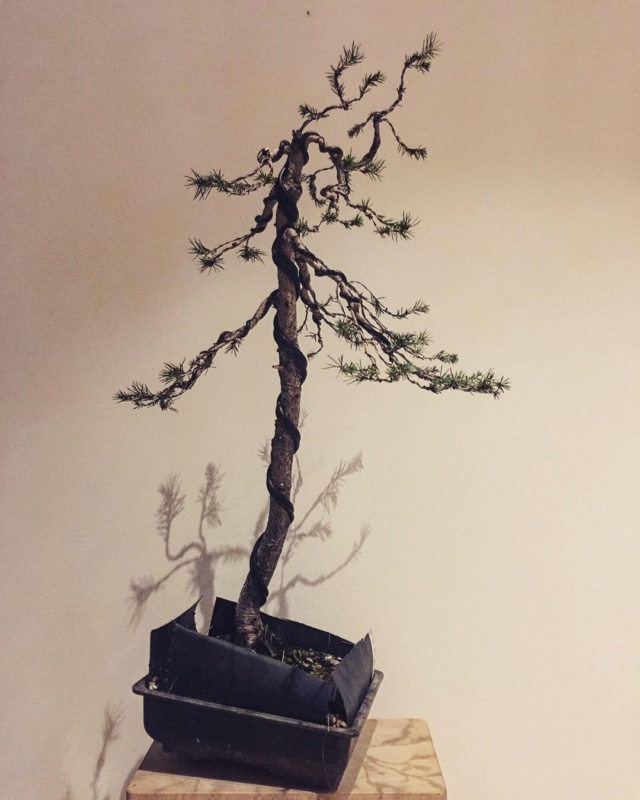 Very sparse and I will give it as much love as possible to ensure its survival. It's still crazy how something can go from, "meh, what a bush." to "Hey, I think I like you, a lot." I'm sure many of you had this experience and it's one of my favorite feelings in this Bonsai endeavor.
Have a great day!

Thomas Urban

Member





hey Tom... If you werent one of the AAC brethren, I might not say this,

but I find the top to be sort of visually confusing...
I am sure you have a plan for the top which may not be clearly evident in the picture...
But from there down looks good for future development...
_________________
AAC Original Milwaukee Wi. Chapter - North America
aka beer city snake
http://wiscobonsai.com/

Kevin S - Wisco Bonsai

Member





Hey Kev,

No worries, all is up to personal taste : )

I know what you mean but with the material I had up top, I decided to go for an alpine, multi-apex look. A rock came down on it, went through a couple storms and there are now a few auxin-pumped tips that want to be the new leader. That's my feeling from this tree but as I mentioned, it's really sparse and needs to fill in a bit, the top as well. Now it needs to grow and recover and it will be sheltered over the winter.

Thomas Urban

Member





ah !
The old Alpine scenario, eh ?
Now that I know what happened, I can dig it !


_________________
AAC Original Milwaukee Wi. Chapter - North America
aka beer city snake
http://wiscobonsai.com/

Kevin S - Wisco Bonsai

Member






---
Permissions in this forum:
You
cannot
reply to topics in this forum