With Akadama only available over the internet from where I am in the UK I pondered on the age old question of Cat Litter as it is basically the same thing with perfume added. Or at least that's what I thought. Having read numerous threads on the subject, I really am no wiser as each and every person is either for or against the idea and there seems no overall majority in favour of yes or no. So what is the opinion of those on here? Im looking to make my own soil but its the composition element. I use at the moment a commercially bought Bonsai Soil much similar to garden soil but according to many threads the way forwards is a baked clay base.

lordraglan

Member






BobbyLane

Member





Akadama is available at bonsai nurseries There are nurseries near Coventry. I do not and never will use cat litter. It is not that much cheaper anyway, and is not the best medium I have found for my trees.
I use Akadama and Kyodama in a roughly 50 50 mix. I find this lasts for years and drains well. We buy in bulk for our group so we get a god price from the dealer we go to.
I use the Sanicat Pink and so far really like it, if I could get the Tesco stuff I would try it for the smaller particle size but it is the same thing anyway. It's definitely a lot cheaper than akadama, I mean a 30 litre bag for under 10 euro/pounds makes it at least worth a try. I mix mine with lava rock and sometimes orchid bark. You could use pumice in there too but I would not use it straight.

No harm in picking some up in time for repotting season anyway.

JB80

Member





Like many things in bonsai this is a controversial subject

but it shouldn't be.
Tesco's low dust light weight cat litter is, as far as I know, moler clay (a kind of Danish Diatomite I believe). In both appearance and performance it seems identical to the small grain moler clay you can buy from bonsai stockists as a specific bonsai growing medium.
I've used it both neat and in various percentages as a component in a mix for about seven years now and I would have no hesitation using it again in the future.
Having said that it has it's limitations as does any other substrate.
For a start is quite small grained so not ideal for trees that need a very open mix. The grains are also quite angular and can block your drainage mesh if your not careful (a base layer of something larger is advisable). It also holds a lot of moisture despite being very free draining but that's a product of the average grain size and the nature of the material not because it's sold in Tesco's as a cat litter.
It seems to work pretty well for some trees (broad leaf deciduous) but perhaps not so well for others (junipers etc).
Perhaps the biggest concern is that it's not sold as a horticultural product and it is adulterated with perfumes and other chemicals. This doesn't appear to have caused any problems so far but I suppose you can never be sure that they wont change the formula one day. That represents an element of risk I suppose. You pays your money and takes your chances!
Actually the main reason I can see for not using it is simply that you don't have to. You can buy horticultural grade moler clay in a variety of sizes mail order in the UK and (unlike Akadama) it really isn't much more expensive.
So if you don't need your substrate right now mail order some moler (you'll almost certainly want to mix it with bark, pumice, lava rock or whatever anyway and I'm afraid that Tesco's don't sell that).
On the other hand, if I'm driving home from work tomorrow and I see someone digging up an old hedge or something and they'll let me have some nice material I wont be a snob about it, I'll stop off at Tesco's to buy a £1 washing up bowl and a couple of bags of cat litter!
Bottom line? It works but has it's limitations and draw backs JUST LIKE EVERYTHING ELSE (including your very expensive, imported, Japanese mud granules).
Hope that helps.
Regards
Richard

Richard S

Member





Couldnt have said it better myself Richard!

if the OP is still confused after that i would also suggest having a read on the kaizen bonsai website and maybe start out with one of the universal bonsai mix's he does. Thats what i did at first.

BobbyLane

Member





Interesting, here are our three ingredients.
5 mm silica based gravel, holds moisture on the exterior
5 mm crushed red earthenware brick holds water on the inside.
[ only if the tree is very thirsty.]
Never more than 1/3 by volume aged compost.
[ aged means keeping just moist in a covered barrel and the the weeds germinate
and die ]
Been using for almost 39 years. The idea is simple, the compost holds 20 times
it's weight in water, feeds microbes and when decaying produces glues that
allow it to mimic the shapes of the gravel and it's size.
The mix remains very open.
I am not sure when it became sensible to put Akadama into the soil, especially
since it decays to clay and pumice.
Clay on our side is part of the Loam mix, the Government Agriculture officers
suggest. Good for a few years and then your stuff dies.
Cheap and so plant nurseries use it. Mind you these are not like the nurseries away
big and businesslike, just folk with space selling stuff.
Though we have a few of the big types.
I found that by the blending of inorganic and organic, I can handle the watering
easily. We do drop to 45 / 50 % humidity at the height of the windy dry season.
I am showing this off presently.
Those on Bnut would have seen through my brother-in-law and at Ausbonsai.
Laters.
Khaimraj
Soil is a simple 5 mm gravel and compost.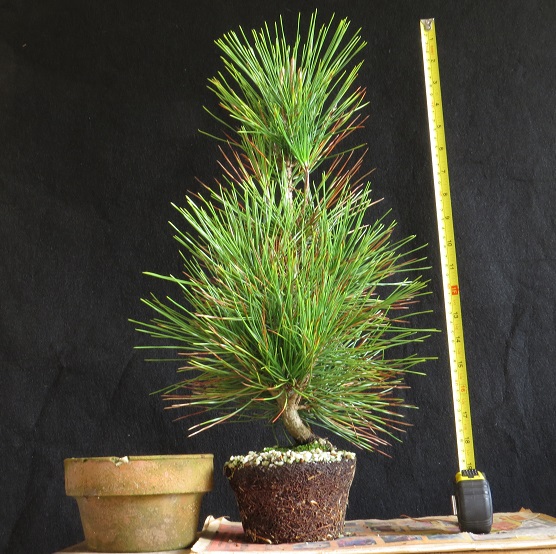 Khaimraj Seepersad

Member





Cat litter is not a constant element like sand or gravel. Most Cat Litter is the product of some manufacturer and may not be comparable from different manufacturers or even consistent from the same manufacturer comparing one batch to another batch. The important thing is the products ability to maintain it's structure over time and not convert to something comparable to mucus.

Vance Wood

Member






---
Permissions in this forum:
You
cannot
reply to topics in this forum