hello! I'm pretty pretty new to bonsai... been trying to read up a bit and stuff on it but yea i tend to be kind of impulsive and plow into things before im all the way informed.... so yea... i know my wiring job here is trash >.>...but tis my first attempt to shape anything on a 2$ walmart alberta spruce.... just as much for fun as anything else... anyways had kinda redone some of it a week or two ago and trimmed some more branches and re-wired it with actual bonsai wire but wondering if its doing ok since there's some random dead or half dead needles throughout and some have like lil speck of brown on the tip just kinda worried i might of shocked the hell out of it or something since i know some trees don't lose their colour all that fast....but yea.... wondering if he's still alive? if so anything i can do to help him besides leave him alone and hope? sorry for the not exactly high quality camera...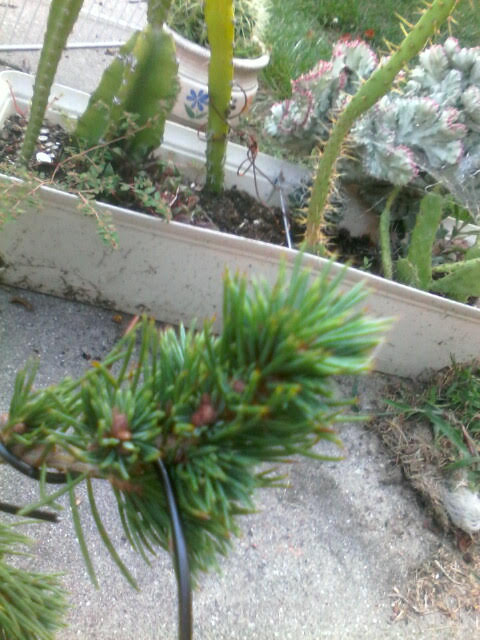 but yea a good deal of needles still look relatively ok but was just wondering how worried i should be from the brown ones
it doesnt look like you also re-potted it, so that is good...

at this point i would keep it in partial shade and watch the watering...
(keep a long chop stick stuck in the soil and pull it out every day or so to see if it is moist or dry... cheapest and most reliable water meter available LOL)

and yeah, you were right about just leaving it alone now, and by that i mean until next season, at which point you may want to consider getting it outta that nursery soil and into some proper substrate (and you have 6 months to read up on and source that)

also, depending on where in illinois you are, there may still be time to pump it up with fertilizer to give next years buds some go-go juice... if you are north theres less time for it to put the fertz to use, south = more time...

thats all i gots for ya...
_________________
AAC Original Milwaukee Wi. Chapter - North America
aka beer city snake
http://wiscobonsai.blogspot.com/

Kevin S - Wisco Bonsai

Member





yea hes just been chillin in the pot he came in for now... but sweet~ thanks for the advice man! will do!

_________________
AAC Original Milwaukee Wi. Chapter - North America
aka beer city snake
http://wiscobonsai.blogspot.com/

Kevin S - Wisco Bonsai

Member






---
Permissions in this forum:
You
cannot
reply to topics in this forum