Hi,
Haven't posted in ages.
This is a grafted Acer Katsura purchased from a UK Garden Centre bargain area for GBP 25 in 2003 and is one of the few trees I have taken from the beginning to an initial presentable position on my own.
It had a massive root ball but with the beginnings of interesting nebari (surface root structure) which is what attracted me to the tree in the first place.
A large mass of root was removed and many branches pruned off with a knob cutter . The tree was planted in a garden border for 8 years to grow on largely undisturbed except for an occasional prod and prune. Over this period, heavy pruning scars healed reasonably well.
The tree was lifted in 2011 and further  root pruning and development undertaken to form a main structure including anchoring down of main branches.
Over the last 3-4 years this tree ( in this pot)  has been subjected to heavy "hedge trim" pruning as advocated by Walter Pall which has increased fine branch density immensely - the profile of the tree being reduced by up to 4 inches (10 cm) most times.
There is a mass of fine twigs under all those leaves that need serious attention in order for this tree to improve to a higher standard and to present a worthy, leafless, winter image.
Bit of a clunky pot I know but about the right size imo. Looks OK from the other side as well.
Height is around 2 ft / 60 cm and nebari spread about 4 in/ 10 cm
Early stage practitioners please note – 14 years from a rather substantial stick-in--a pot to this.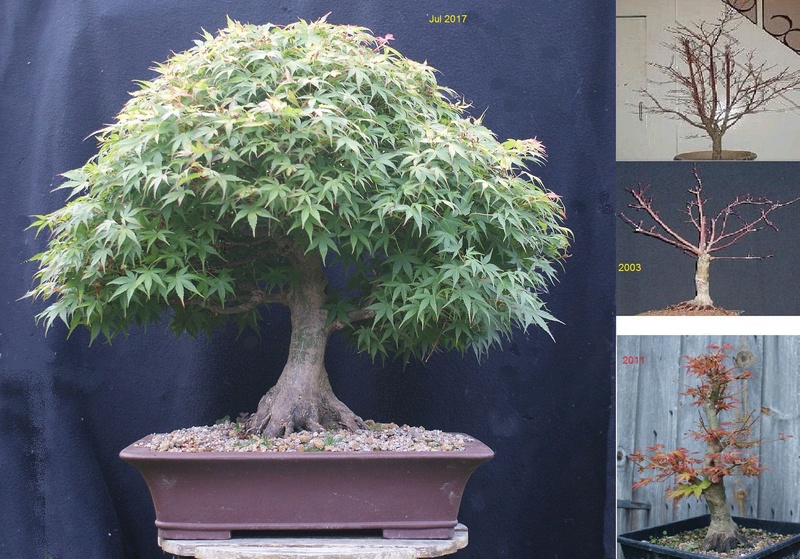 Thanks 
TimR

wabashene

Member





wabashene wrote:Hi,
Haven't posted in ages.

Never mind. This post has made it up more than enough.
Nicely documented development of the tree.  The mass of folliage and the flared trunk look quite impresive.  Can't wait to see the winter silhouette...
For a similar maple tree I would select a pot of similar length but  more shallow one  ( providing there is a reasonably flat rootball... )
Would you please share with us the pictures with the changing color in the autumn later on?

Vlad

Member





Very satisfying to bring along a stick in a pot into a nice tree. Thanks for sharing.

_________________
"Eschew obfuscation"

John Quinn

Member





Very very nice.  Show us more trees!

---
Permissions in this forum:
You
cannot
reply to topics in this forum