Open discussion please. Mine is Tsuga canadensis. Any magazine issues I should keep an eye out for? I looked through some of my books and the best I could find was in a pruning book that said:" makes a great hedge with twice yearly cutting."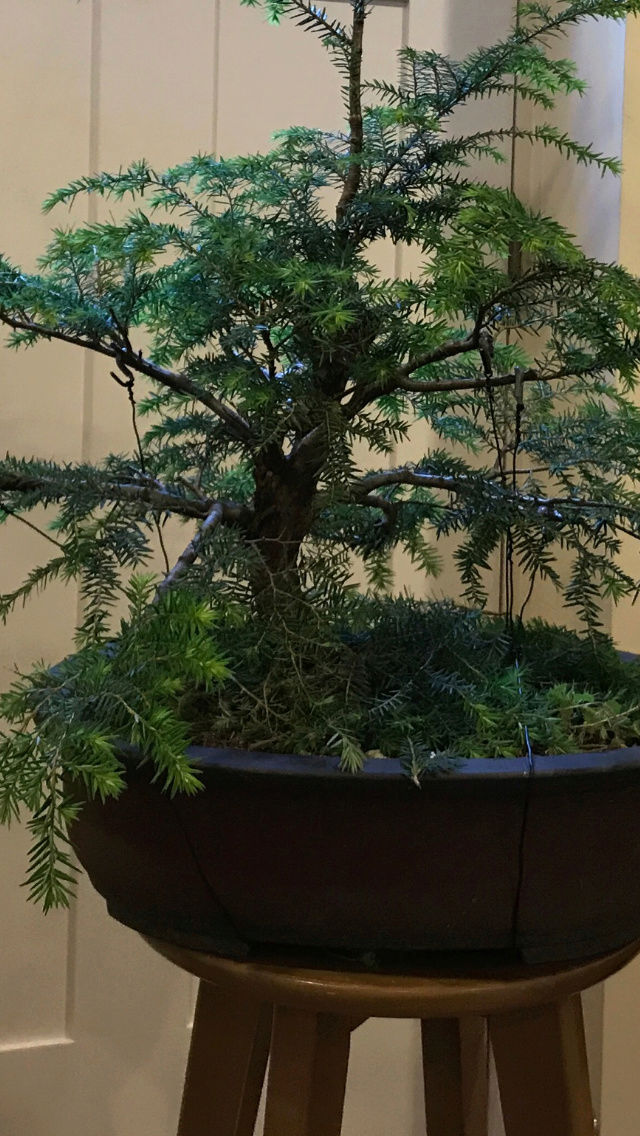 MrFancyPlants

Member





hoping someone chimes in here...
i scored a nice weeping one last year and would love to know better how to treat it to promote back budding, etc...
_________________

AAC Original Milwaukee Wi. Chapter - North America
aka beer city snake
link to ARBOR ARTS COLLECTIVE BLOG

kevin stoeveken

Member





I forgot about Nick Lenz' book, "Bonsai from the Wild," which does have some good general care recommendations, but nothing about pruning approaches. I did some minor pruning on mine last night to remove growth that was crossing between branches, as well as cleaning up the growth on the sacrifice branches, and reducing some branches towards the top that were starting to get out of balance. I figure I might as well experiment on the sacrifice growth so I can see if it will bud back if I leave a stub with leaves. In general it seems to be forgiving, but it is tricky making some decisions.
For good measure I managed to "trim" my toe and shin on the stairs on the way to put the tree back outside (avoiding mosquitoes). I really did a number on my toe and am limping around nicely today. Don't worry, the tree and pot are fine.

MrFancyPlants

Member





I haven't found them to back-bud reliably. Sort of like Chamaecyparis, where you have to try to keep the close-in growth you have and work with it.

Murata, in "Four Seasons..." says to pinch or trim all the new spring growth, and more will come out in the summer that is tighter and neater. This is more of a finished-maintenance activity, not the design phase.
Thanks for the reference, I've already ordered a used copy of the book. I know that it is unlikely/impossible for Tsuga to bud back on wood, but thought that as long as I left some green that there was a  chance that I could get buds. Fortunately, to this point I have mainly focused on branch selection with a preference for inner growth and natural looking lines. I have heard that these take to grafting quite well which doesn't surprise me given their prodigious would callousing ability, so at some point I may resort to some thread grafts to really get the growth in where I want it, if any of the branches are getting too far out. I do have a lot to work with on the inside and will experiment some with different techniques on the sacrifice growth to try and push the limits as to how far back I can go into the growth and still expect buds. I'll try and root some cuttings in the spring as well so that I have more to experiment on and because I could use a nice shade tree in the back yard.

MrFancyPlants

Member





I have one that I have been clip-and-grow pruning for a couple of years since December 2015 to make it more dense. Seems to work.
I started by wiring the branches into place and cutting back in winter anything too long or too awkward, and leaving the rest untrimmed if it was within the rough silhouette that I was after.  
It shot in spring 2016, and I left the new buds to lengthen and harden off.  Some came from the cuts, some from points further back from the cuts (but nothing on old wood) and some came from the untrimmed branches.
Late spring 2016 I trimmed back to any new bud closest to the trunk.  Quite a bit came off this way.  Obviously only where I needed to make changes.  Some parts were left alone to thicken, lengthen etc.
That second trimming resulted in a second flush.  Left alone until the winter 2016, when I repeated the exercise.  
This spring I trimmed again, and have had a good second flush.  I have needed to keep loads of green as I am trying to heal some very bug cuts.
I have been at it for 3 years, and it is dense and quite healthy.
Here it is as it arrived:
I'll take some pics this afternoon of it now and pop them here, tomorrow.
---
Permissions in this forum:
You
cannot
reply to topics in this forum