I was able to get some baobab seeds as candy from Tanzania. I soaked them and germinated them and then placed the seeds with the radicle extending into pots with bonsai soil. They grew well but then all of them suddenly lost their leaves and went dormant. I almost threw them away, but just this month they started to sprout (see image of two of them). I have 11 in total and 7 of them are now sprouting but expect the others to do so. My question is what should I do to make sure they survive. I saw an earlier forum that says water well once a month -- maybe put the pots in water and let the water soak up from below. A friend says be careful and don't over water. Also fertilize but do this when you water with a dilute fertilizer solution? Can I also put them outside when the temperatures are above 60F in full sun or should that be only for a few hours? Then bring them in at night if the temperatures will drop below 55F? I assume it is best to not remove the tubers from the roots until they are better established. Any suggestions or help would be great. Peter
Oh... A long way to go.
The only examples of "nice" baobab bonsai were on Ausbonsai. Although Australia has various climate zones, people around (New Zealand, other countries in the Pacific ocean or the Idian ocean, Muritius, etc.) grow subtropical spieces.
See for instance (you might heve to register first, but though I haven't posted there for ages, it's a very friendly community):
http://www.ausbonsai.com.au/forum/viewtopic.php?f=106&t=19852&p=233440&hilit=baobab#p233440
But frankly, I live in zone 8 (rapidly going to zone 9 : 38° C this afternoon!), I tried it years ago, and it failed. So, Good luck, but it's hard to keep outside its natural range I think....

AlainK

Member





There is also this thread here with lots of good information if you have not read it already. I have one that is similar to yours and I just potted it up into a bigger pot, I'm just going to feed it every 2 weeks on my normal fert routine.
http://ibonsaiclub.forumotion.com/t11403-watering-a-baobab-tree
I'm pretty sure I will order another one soon from France.

JB80

Member






Bubba Ho-tep

Member





Hi Peter

From my personal experience with baobabs. You can water daily in summer (I'm in Johannesburg South Africa 25 degrees Celsius average during summer) while they are in leaf as long as the soil is fast draining, mine are in full sun everyday. Once their leaves start dropping do not water at all. Common practice with my baobab trees in winter is to take them out of their growing pots, remove all the soil and dust the roots with flowers of sulphur and i store them away in a dry shed till spring when they start to bud. They do hold a lot of water in the trunks and roots so do not store them in any non-breathable containers or plastic as they will turn to dust before spring. If you want them to grow faster put them into deep nursery pots instead of the typical shallow pots that we tend to use for bonsai. Also don't trunk chop until you get the desired thickness big cuts on baobabs heal incredibly quick as long as the cuts are clean and sealed properly. I have no idea how to attach pics but for example one that I have grown from seed has a 23cm trunk and after the trunk chop is almost a metre tall and that is around 15 years old.
If you find it difficult to find ample resources online for these trees - also try looking up adeniums!  They are a close relative that grows smaller and is used VERY widely as bonsai in Asia.  I have about 350 of them myself, many grown from seed but a few of them are grafted.  While their individual details will vary, their basic care is exactly the same as your baobob trees.  It is absolutely correct that you can water and feed them heavily in the height of summer heat when they are in full growth, but much touchier in spring and especially autumn.  I do not depot any of mine over winter but I do keep them almost bone dry, and bring them indoors when temperatures start dropping into the 50's at night.  Then I over winter mine under lights in a heated space.  I get some growth but mostly I let them go fairly dormant.  Mine retain their leaves over winter mostly but some of them self denude.  It's right that they store a tremendous amount of water in their stems so I water very little over winter (mostly the seedlings need it, larger plants much less).
You'll find a TON of information about adeniums, grafting, hybridizing, storing seed, etc - all of that applies to baobob as well, but without the variations in styles of growth and without the fancier flower forms.  You can wire them but you need to be very careful and generally aluminum wire will work better than copper.  Here's a photo of one of mine in training using corded pressure to bend the branches more out and downwards over time.  Beneath the potting media the roots are also in training, pinned carefully into place in elegant wiggles to fan out.  Over time it will be moved into a shallower pot and allowed to branch out more.  Here it was cut back hard last season and has been dormant over winter, just now breaking new leaf buds now we are getting warmer spring weather.  I keep these in sunny windows over winter with supplimental lights and out in full sun the rest of the year, indoors on cool nights.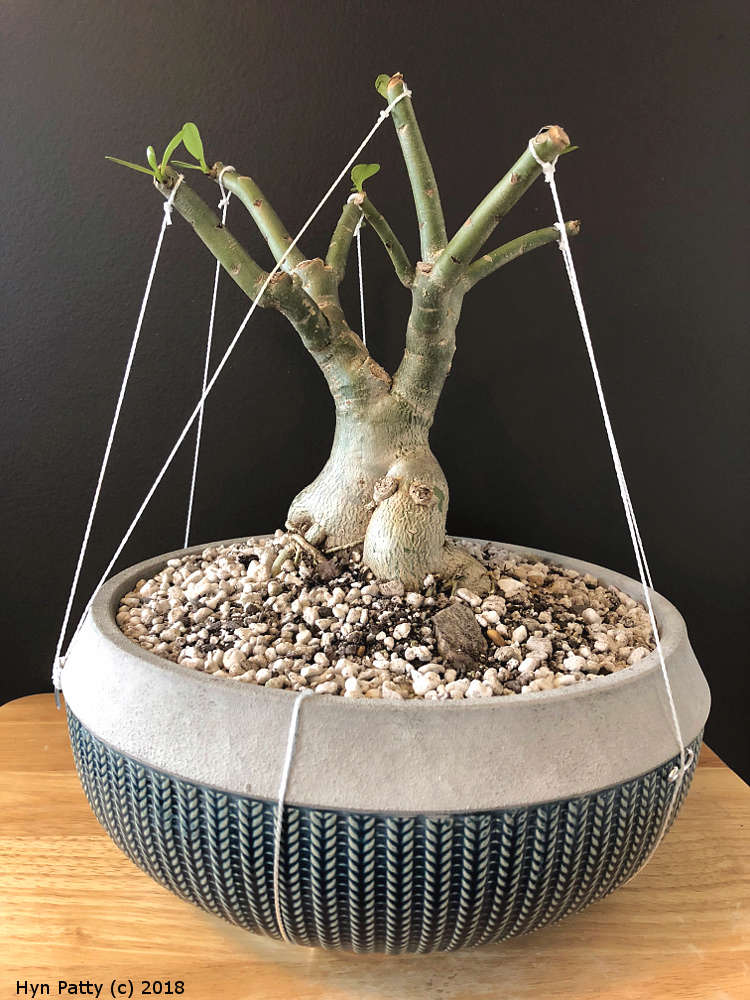 Hyn Patty

Member





You should be able to wire your baobob even while they are young, if you are very careful.  The trick is not to put it on too tightly, and be prepared to remove and rewire often if it's in active growth.  The caudex (which is what the trunk is called) will swell and get fatter as it matures.  There are a few ways you can train the roots but if you want them to fan out with a flat bottom you may have to slice off the bottom and start 'centipede' roots as it's called.  If you end up wanting to try that, I can walk you through how as I've done it several times even with young plants.  Again, my experience is with adeniums rather than baobobs, but they are extremely similar (except for size, in nature).
Here's an example of some over wintered seedlings I have fused together and wired to spread their tops out more.  Any leaves or branches that get shaded will stop growing so it's vitally important that you constantly adjust them, and thin out thick areas of leaves so there is light getting to every point - and to rotate the plants often.  My second photo here is of a grafted obseum starting to get the branches shaped.  Usually baobobs are done in formal upright but if you start early with your seedlings you have the chance to incorporate other forms with a lot more bend and movement before everything thickens up.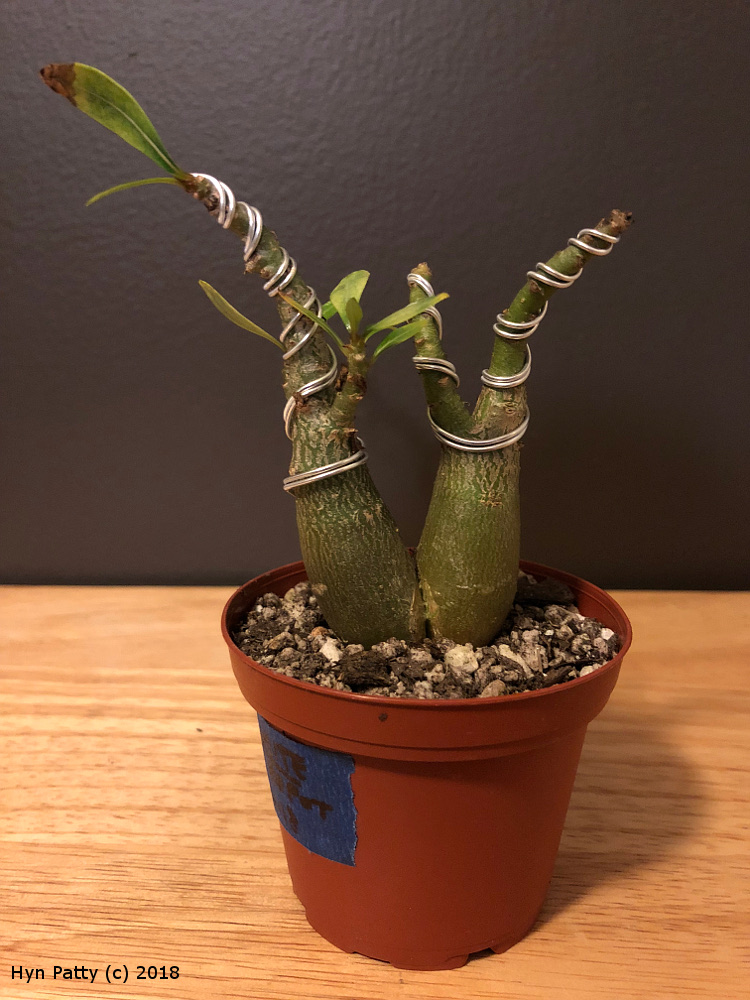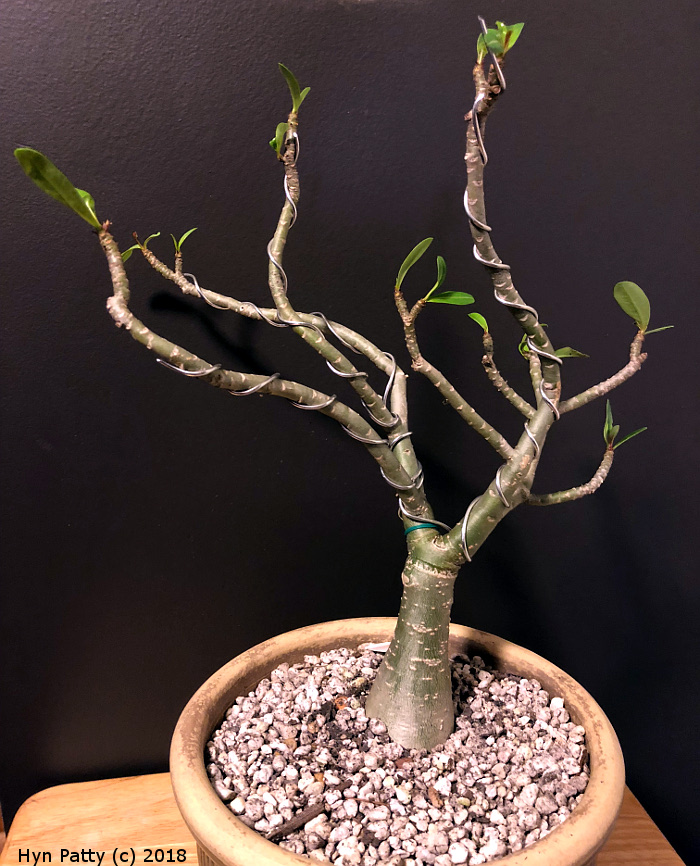 Hyn Patty

Member






---
Permissions in this forum:
You
cannot
reply to topics in this forum