Hello all,
I purchased a Buttonwood Bonsai as my very first bonsai tree, and a couple of weeks ago I transplanted him into a ceramic glazed pot. I got him from a nursery and he had a LOT of roots, I would say the tree is 3-4 years old. My question is that his trunk is thick and upright, and I am very unsure with myself when it comes to wiring. I have watched many You Tube videos, but cannot seem to find one that is applicable to this particular tree, as the trunk is so very thick and even the branches coming off the trunk are thick. I resorted to simply pruning the foliage back and there is definitely new growth. Am I to wait to see how the tree develops before beginning to shape? Or am I just being paranoid? I really want this tree to grow, he is an anniversary gift. Any suggestions or references would be greatly appreciated!
Kind Regards,
Madcat1776
p.s. I live in FL so this is the perfect climate for Buttonwoods

my nellie

Member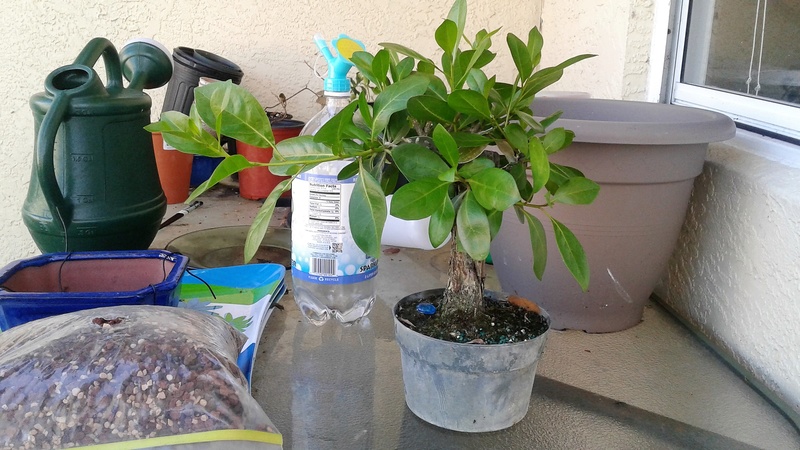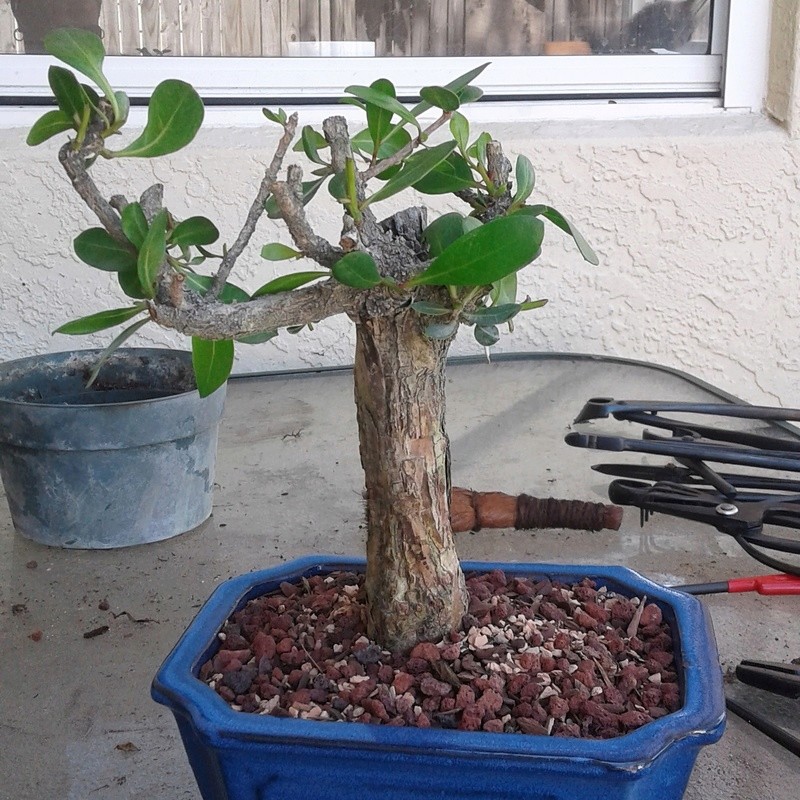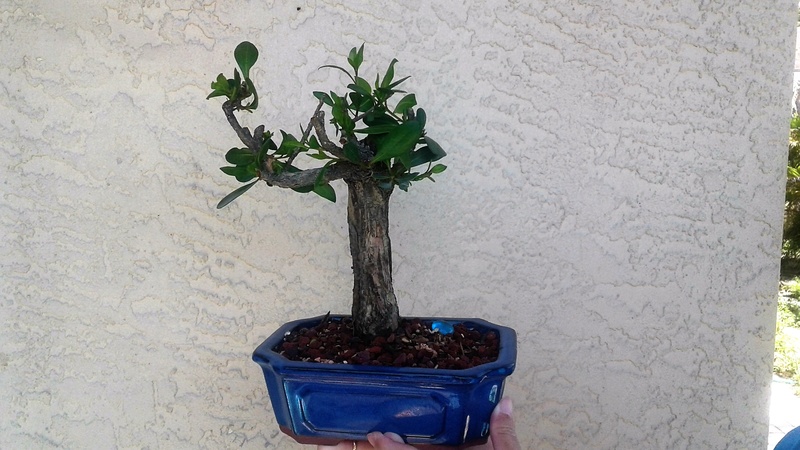 The first photo is when we first got him, then after I repotted and pruned, and now a couple of weeks later with a little growth... I feel like I butchered him, but I think he will be very forgiving with me.... (I hope)...
As you can see, I am a true beginner and trying to learn all I can!
~Thanks,
Madcat1776
Mad,

grow out the tree, get it lush and healthy.

Then take cuttings, about 10, and get them healthy.

Should take about 2 years.

In the mean time get some other types to learn to grow for Bonsai.
The first stage is Health.

Takes about 3 to 5 years if done daily, to get Healthy trees.

How about some Seagrape, Hackberry or other.
Please join a club.
Laters
Khaimraj






Khaimraj Seepersad

Member





I appreciate your feedback! Thank you for taking the time to offer me some advice. This tree was brand new from the nursery, and I have only watched videos on the internet. I believe taking some classes and joining a club will really help.

Again, thank you!
Mrs. Mary Madison is declared  the "Buttonwood Queen" by John Naka.
Perhaps you would be interested to visit her website http://www.bonsaimary.com/bonsai-marys.html

my nellie

Member





Hello, Khaimraj!

May I ask if you ever found any Conocarpus erectus seeds, as per our discussion in that other thread...

my nellie

Member





Alexandra,

I haven't forgotten you, just have not been down Mayaro / Toco or Cedros for months.
Hopefully in Mayaro at the end of the month.
Will notify you, not to worry.
Laters.
Khaimraj

Khaimraj Seepersad

Member





Thank you, my nellie, for the information and link. I appreciate you. I have, since, purchased a Ginseng Ficus, a Chinese Elm, and a Boxwood. I will have them all by Monday. I have been studying and researching all 4 of these species to ensure I'm taking proper care of each of them.
Thanks again!
Madcat1776
---
Permissions in this forum:
You
cannot
reply to topics in this forum