I picked up this ficus "bonsai" at Wal Mart because I liked the curve at the base of the trunk. But the tree was the standard curvy S trunk with no branches except about 10 shoots growing out of the very top. I considered just chopping it down to size but I've had mixed results with doing that with ficus, and the buds never pop where you want them to. So I decided to let the shoots on top grow wild for a summer, then used them to thread graft branches where I wanted them. This is a progression of about a year and a half.
As you can see the "entrance wounds" had grafted nicely, so the top was cut off along with the donor branches.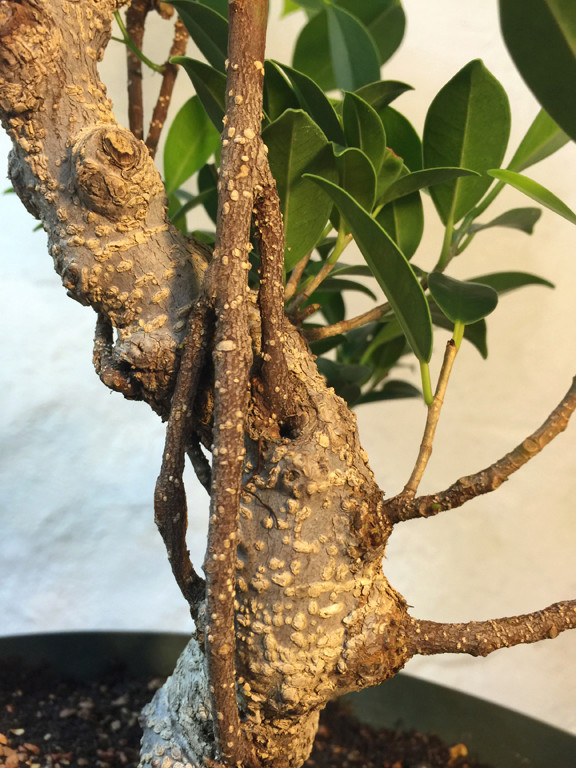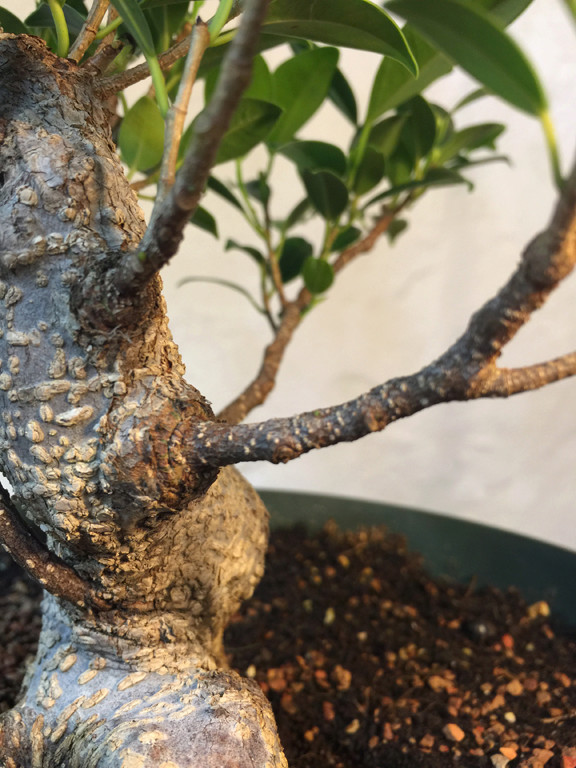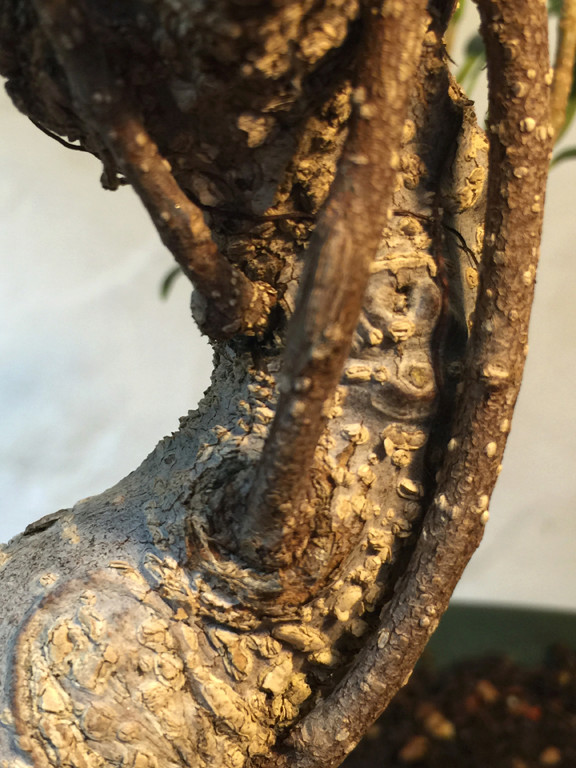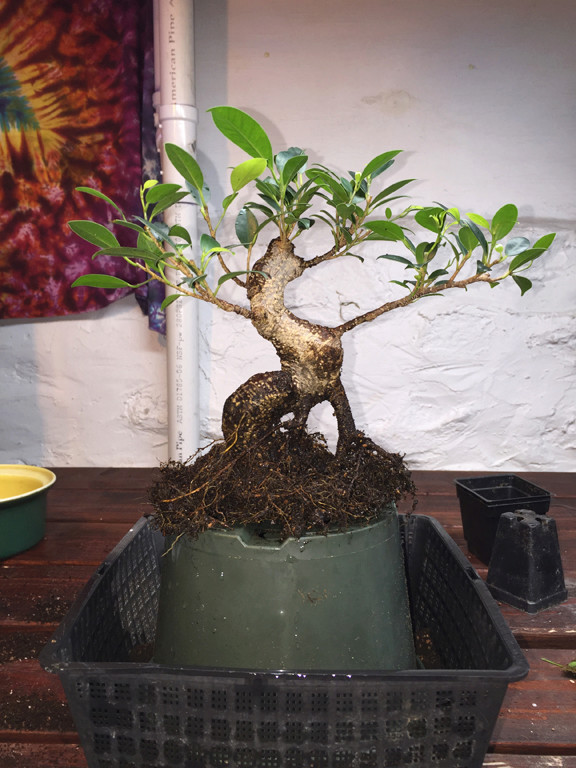 After some time to grow...as well as some cuttings grafted on for the aerial root look...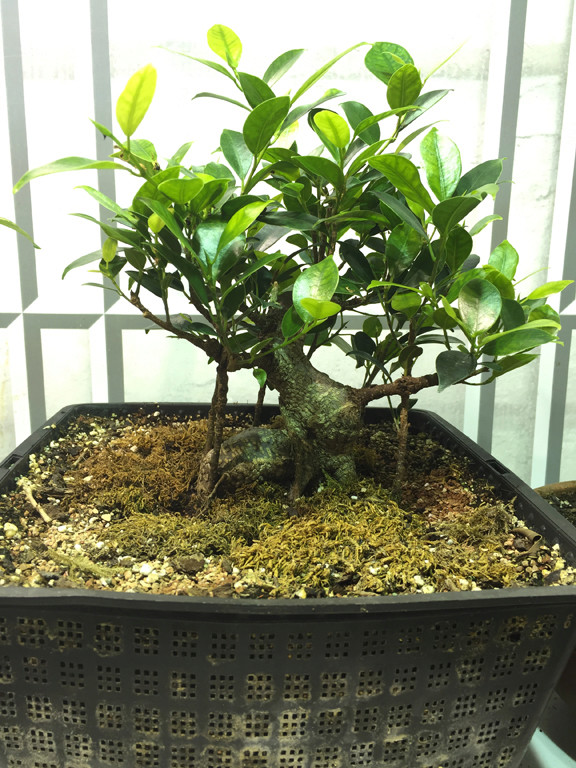 Defoliated, and excess shoots removed, and a little movement into what will be the apex...
First real pot, not the best choice but it'll do...
And now, repotted into a glazed pot, that is admittedly too narrow, but will do for now.
Now for a summer of clip and grow. I'm excited to see how this progresses. Any thoughts or input greatly appreciated!
Peace! -Adam

AcerSai

Member





Adam,

coming along nicely. Inventive technique.

Which do you emphasize, root or foliage ?

Apart from the Ficus b. and Ficus p. I have found that Ficus, tends to not do foliage very well,
and thickens rapidly, beyond the design.

So now I am exploring, how little soil and in that soil mix, how little organic, to keep the Ficus healthy
and prevent over thickening.

Even in 1" [ 2.5 cm ] of soil, the Ficus b and p can go very coarse.
Laters.
Khaimraj

Khaimraj Seepersad

Member





Khaimraj,

Greetings. I'm eager to know the results of your experiments but the challenge I think you will face is this, a healthy ficus is one that is always growing. So there is somewhat of a conundrum in trying to restrict thickening while maintaining health. I figure your approach will be to see how much can you slow it down while keeping it healthy.

I feel ficus generally as bonsai subjects, due to the pace at which they are capable of growing are not the best candidates for maintaining a particular shape or style continuously, like what is possible with pines and other classical bonsai subjects. I have found F. Nerifolia/Salicifolia (Willow Leaf Ficus) and F. Microcarpa (Green Island Ficus) to do fairly well at holding a shape, though being the species they are, especially the Microcarpa they tend to thicken up very quickly.

Adam,
I also think your ficus is coming along nicely. I feel you should look to emphasize the qualities of both the foliage and the roots. My simplistic reasoning being that as a miniature of a giant in the forest (remember we are replicating on a smaller scale), your tree could/would/should be capable of sustaining what amounts to significant foliage (again on a smaller scale). Which giant in the forest only has small outcroppings of foliage? One that is dying or has been severely damaged by storm, fire etc. Certainly not one which is intended to exude age, survival against the odds and the beauty that comes from that struggle.

For me, I would be implementing clip & grow and feeding to get the ramification that allows those foliage pads to be more pronounced. It's a nice tree and remember to have fun with it.....your enjoyment is the whole point of it all.

Regards,
Nigel

Nigel Parke

Member






---
Permissions in this forum:
You
cannot
reply to topics in this forum