Hi everybody, it's been I while since I've posted and I'm looking for advice on styling a cheap azalea I picked up last year.  I found this azalea on super clearance in mid summer as a big box store was closing down it's garden center.  It was super tall and gangly with almost no leaves and half dead.  I chopped way back and it back-budded like crazy.  I'm kicking myself I never got around to taking any pictures last year.  Oh well.
So that's the back story.  Now, I'm using this cheap, no so great azalea as a practice piece since I'm still very new at bonsai.  I just can't make up my mind about what direction to take with it.  Any thoughts at all would be very much appreciated!
Before I chopped it, the three main trunks would have been about the bottom 1/5 of the plant.
I've considered styling it as a multi-trunk tree, as well as putting it at an angle and using one of the trunks only as the main trunk.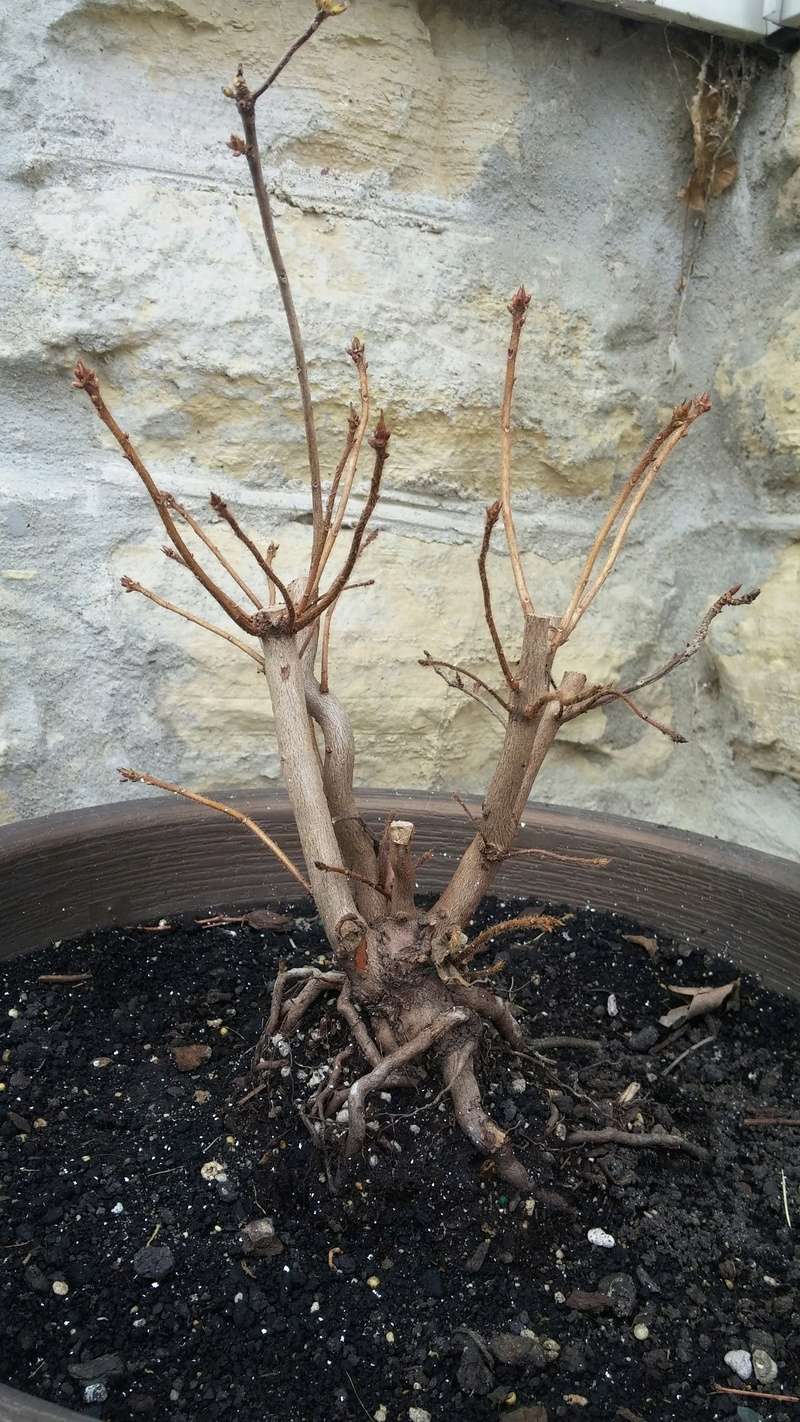 It was the gnarly root system that initially caught my eye when I bought it last year.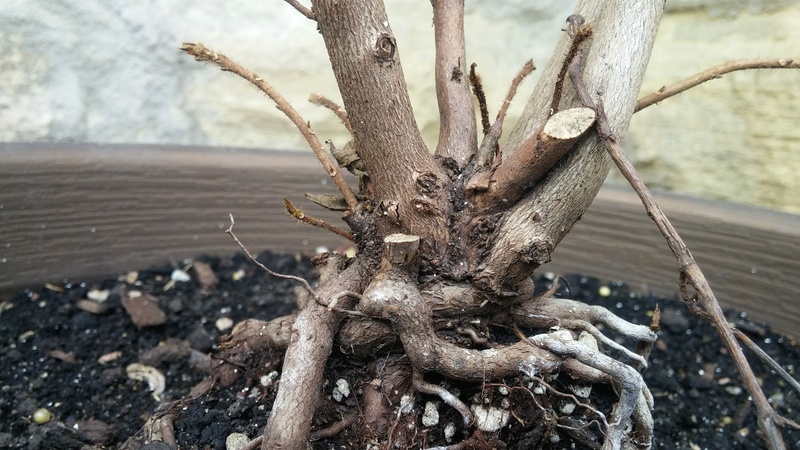 Thanks it advance for any advice for this novice!
It looks like this is composed of several cuttings that were planted together and then fused. As a result, completely cutting back a trunk may result in death of the associated roots if they have not completely fused together. I would tend to cut back one trunk per year if you plan to cut them back. You should probably clean up the wounds and seal them if you want them to heal over. Azalea's tend to have thin bark that often dies back if not treated properly.

The wiggly trunk (front right in the first picture) is probably the most interesting single trunk, but it does not fit with the others.

if you go with a multiple trunk approach you have a distinct frog-legs (U shaped) in most views which I don't find appealing. Perhaps a different viewing angle will change that. In addition, the trunk behind the wiggly one in the first picture is too long and straight. it seems to be the strongest so I would cut it back some more to get some additional back budding.

Sorry I only pointed out issues and not a clear vision, but I hope it is useful.
Thanks for the thoughts! No problem pointing out the issues I'm facing, that's very helpful. Because I'm new to this, I can see this isn't the best material, but I haven't really been able to pinpoint the problem areas I need to work on.

I agree the wiggly trunk is the most interesting, but haven't been able to figure out a way to isolate and make it more prominent yet.

Thanks again!
Kris
I assume that this is a naturally deciduous Azalea species and that you haven't removed the leaves?
If so you may find that the biggest challenge in creating a conventional bonsai image is the very course growth habit. From my limited experience they don't appear to be as suitable as most evergreen Azalea I'm afraid.
I do have a couple myself but neither are really bonsai (although they're both in pots). On the plus side they're pretty tough, flower profusely (mine are white) and grow readily into a kind of dense flowering bush (the only problem being that I don't remember "dense flowering bush" being one of the classical Japanese bonsai styles

).
They respond well to pruning, back bud well and have a naturally curvaceous habit which makes trunks/branches attractive without having to wire (they're too brittle for that anyway) but the leaves are pretty big and don't seem to reduce and the internode length is huge.
I think you could easily grow one in a bonsai pot (they don't seem to mind root pruning either) and it would be a very attractive addition to any collection/garden but if you can work out a way to actually make one look like a tree rather than what it is (essentially a bush) then can you share the secret because I haven't worked it out yet

Still a very attractive plant though.
Regards
Richard

Richard S

Member





It's had to tell exactly what to do without being able to see and feel it and spin it around on a table, but...

My first impression is, too many crossing roots and too many trunks.

I'd consider repotting and cleaning up the roots while at it and let it grow for awhile.
That may also answer the question of fused or not fused trunks and make your trunk selection process easier.
I like your azalea and agree the styling is a bit challenging. I think for right now leave it the multi trunk and let it get happy and healthy this year. Eventually you will be able to get rid of those couple roots that don't look good but I also like the funky roots.

Enjoy it as is for now. You'll figure out what you want to do as you go along, bonsai are not built in a season. As you're waiting enjoy the flowers.

Azaleas are very nice to train for bonsai and easy to grow. Sometimes nice thick azaleas can be found in the old ma and pa type nurseries. Be nice and clean with any cuts. Pay attention to overwintering if you live in a cold area. Remember they like acid conditions, feed with a fertilizer for acid-lovers, Hollytone works well as well as MirAcid.

Good luck!
Thanks for the tips everybody! I was thinking I should just let it grow again this year and see which trunk(s) seem more dominant to me.



---
Permissions in this forum:
You
cannot
reply to topics in this forum