GM,
Can anyone offer any advice on the collection of Tamarind trees?

I have located some established trees that I'd like to try and collect but don't have much experience with tamarinds. I don't have any pics of them now nor am I able right now to give trunk dimensions etc. but they are not seedlings. So any guidance on whether uplifting needs to be staged, how much of a rootball needs to be taken etc would be appreciated.

Thanks in advance.
Nigel

Nigel Parke

Member





Hey Nigel,

long time no read.

On our side we don't bother to collect them, as a tamarind in a colander in the ground growing [ and they don't feature surface roots ]
will normally take 1 to 3 years to hit a 3" trunk and even if cut down to say 4" for regrowing, they heal very well.

The collected survival rate is supposed to be low -

[1] Can you airlayer ?
Do it just above the soil, takes about 6 weeks.

Got a 4" trunked one here at home from an airlayer.

[2] Find a single small root at the surface and give it good soil, check back in six months.
See if it strong enough to support most of the tree and then dig out the largest mass you can.

[3] Defoliate and then dig out the largest mass you can.

Get a phytiosanitary from your plant quarantine section, contact Trinidad's plant quarantine, and
I give you tamarinds.

If Jun were on-line he would probably give you better advice.
So you can try him with a p.m or see him on Facebook as Juan [ memory slips here on his last name - anyone ? Llega ? ]

Hope you are well.
Laters.
Khaimraj
Last edited by Khaimraj Seepersad on Wed Mar 29, 2017 4:58 pm; edited 2 times in total (Reason for editing : English)

Khaimraj Seepersad

Member





Hi Khaimraj,

I am well....really getting back into bonsai and improve the quality of my trees. In fact, there a number of local species that I intend to use as subjects.....so I expect to have some fun doing that.

I appreciate the comments.

I believe airlayering is a viable option that I considered but I'm also going to examine the roots to see if any of them can be just taken up. I'm also growing some from seed to get the experience of doing tamarind both ways.

Depending what I find after doing some close inspection, I'll decide what to do. I will try reaching Jun or if he's on IBC I'd appreciate his comments especially the care after collection.

Take care.
Cheers,
Nigel

Nigel Parke

Member





Nigel,

to be frank, I gave up on digging large specimens a long time ago. Seeds and Seedlings.

THE secret --------- shhh.

Using a colander, metal or plastic [ cover over with soil or leaves to protect the plaster.]
plant your seed or seedling in bonsai soil mix. Allow the tree to as I say it, master the soil.

If the tree has surface roots spread out the roots on a tile and plant in the colander.

When the tree has control of the colander's soil, place in the ground. It helps to bring the
ground soil more to the. level of freely draining.
Though I have grow troughs [ think concrete blocks about 3 high and 2 wide. plastered etc. ]
they have been modified from loam to 5 mm silica based gravel and aged sifted compost.

Leave for as long as it takes to get the trunk size you want, and you can also aim at six
branches.

Remove when you come close dig around colander, and leave tree in colander to recover it's fine feeder roots.

Next stage, if need be, one of those plastic bonsai pots, can be oversized.
Or build a few wooden grow boxes and go to the refinement stage.

Most trees / shrubs are 1 to 3 years to get to 3" [ 8 cm ].

I put a seagrape in last year and it grew to about 5 ' [ 153 cm ] tall with side extensions and really packed on
trunk size.

Do you need to see examples?

Nick, is doing fine, but has to approach the Architecture cautiously as U.W.I in Trinidad has overloaded
the fields of Medicine, Engineering and Law. Talk is they might open a section on Architecture.
We now have loads of professionals with no jobs.
Additionally, the mentality down here is, school is punishment, and the degree is the reward.
So get a job, and with no real interest in the profession or research.

An engineer would be a technician by proper observation.

Thus Nick is being trained in other disciplines as well as Art / Engineering.

Best of growing.
Until.
Khaimraj













Khaimraj Seepersad

Member





Khaimraj,
Thanks again. As usual you have very sound advice.
To be frank, trying to take up larger specimens is due to a bit of impatience on my part. If it works then I'll have something to work with whilst growing the seedlings to experiment on.
I have been using pond baskets to a large extent except that I haven't been planting them in the ground.
I did that in relation to some projects that I have going and 'neglected' them for about a year or two and they are now proper trees...but that's another story worthy of its own post. The plants I used for that experiment are 1. Logwood - (Haematoxylum campechianum), 2. Ponciana -(Delonix regia), 3. Guango - (Albizia saman) and 4. Caliandra - (Caliandra Harrisii).
The guango will be quite challenging due to its growing habit (generally long branches with tufts of pinnate leaves at the tips) but i'm prepared to "wait on the tree" to emerge. The Ponciana and  Caliandra have good girth to the trunk and are ready for a grow box to slow down their growth and allow me to focus on branches, fine roots etc. The Logwood is now a monster but I'm sure it can be tamed. I'll try to take some pics this weekend and commit to starting the next stage of those projects. Anyway, back to the original post.....
Think i'll get some colanders and just bite the bullet so to speak and get on with it. I'll be planting some seeds this weekend, once I'm able whether in pond baskets or colanders. For the larger specimens I think I'll do the airlayers or uplift and just go with whatever happens. I'll try to post progress updates on this one.
These are examples of the pond basket sizes I've been using:
Round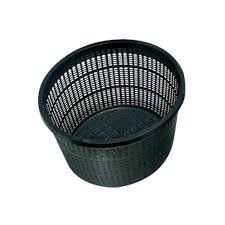 Square - which is wider and deeper than the round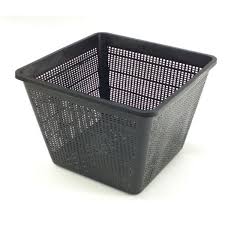 I can relate to your comments re: U.W.I. as on our side they seem to be more concerned with turning a profit and equally we are overloaded with professionals who are unable to get work. I know you will guide him properly and importantly you are ensuring he is multi-skilled to give him flexibility.
Cheers,
Nigel

Nigel Parke

Member





Nigel,

a word of caution -------------- pond baskets and colanders will normally ensure [ correct soil mix ] that the tree / shrub
will continuously regrow feeder roots, as the ones hitting the air will die.
Basis of the Air Pots [ can be googled ]

However unless a tree / shrub has the ability to trunk thicken in a pot, not much else will happen.

Example ---------

Our local Ficus priminoides.

The ironwood [ thornless ] we have will thicken in a 1/3 US gallon black barrel, as will a Chinese elm type [ there were 6 cultivars
we met up with in the U.K. ], the Chinese type can do it in 6 months to get 3" [ 8 cm ]
Cannot give you a Latin name for the ironwood as the last time I did so on IBC, confusion ensued.

I have found two possible fine quality cultivars [1 ] Local Fustic [ Chlorophora t.] think response like a Japanese Zelkova
[2] AND possible a small of leaf / high branch density Tamarind.

The fustic grows easily from cuttings or air layers. So I have that in the grow trough, to supply the Bonsai Society with
possible victims.
Will be testing the Tamarind for cuttings and to see if the small leaves / branch density is truly so, or an effect of having
been grown in an airpot.

You are allowed to train in the ground growing, remember the lowest branch can be left to grow as you work on the
other branches. So it isn't just a case of watching and waiting.

Have discovered 6 more locals that can be used for Bonsai, I suspect Trinidad has close to 30 or so possibles, as we
have an unusually high number as varieties go, of both Flora and Fauna.
Must be our 7 miles from Venezuela.
The possible are all branch dense and have small leaves.
These are from the roadside in our dry zones. Have yet to step 10 or more feet [ 3 m ] into the forests.
Laters,
Khaimraj

























Khaimraj Seepersad

Member





Khaimraj,

Because the pond baskets have that propensity people tend to plant them. In my case, they gave little resistance to roots seeking to escape.

The plan I have is to allow for a few roots to escape to get the vigorous growth needed to generate girth to the trunk, the idea being to lift them out every 3-6 months, root prune and return to the growing bed/trough.

Like you, I've located a few local species i have started to try. One of the is Governor's Plum (Flacourtia Indica), which seems like it will be a suitable subject.

There are also some varieties of Cassia, we call them "Cassia Macca" here due to the thorns they have. There are some which have the tendency to grow the flat tops similar to those from SA, there are also variations with the leaf size, branch density and the appearance of the seed pods.

Another I've seen is one which has great similarity to the Brazilian Rain Tree, it has the same bark features, folding leaves and beautiful fluted trunks, so my plan is to check with our herbarium to see if i'm correct or not. In any event, there are a couple trees that I'm watching as they are flowering now and will collect seeds to experiment with.

There are some others but the latin names escape me now, will have to check my notes and let you know.

Cheers,
Nigel

Nigel Parke

Member





Nigel,
just in case you didn't know,
see here -http://www.sidiao.com
Flaucortia -
http://www.sidiao.com/2002htm/p56.htm
Site has a few of our plants - West Indian Cherry and Murraya p.
Enjoy,
Khaimraj
Last edited by Khaimraj Seepersad on Fri Mar 31, 2017 1:17 am; edited 1 time in total (Reason for editing : correcting an address)

Khaimraj Seepersad

Member





Khaimraj,
I had forgotten about that site.Yes, they do have some of our species there....quite nice specimens too.
The Flacourtia is glorious....

(with envy)
Cheers,
Nigel

Nigel Parke

Member






---
Permissions in this forum:
You
cannot
reply to topics in this forum