I repotted my Firethorn Pyracantha Coccinea from its nursery pot into a big pot to let it grow.  I pulled it out of the nursery plastic pot and whatever loose soil that came with it was mixed with haydite and akadama. I also added a bit of miracle gro spaghnum and peat moss soil mix.
I positioned the root ball still quite intact with its soil in the center of the big pot and surrounded it with the mix I made as described above.
I kept it in partially bright space with a tall jar of water beside it for some moisture.  
Its been almost 10 days now at least and now I noticed that the leaf tips are turning dark...What is happening? What do I do?
Thanks in advance.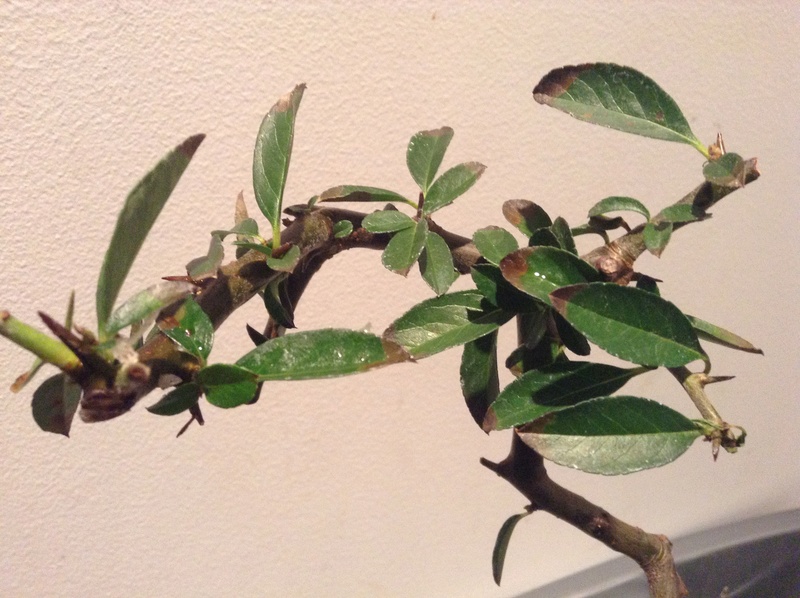 Browning tips like this typically indicate roots that are being kept too wet.
Thank you for your comment... I will keep this in mind from now on.
So does it mean that the whole plant is oversaturated?

If yes, do I expose to more light? or less light?

About 90 percent of the leaves on the plant has darkened tips ...
Will they darken completely afterwards and drop? do I pull them out?

Is there any clear indicator or clue when I should water again?
Should I avoid misting by spray bottle?

I'm clueless :S



---
Permissions in this forum:
You
cannot
reply to topics in this forum