Hello to Everyone!
I'd like to present the last but not least spruce I have in my collection.
This is unusual material for sruce but quite interesting in my opinion:)
Feel free to visit my blog. ->
http://bonsai-niwaki.blogspot.com/p/sosna-pospolita-sylvestris-ang_6.html
More photos and video like always.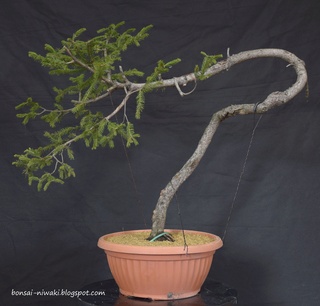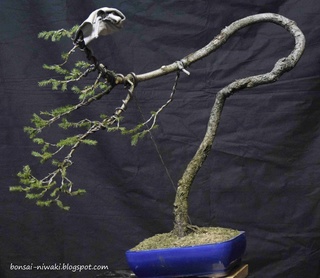 bonsai.niwaki

Member





Wow, another very unconventional tree.

If it were mine I would be tempted to put more movement in the branches to compliment the movement in the trunk and to try and bring the top/apex back toward the trunk more. Still, I'm no expert and you obviously have your own style and plan in mind.

You also obviously have a taste for more unusual material which is great. Please do share more of your trees here.

Regards

Richard

Richard S

Member





OK.
(*)
To me, the curves are much too soft. It doesn't it look natural: the design is much too soft, in total contradiction with the angular growth of a spruce. And in the photo, it looks very flat (same plann between the base -nebari- and the top.
I don't know how tall the tree would be, but maybe wiring it up again could lead you to consider a litterati - bunjin-gi -...
Raffia + 3 vertical big wires (adapted to the size of the tree) + self amalgamating rubber band (or strips of an inner tube of a bike wheel) + wiring the trunk with unexpected angles IN 3-D
See what I mean?...
(*) Czesc, 100% genetically Polish "gural", 100% French. stubborn, and speks frankly: I hope you will take what I say as friendly advice.

A. Krzyzyk


AlainK

Member





I take it as a friendly advice, but I'm not sure that ...
gural nie pisze sie przez ó zamknięte?

This tree wouldn't be a natural tree in my hand

I mean, this is typical avant-garde style for me

typical bonsai style.
Your advice is good i think,
but bending, using raffia, big wires - it's not in my style. I don't like it.
I've found this tree with that movment and I've tryied to do something with this tree.
That's the result of work...
Thanx for your interest, "Guralu"

Thank You Richard.
I'll do my best with sharing trees in future...
For now, please visit to my blog if you like ->
www.bonsai-niwaki.blogspot.com
It's in polish language at the moment, but I'm plannig to create it in english...
Youcan also use google transalte on the right of my blog.

bonsai.niwaki

Member





Thanks, I've looked at your blog, it's good. You have some very interesting trees and the translation feature works well.

Regards

Richard

Richard S

Member






---
Permissions in this forum:
You
cannot
reply to topics in this forum