I dug this tree out last spring after finding it a year prior, I did some rough branch selection and I chopped the trunk. I always wanted a Linden but when I returned back to the spot where it was a year later, I realized that the material wasn't that great. I don't know what I was thinking but heck I took it home anyway.
This was what it looked like when I brought it home.
After the growing season.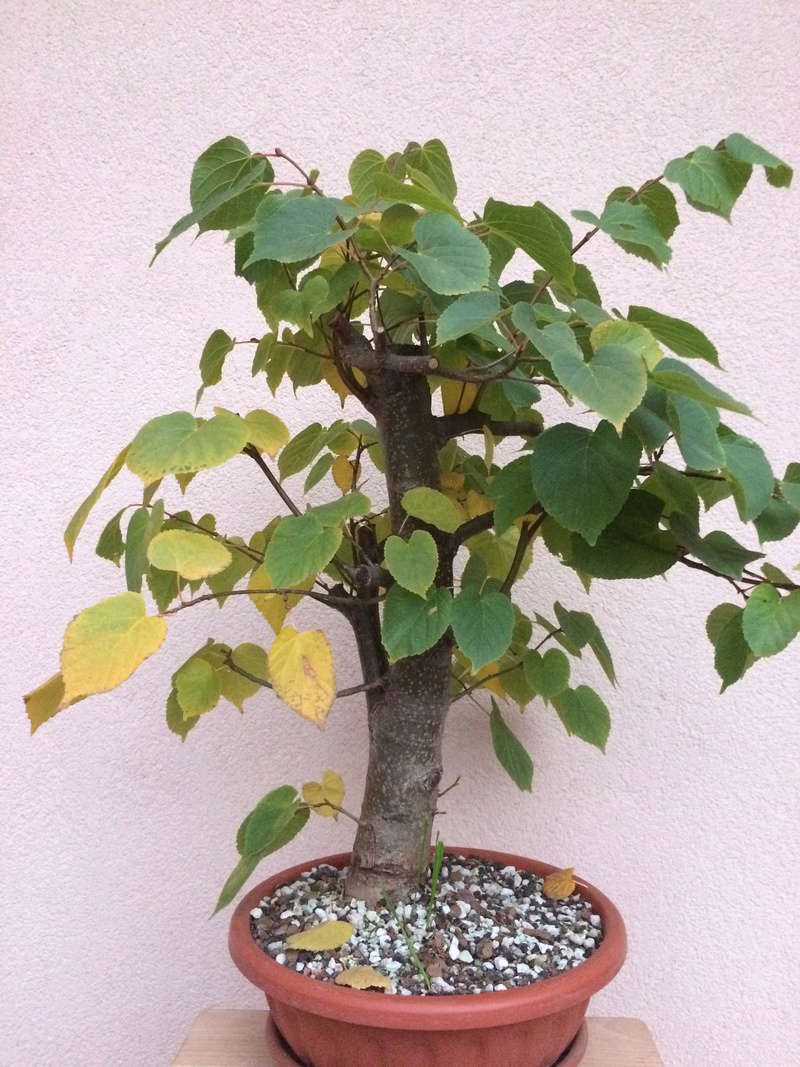 It seemed healthy enough so I gave it a wiring this winter. I know that this type of styling will throw a lot of people off, -it looks like a willow or something.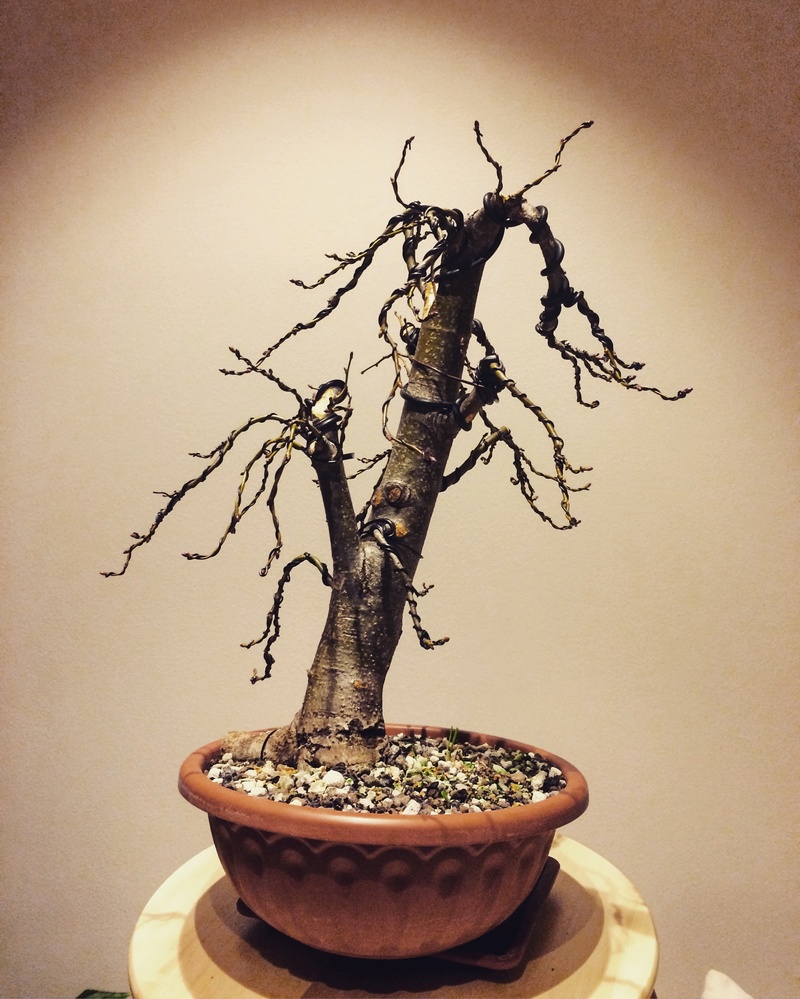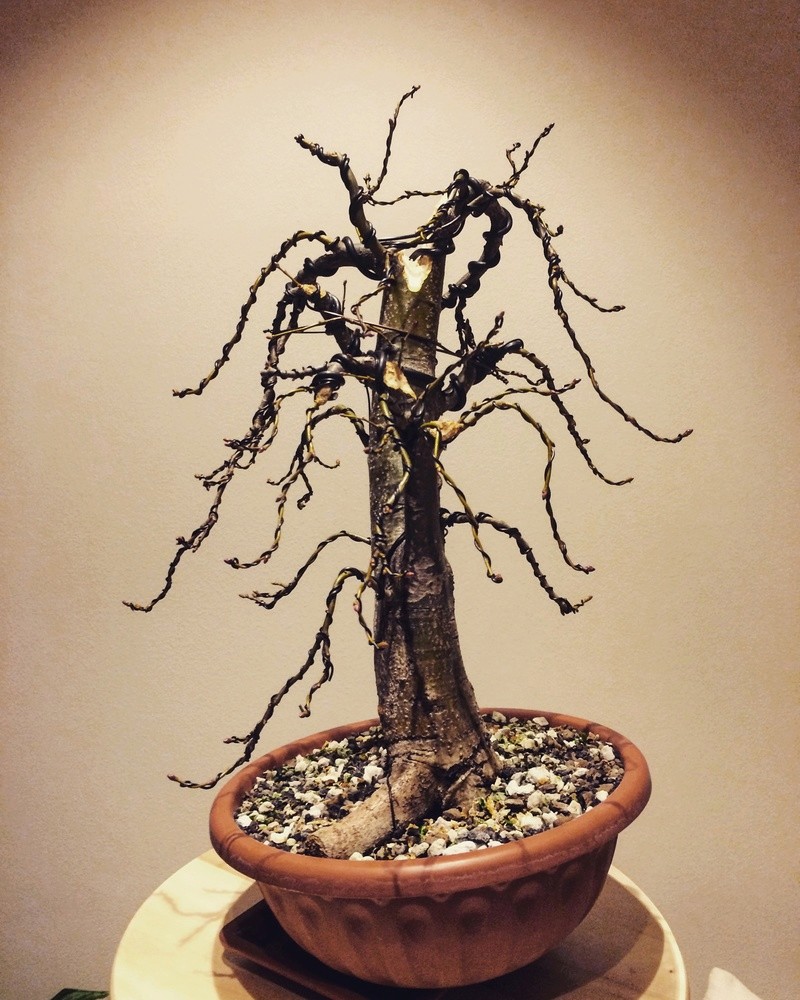 Since this material wasn't so great and altogether lacking a big base that had movement and great taper with a large broad-leaved canopy like modern deciduous bonsai look like now, I decided that I wanted to try a 'realistic' style of how Linden grow. I see these Linden in the countryside here in the Czech Republic that are around the 80-130 year mark. They tend to have a lot of branches that arch downward and then up again but in a drastic manner, it could be because they have really soft and flexible wood. Chestnuts do it as well.
Once this structure sets in place, the rest of the new growth, mainly up top, will be wired to grow up as Linden do in nature. This is my plan and I hope that it comes to fruition in the next few years so bear with me on this one. I will also air-layer for a new root system in the spring, the existing nebari is terrible.

Thomas Urban

Member





Well, the styling does look a bit odd at this stage of it's development but I know what your getting at with the arched branches. There are a number of deciduous tree species that have this exaggerated arching form when mature. Horse Chestnut is another obvious example, you can spot the form a mile away.

Stick with it.


Also what kind of Linden is it (if you know)? I have one that is similar but the small shoots and buds are bright red and the bud size and internode length seems greater.

Mine is Tilia Cordata I think. I assume yours is also a Tilia of some kind.

Regards

Richard

Richard S

Member





Yeah Richard, I was hoping that I wasn't the only one who saw this trend so thanks for seeing what I saw. I believe this is also a Cordata. I have heard that around here Linden, which is actually the national tree of Czech

, have mixed so much into hybirds that it's difficult to tell what species they are exactly many times they become what is called the common lime, Tilia × europaea.
I think this is Cordata though because my other Linden had much bigger leaves and I believe that one is possibly a Platyphyllo. The dormant buds on this one are much more red and on the other Linden they are more brown. But, who knows, maybe they are both just hybrids.

Thomas Urban

Member





did you consider (and the reject) the idea of cutting it down to that first branch/sub-trunk and then building the tree from there ?
that would give you a really good transition to begin getting some taper...
it would be starting over, but you are young  

just a thought
like this
(i hope you do not mind me taking the liberty with your photo - if you do mind, no worries, i will remove it)
_________________
AAC Original Milwaukee Wi. Chapter - North America
aka beer city snake
http://wiscobonsai.blogspot.com/

Kevin S - Wisco Bonsai

Member





Ive seen this type of growth habit on linden as well
https://www.flickr.com/photos/96480691@N03/15887541910/in/faves-138823275@N03/
and ive seen WP style linden in this way
http://walter-pall-bonsai.blogspot.co.uk/2014/02/linden-1.html
I would probably opt to keep it tall because the leaves on linden are somewhat large and are not know to reduce much...
im currently working on a hornbeam with a ram rod straight trunk, it lends itself to a broom style, ive gotten a little taper into it by splitting it down the middle
IMG_3574
by
Bobby Lane
, on Flickr
IMG_3628
by
Bobby Lane
, on Flickr
Just to give an idea
i have two lindens/tilia cordata and both have red buds, mine are currently being grown on in the ground.

BobbyLane

Member





Thanks again Bobby for the links. Saved! That is exactly the silhouette I was looking for and the type of image I am going for.
I think you did a good job with a hornbeam that is relatively straight and I think that it will be a really cool tree in a few years. The nebari is great though, so that is not something you'll need to worry about : )
Kevin- I don't get offended, you can use any photos I have and change them to show your perspective so that as dudes we better understand

Dudes need more visuals to understand!
I never thought of doing that but I see your point. If it was developed from this base then the taper would be much more aggressive than it is now. Good to see another point of view for future development and I'll let the idea simmer in my head. Thanks for the feedback : )

Thomas Urban

Member





Thomas Urban wrote: Dudes need more visuals to understand!
indeed !
and that applies to many aspects of life

_________________
AAC Original Milwaukee Wi. Chapter - North America
aka beer city snake
http://wiscobonsai.blogspot.com/

Kevin S - Wisco Bonsai

Member






Leo Schordje

Member





[quote="Leo Schordje"]Tillia cordata on the grounds of Monticello, in Virginia, USA. It is not a ''Thomas Jefferson original" probably planted 150 years ago. Note the arching branches. Classic
... and no dead wood: it looks strong and healthy, what I call a venerable tree.


AlainK

Member





Leo- that is pretty badass the branches going into the ground and growing back out again.



Thomas Urban

Member






Thomas Urban

Member






---
Permissions in this forum:
You
cannot
reply to topics in this forum