Hi all
I've found a tiny (cheap) Adenium hiding in the corner of a DIY / home store here in England.
Although it's the wrong time of year to re-pot, the original pot had not drainage holes and had horrible substrate so I took a chance and put it some good bonsai soil and in an over-sized training pot to encourage plenty of growth. The pot is probably too big at this stage but I believe that the Adenium doesn't need to be re-potted all that often and I wanted to give it plenty of room to breathe.
It was originally in a dark corner within the store, so I've given it a few weeks outside but in the shade. It's now in a sunny corner in the garden and growth is already looking strong.
However, are there anyone reading this that has had experience with the Adenium bonsai...ideally from England (or zone 7-

? How do you tackle winter conditions? I believe that watering is very in-frequent but there should be some humidity at least and ideally over 10 degrees C. Somehow, I don't think I will be able to offer the plant such a high temperature when it's at home without any central heating on. I'm not one to use lights (expensive and I'm paranoid about fire-risk while I'm not there).
Any advice would be welcome. Below is a picture of it bare-rooted while re-potting and also in it's new home. The top has unfortunantly been trimmed but it is a bit of an experiment anyway. If I don't kill it, I will find a another that will grow into a more impressive specimen.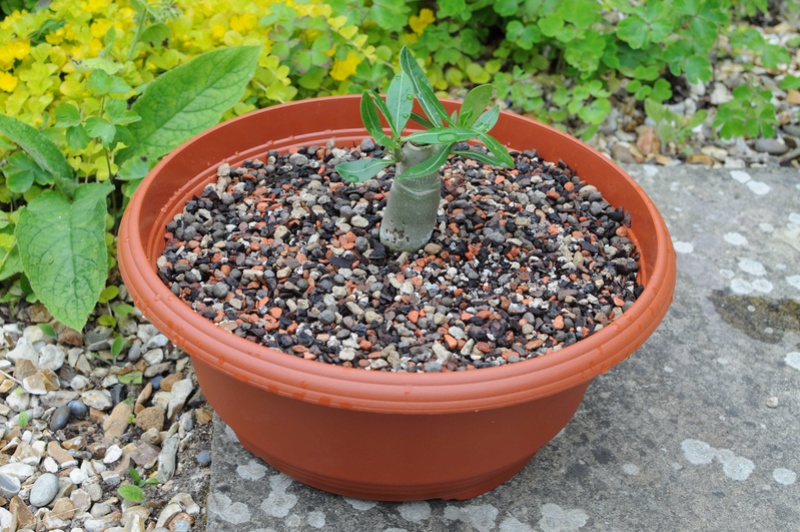 Thanks...
Adeniums hate cold wet feet. I would reduce the pot to maybe 1/10 of the current size, otherwise the substrate will stay wet WAY too long. Certainly in the UK; not know for long dry spells

In winter, you should keep them very dry and cool, afaik. But I have only this year gotten my first adenium; bare-rooted, dried-out import in winter. This is not very happy (Is still trying to wake up from dormancy)

leatherback

Member





Thanks for your input Leatherback. Good point regarding the over-sized pot & risk of wet/cold exposure. I'm reluctant to re-pot again so quickly so will attempt measures to keep it warm this looking winter and put it in a smaller pot in Spring '17...hopefully it survives!!
Take Leatherback's advice, it has to be repotted. Do it gently, it should be OK.

It's ok to repot tropicals in the summer
My father in law has one. He lives in Corby. His just flowered.

I'll ask him for his advice and come back to you.
Here's what he said:

"Inside on a window sill facing south as they like full sun. Ours is in full bloom for about 6 weeks now. They like moist soil but not wet. "
Thanks all for the advice. Think I might well reduce the pot size after all...Cheers!

---
Permissions in this forum:
You
cannot
reply to topics in this forum