I have a tropical , planted on a rock style, a GYMNOSPORIA DIVERSIFOLIA, a Taiwan native.  
Its been sitting on a kitty litter with water below (no direct contact with the bonsai nor bonsai pot) since the beginning of the growing season with my other tropicals.  I noticed that all have very good vigorous growth and this one seemed to have slowed down.  So more than a week ago, I moved it somewhere more shaded and without a hydration tray below.  Was just watering regularly and it seemed fine.  
It has been several days (about 4 days)  that it is mid30+ degrees Celsius in Toronto.    
And suddenly today all the leaves are dry and somewhat curled up! The pictures below shows it looking less drier, but it is somewhat crunch texture.. not to the point it will crack with light handling.  
Did it get dehydrated?  What do I do?    
So far I have watered from below by soaking the pot until the top of soil is moist, I have misted the poor thing for about 8 times today already.   Thinking if it got dehydrated, I put it in a clear plastic dome with hydration tray below in partial shade will rehydrate the tree?   (last pic, together with the sun-stressed eason heather and just trimmed brush cherry)
Help! I don't wanna lose this baby...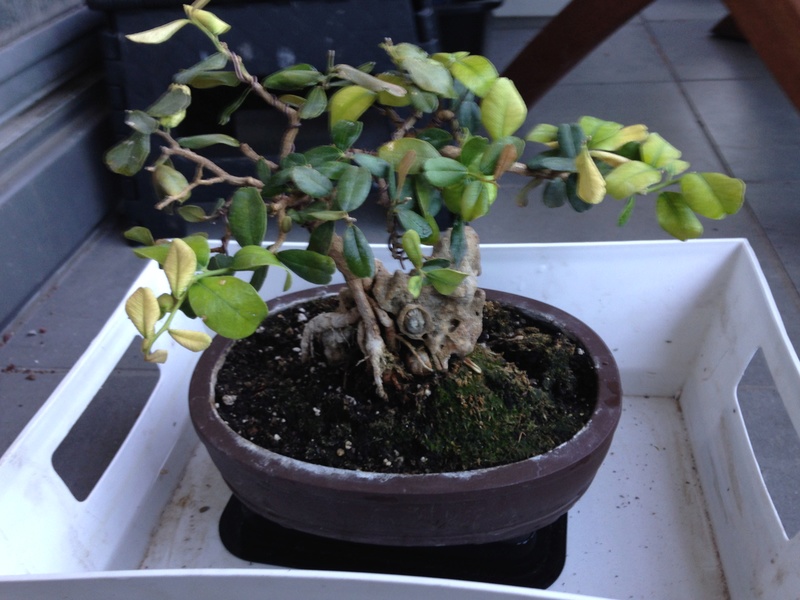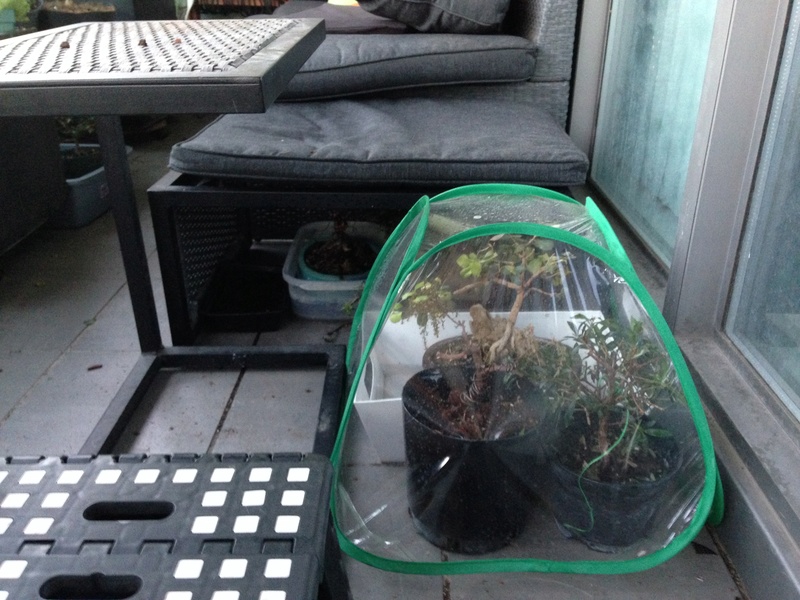 I suppose GYMNOSPORIA DIVERSIFOLIA is quite uncommon tropical bonsai species.
Thankfully, someone in our club has helped somehow with her knowledge on tropical.
In order not to pester her with my many beginner questions since our club is having a summer break...
Few points on what I have done:
1) Replaced potting medium with more loose inorganic, less organic, akadama on the lowest layer. Too bad I came to the rescue too early and put Akadama in, which she doesn't recommend because it disintegrates and becomes mucky.
2) Pruned some burnt leaves and tips. She said some roots might have been damagaed and the tree would probably benefit to have smaller leaf mass.
Also took off wiring to relax the tree.
3) Took the opportunity of using the plastic dome with hydration tray by repotting a new willowleaf ficus bonsai seedling, repotting on a rock a small serissa that has been growing on my balcony since spring this year and trying to grow new mini cherry cuttings.
4) The setup as seen below in the pic has a thermomether and hygrometer hanging from the top of the plastic dome.
The readings are 21 C averagefor temp and about 80 RH. In my bedroom, vertical blinds close all the time, air conditioning on when I am at home, about 16 hours a day at least.
NOW MY QUESTIONS:
1) When should I reintroduce the batch into sun slowly by slowly? Any recommended period of time it stays in it's current setup? Or any signs to look for?
2) Do I water regularly? Do I let them dry out before watering normally within the dome? I have been misting lightly about times a day, not watering, only mist falls onto the surface of the soil.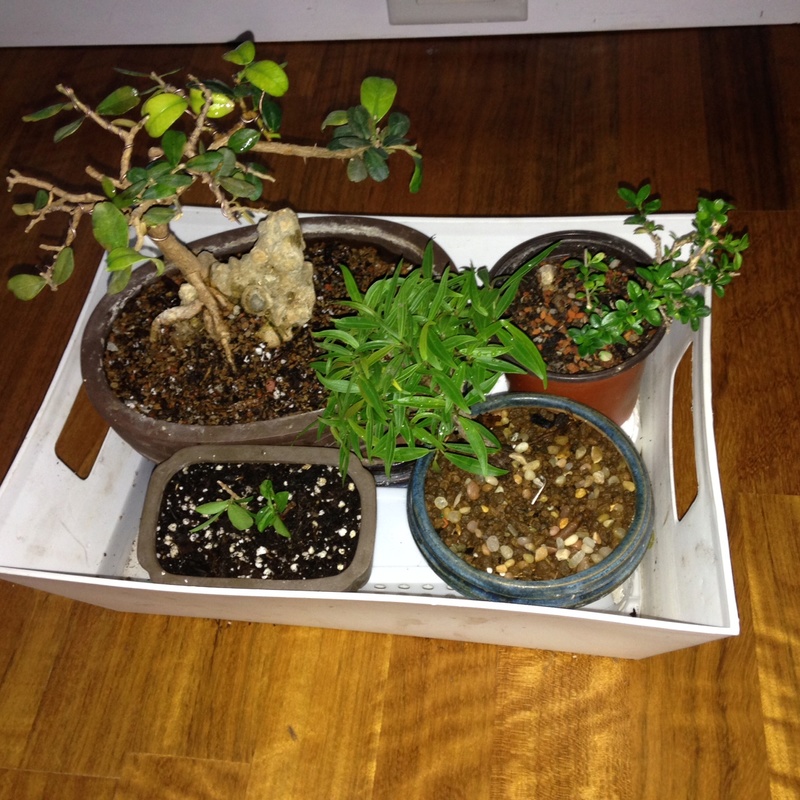 ---
Permissions in this forum:
You
cannot
reply to topics in this forum