Hi, I just joined this forum, so I thought I'd show you my first shohin potensai. This is actually not my first tree, rather my second one, but my first one got stolen right after I pruned and repotted it. Anyway, here's my first (still existing) attempt at a Juniper.
I guess this is a rather uncommon species, a Juniperus Repanda, or "Green Carpet", that I got from my local nursery. Looking at it in the store I thought I could do a cool cascade design (which I guess is way too dificult for a beginner), but this is what I ended up with instead. I didn't want to go too hard on the tree, so I left some of the foliage on the top of the branches untouched. I realize I might had been better off with a common, more straight forward species, but I'm honestly not unhappy with the result.
I also made the little Penjing, or mini Zen garden, or whatever you'd like to call it. I first built the wooden pot, and then filled it up with marble, moss and rocks. I also built that small Bonsai stand the tree stands on. I aimed to mimic the design of Japanese gates that you see in gardens etc.
But anyway, please tell me what you think about it and I'll try to improve for my next one!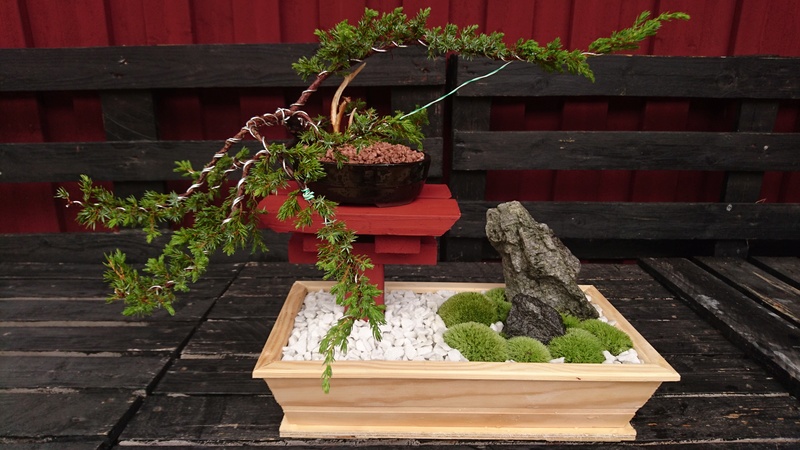 It might be somewhat difficult to make out all of the branches due to the lack of depth in the pic, but I hope you'll get a picture of it anyway!
I like your enthusiasm, and creative constructions. The mimi garden with the bonsai stand is very creative. Your juniper is looking very healthy, your horticulture skills are good. The design for your tree, well it is somewhat all over the place. The tree is heading of in 2 different directions, does not presentent a coherent ''image''. Is this a tree in a forest, growing up?, or one at the edge of a cliff, growing down?, or a wide spreading tree in a field? Think of trees you have seen, they tend to have repeating patterns. There are several possible ''bonsai'' hidden in your tree, most directions I would take your tree would use either the left or the right branch, but none of my ideas would use both, unless I used the wire to bend both to go in the same direction, either both upright, or both cascades. Generally, I would just pick one to make your tree, and use the other as a deadwood feature.

Take your time, grow this until end of sumer or even next year. Make a few sketches of what branches you have, and then using existing branches, see if you can draw a tree design that would only involve using what you have, and maybe removi g branches you don't need. But don't cut right away. Grow this a few more months to another year before doing anything to it. Read, learn, and pick up a few more junipers to work on in the mean time. Plan a different style tree for each new juniper you get.

By the way, cascading junipers can make good upright bonsai. The trunks have to be wired upright, and take a few years to hold their shape, but eventually they do. The branches will cascade down, much in the manner of mountain spruce. They can of course be used for cascades too.

Is there a local bonsai club anywhere near where you live that you make get to see a show, or attend a meeting or two? Maybe attend a workshop?

Leo Schordje

Member





Yes I realize it's pretty hard to understand the branchwork looking at the picture. It's much more coherent when looking at it irl. Most of the branches are cascading down, and it's really only the long top branch that is growing upwards. The general idea was to make the tree look like it's growing on a mountain top, with the wind twisting the branches around the tree.

But thank you very much for the advice Leo, I'll let it settle and grow for a while before I do anything more to it.

---
Permissions in this forum:
You
cannot
reply to topics in this forum