Hi guys,
I have this Olive tree that I planted in a rock and put under ground for two years before taking it out just last Fall.  it is growing well, so I am glad she is healthy.  I highly appreciate your feedback on how to style it int the future.  For sure I know that I have to do something about the two parallel branches on the left.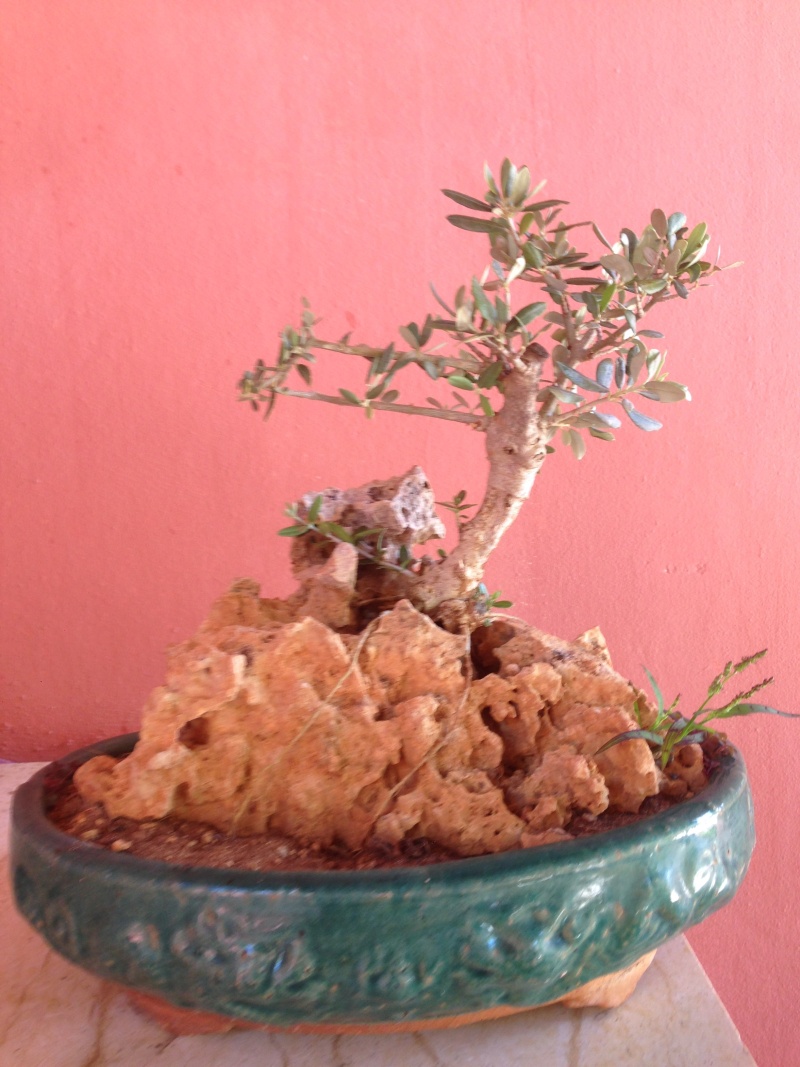 I appreciate any comment.
Thanks
Tarek

Tarek (from Lebanon)

Member





the roots it has seem very thin...

if there is doubt about them being able to support the health of the tree, perhaps another year or 2 in the ground would help ?

_________________

AAC Original Milwaukee Wi. Chapter - North America
aka beer city snake
link to ARBOR ARTS COLLECTIVE BLOG

kevin stoeveken

Member





Thanks for your answer Beer,
the major roots goes through the middle of the rock hence they cannot be seen from. comparing this tree to others, it is healthy and been growing for the last 9 months.
Tarek

Tarek (from Lebanon)

Member





Hi Tarek

Firstly, good work on the root over rock. I think it will look lovely in a few years.

Please note that I am new to bonsai myself so don't take my comments too seriously as it may be very bad advice. However, with that said, my initial reaction is that you don't have particularly attractive taper on the tree. It starts off very thin at the base of the trunk and leads to a ball-like area further up. I would follow the advice of beer city snake and put it back in the ground for a few more years. At the very least, I would put it in a bigger pot to develop the roots more. This may bulk up the base of the trunk. Personally (and this may be the bad advice), I would be inclined to hard prune the tree so that one of those new, small branches at the bottom of the tree become the new leader. You already have one new branch stick straight up beside the top of the rock which would work well as a new leader. The bit of trunk left over could be converted to an attractive 'Jin' in the future.

Hopefully there will be more comments as I would like to know what other people think and if my thoughts on the hard pruning would be too much for the tree to handle...
yes... that bulge is unsightly and likely resulted from several branches all coming out of the same are of the trunk...

removing branches from that area, leaving just 1, will reduce or eliminate future bulging.
also allowing those small lower branches to run wild for a year or 2 will help fatten up the base (along with being put into a deeper, larger pot as the thin roots will fatten up some and be able to provide more energy to the fattening of the trunk)
_________________

AAC Original Milwaukee Wi. Chapter - North America
aka beer city snake
link to ARBOR ARTS COLLECTIVE BLOG

kevin stoeveken

Member





Thank you guys for your comment.
I think I will follow your suggestions and let it grow for a bit longer in larger pots.
regards

Tarek (from Lebanon)

Member






---
Permissions in this forum:
You
cannot
reply to topics in this forum