Folks,
 Jade, Jaboticaba, Tea, and Umbrella.
   First winter for all four. None "thriving" but all doing well and slowly producing new growth. The Umbrella has been cut back some. Taking a chance, Ive managed to separate the left hand trunk of the Jaboticaba from the right hand trunk and am currently gently tugging on the right hand trunk. The goal being a somewhat large flat canopy. I have lost some leaves. Note the new growth on the left hand trunk. The Jade and Tea are untouched thus far.
  A few questions.....I'd like to re pot this spring/summer either using the old pots or perhaps new ones. My budget is limited. Any links to nice pots would be appreciated. Also soil links would be great!! I've tried to show the lower split trunk of the Tea. There is no rot and I think there may be possibilities of a rock or other object in the middle of the trunks. I'm open to all suggestions. I should mention that a bit of 20-20-20 has been added.
 ....I'm unsure of when the trees were last re potted.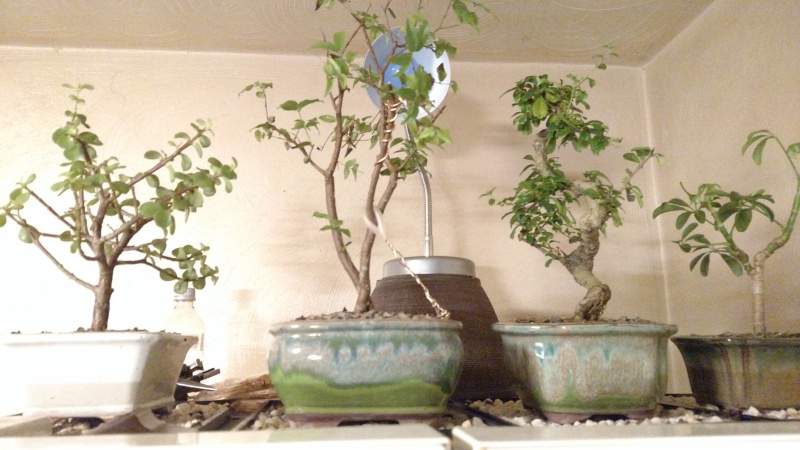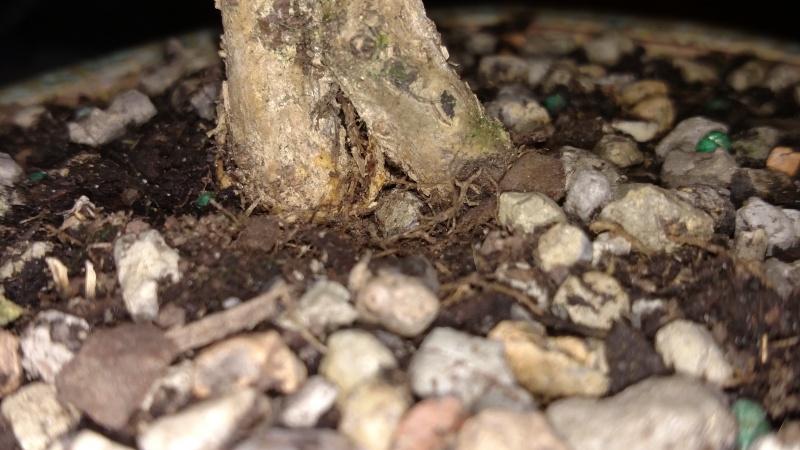 Thanks

Mark K

Member





You've been forewarned, be very careful using kitty litter as bonsai soil. Using the wrong one can have dire consequences
http://bonsai4me.com/Basics/Basicscatlitter.htm
As for pots, someone else will have to chime in. If i'm correct that PA stands for Pennsylvania, I bet you're not too far from a Napa which carries oil dry. Its mentioned in the article so i'll let you choose for yourself
yeah like chadly alluded to... if you are more specific about your location, others nearby may be able to steer you towards locally sourced substrates, pot, etc...
your exact address and GPS coordinates should suffice.

_________________

AAC Original Milwaukee Wi. Chapter - North America
aka beer city snake
link to ARBOR ARTS COLLECTIVE BLOG

kevin stoeveken

Member





I don't see crassula in your pictures.
I use #1 chicken grit and pine bark fines. It's commonly used in our club, and even saw something about it from the New England bonsai.
ez

Precarious

Member





I dont believe it to be a "jade" but a dwarf jade, portulacaria afra
Thanks for all the replies.
To be specific, I live in NE Pennsylvania USA.
I have been able to track down 2 sources for pots and soil within 15-20 minutes of me.
The weather has begun to warm since my last post and finally all trees have spent some time outdoors. I find it amazing how they seem to enjoy the outside 60-70 F temps.
The jade is a dwarf jade. I have cut it back fairly hard. I will post pictures as soon as I am sure I haven't gone to far.
I picked up a rosemary and a dwarf Alberta spruce....both have been "pruned" and roots trimmed and re-potted.
Attached are pictures of both. Critiques are welcome.
Thanks
Mark K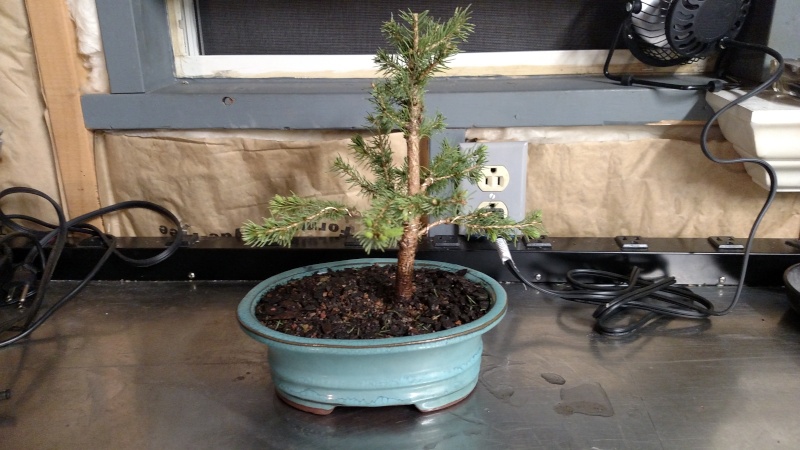 Mark K

Member





not sure how much work you did on the rosemary as there is no before picture...
if you havent already, check out the rosemary thread...
if you did a ton of work on it, you may want to consider cutting some of the roots and foliage back on...

_________________

AAC Original Milwaukee Wi. Chapter - North America
aka beer city snake
link to ARBOR ARTS COLLECTIVE BLOG

kevin stoeveken

Member






---
Permissions in this forum:
You
cannot
reply to topics in this forum