Hey folks,
I need some advice / information.
As some of you may know, my dad moved us to Lafayette, Louisiana, back in 1979 September [ checked old passport ]
and I collected 4 hackberry seedlings from the backyard.
I have kept them in the refrigerator to simulate winter ever since. Usually last week of January to 1st week of February,
until April 1st.
They usually start to yellow in the leaf in November. Leafless after Christmas.
This year for Christmas to first week in February, we got hit with 69 / 68 one or two 67 and 66 deg.F every day or rather at
around 10 p.m until say 8 a.m. [ 20 to 18 deg.C ] and low highs of 86 deg.F [ 30 deg.c ] and lower.
One of the originals [ have more from root cuttings now, looking for a tropical ] went dormant on it's own.
To prepare them for winter, I place them in a sunless, northern corner, where the cold can sit on them.
Thus far, dormant and it has been close to a month and 17 days.
It is alive, wetted bark at the top of the tree is green and a scratch test shows the same.
Temperatures have risen to 70 deg.F [ 22 deg.C ] at night, but day is still low 86 deg.F or slightly lower.
Cloudy.
Oddly enough, the Gingko is also dormant, and the Celtis from Africa just woke up.
Do I still need to refridgerate ?
Or just go with the flow?
Thanks for any advice, suggestions.
Laters.
Khaimraj
* The tree in question, 2" at the base 1" + on the trunk - age about 36 years.
Apologies not a great shape, but I love it, memories.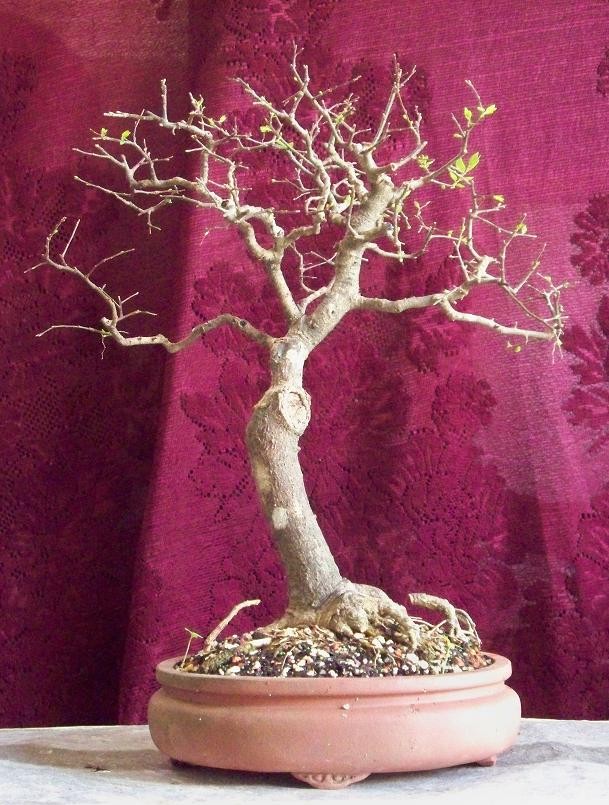 Khaimraj Seepersad

Member





I would refrigerate until March 1 or even March 15. Hackberries tend to come out late here (I am in Louisiana). In the event they have "memory" of their origin, even after many years, interrupting their dormancy too soon might weaken them.

For what it's worth.

Zach
Thanks Zach,

I was hoping someone from Louisiana would chime in.
Gratefully,
Khaimraj

Khaimraj Seepersad

Member





I'd give it a bit more pot, too.
_________________
Jim Lewis - lewisjk@windstream.net - Western NC - People, when Columbus discovered this country, it was plumb full of nuts and berries. And I'm right here to tell you the berries are just about all gone. Uncle Dave Macon, old-time country musician

JimLewis

Member






---
Permissions in this forum:
You
cannot
reply to topics in this forum