As some may be aware, I have an ongoing stratification project of 10 'easy to Bonsai bundle' with 800 seeds still yet to show any signs to propagate (is that the right word?). I get most of you may think im going way to fast and yet to have anything to show for it. I have just found myself looking almost always at ecxotic trees and thats enough. I want one! I want to learn how to from the very start. I think id appreciate Bonsai more as I already think they are cool but I have a mate with a nice bought one, but im betting its passed on or just die.

I wish to grow from seed because I dont think Bonsai for me anyway is a novelty. ive blabbed on and on a bit.


Next project just arrived is a single batch of 5 seeds from 15 species-

Japanese Sakura
Lagerstroe Mia Indict
Hippophae Rhamnoins
Seqoiadendron Giganteum (Sounss so cool!)
Ficus Religiosa sacred bodhi
Pyracantha fortuneana/chinese firethorn
Japanese Red cedar
Delonix Regia,
Picea Glavca,
Acaia Torilis,
African Boa-bab! (my fave!)
Cercis Candensis
Ulmus Parfivorla
Acer Ginnala amure maple
Malus Sargenti


{I will put together a first game plan soon and post in this thread and hope to learn from any criticism and hopefully get advice.
Jaimie

Bonsai Jay

Member





Have you thought of other methods of starting a bonsai, like buying pre bonsai?  No reason you can't do both. In 10 years you won't care how the tree was started - you will be attached to it.  Plus you will learn about developing and caring for bonsai.  If you wait on the seeds to develop then you won't learn much about bonsai for a while.  

Just me thinking. 
Steve

steveb

Member





Actually I don't think you're going too fast at all. Just the opposite really. Growing from seeds takes a while. Once growing and established all you will be doing is basically watch trees grow.
Most of us take big trees and cut them down to build bonsai. So while you will be waiting for a tree to grow to size then cutting it down to make a bonsai I can go out,obtain a tree that's already grown to thickness and cut it down without waiting for it to grow.
Some of the seeds you are planning on growing like the elms grow fairly fast. Depending on the length of growing season some of those could be ready in 4 or 5 years. Some of the others better pack a lunch. You'll be waiting.
I by no means want to discourage you but maybe while you're waiting for these to grow go and get something larger and work on that. Really get your feet wet so to say.
Bonsai Jay wrote:
Japanese Sakura
Lagerstroe Mia Indict
Hippophae Rhamnoins
Seqoiadendron Giganteum (Sounss so cool!)
Ficus Religiosa sacred bodhi
Pyracantha fortuneana/chinese firethorn
Japanese Red cedar
Delonix Regia,
Picea Glavca,
Acaia Torilis,
African Boa-bab! (my fave!)
Cercis Candensis
Ulmus Parfivorla
Acer Ginnala amure maple
Malus Sargenti


Nice to see you so excited and pushing to get going on this.
Do note however, besides what everyoneis telling (Get a oplant, too!) that not all species, although cool, are suitable for bonsai. Out of your list, some are very good species others are less so (e.g., baobap, ficus religiosa). Note that the ficus is typically also tricky to grown from seed. I actually brought cuttings with me from south america from a friend who has been trying for a while growing them from seed. The seeds need to be super fresh for them to germinate.
Oh yeah, that is the word; Germinate, I would say, rather than propagate. But I am not a native speaker. Someone willing to clarify?
In any case.. Have fun. Keep going with this. And read up lots on what to do with the seedlings in the first year. Because the first year can make a difference in the final plants you obtain, believe it or not. e.g.,
http://www.growingbonsai.net/growing-bonsai/growing-roots/
and
http://www.growingbonsai.net/growing-bonsai/growing-trunks/

leatherback

Member





Suggest a few changes -
Ficus religiosa - look for the naturally smaller leaf,easier on your nerves, it's a Ficus just not religiosa.
Delonia rex - does not work, no branches - try the Texas Ebony or Tamarindus indica
Seeds = ground growing unless the tree thickens in a pot - to discover - grow  1m / 2 m / 3 m extension branches.
Chinese elms are easier / nicer as root cuttings.
Best of luck.
From one seed grower to another.
Laters.
Khaimraj [ look Kevin I am fading here as well



]
From seed and an extension branch, grown to that size in a 1/3 US gallon, black barrel. Thickens in a pot.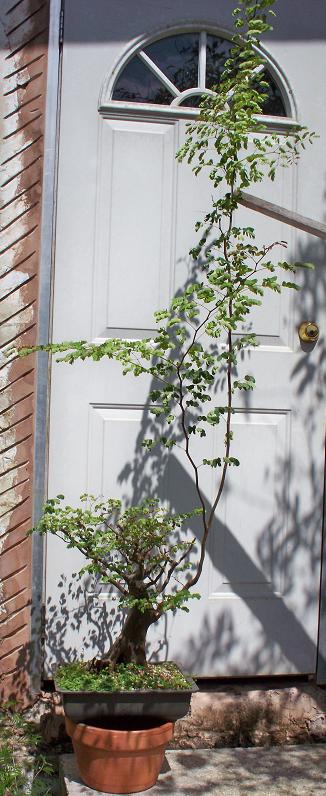 In a plastic training pot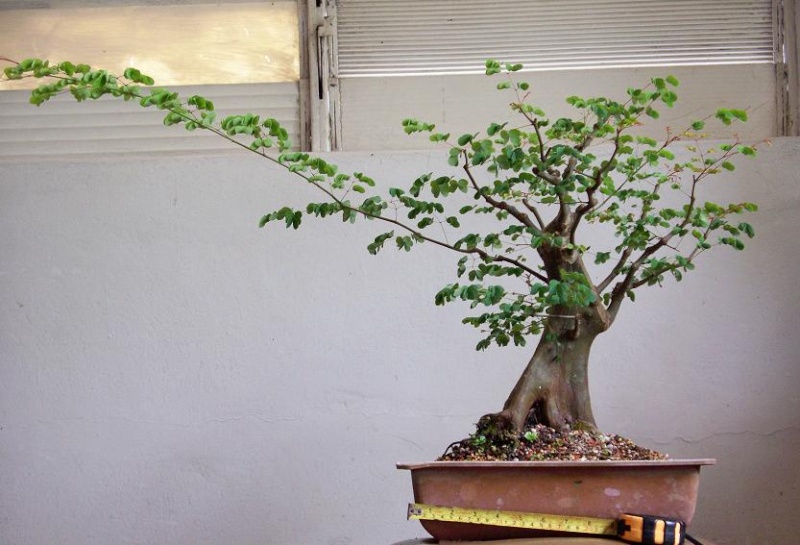 Khaimraj Seepersad

Member





When I purchased this bundle (again on Ebay) It was more an impulse buy lol. On checking out some of the species I was blown away by some pics I found! Its a shame two of my faves were the Baopab and Ficus
(imagined the majestic twisty trunk with umbrellad top?)
Steveb & M Frary - I figured in the period after seeding batches allowed me time to learn more about each, or enough to not kill them lol. Your advices makes sense to buy a pre bonsai and learn from today until im ready to cross that bridge

Im restricted to indoors really and tall building can mean window light is only directly catching a few hours at this time of year.
Any suggestions on a novice species to begin with, probably make it a sturdy one lol, just incase

Leatherback -

I would love a secret layer, or oplant as you call it, but I live city central and not much gardening grows on in this neighbourhood (dogs, kids, vandals etc..), although I suspect that 'gardening' does go on round this area

.
I wondered about some form of LED or (that other kind ive forgotten the name of) I browsed online.
Germinate: Thats the seed start to root or live right?
Ill look up germinate, I should already know as ive been buying dozens of plastic germination seed trays for months in preparation.
Kaimarj- Wow, awesome pics! and thanks, im starting to copy notes like a journal  compiling terms and basic info. My own starters manual in a way. I would have pics but haven't figured that out yet.
Cheers Jaimie

Bonsai Jay

Member





Don't listen to Khaimraj!

I mean, he lives in the West Indies and you live in Scotland, come on lad, didna ye ken these are totally different places?
Why don't you try Scots pine, or Dunkeld larch : if you order Larix x marschlinsii (or Larix x eurolepis, which is much more common though just a synonym), you won't even have to stratify them, and you'll save
A LOT of time and money
on LED lights, fans, computer-controlled temperatures, etc.
Do you really want to "do bonsai" in glass cages for a happy few - providing that you can achieve anything that can go out of your little ego-environment and expect freemen to enjoy that caricature of nature in bondage?...
Or else, buy a ticket to the Carribean.
And then, don't complain if you are paid what Carribeans get paid to try and make a living, you will have at least a 10% chance to grow a baobab there, much more than the 0.5% to get it from the next year. I did grow some Andansonia for a coupkle of years

(Though I didn't have tens thousands of pounds, €uros, dollars and decades of life ahead, so maybe you can make it

)
Sorry if I'm very blunt, but a friend has to tell a friend he's on the wrong track.

AlainK

Member





Trouble is, he doesn't have an outdoors and those would need to be outside.

Mind you, where he lives, he could always get that good "friend of Scotland", DOnald Trump, to move all those pesky vandals out the way. He's got a good track record in that department up there.

Unless Jaimie lives next door to Michael Forbes.
_________________
"Espouse elucidation"
_____________________________________
my website

fiona

Member





fiona wrote:Trouble is, he doesn't have an outdoors and those would need to be outside.


Oh, I had forgotten that...

AlainK

Member





Bonsai Jay wrote:Im restricted to indoors really
That rules out half your list already.
New Bonsai Jay wrote:
Japanese Sakura
Lagerstroe Mia Indict
Hippophae Rhamnoins
Seqoiadendron Giganteum (Sounss so cool!)
Ficus Religiosa sacred bodhi
Pyracantha fortuneana/chinese firethorn
Japanese Red cedar
Delonix Regia,
Picea Glavca,
Acaia Torilis,
African Boa-bab! (my fave!)
Cercis Candensis
Ulmus Parfivorla
Acer Ginnala amure maple
Malus Sargenti I will put together a first game plan soon and post in this thread and hope to learn from any criticism and hopefully get advice.
Jaimie
Hi Jamie, welcome to a crazy hobby that can be a life long and rewarding hobby,
Indoors - under lights - you can be very successful with under lights gardening, You will want light intensity as high as possible, even the brightest set ups are less than full sun outdoors. Spend time at your local hydroponics - grow shops. Light that is bright enough for peppers, tomatoes and marijuana are bright enough for most species used for indoors bonsai. You can to some extent, make up for low light levels by increasing day length. I use an 18 hour day length for the entire year. Works fine. Most tropical and subtropical species are not sensitive to day length in terms of growing cycles, so you can get away with using long day length.
Your list of species is all over the map in terms of culture. You have at least 4 or 5 distinctly different climates from which these species are native to, and several require specialized individually unique care. You could not grow these all in one place. Some will do fine outdoors, but not indoors. Some will need special care no matter where you put them.
Of your list of seed - only Baobab, Acacia tortilis, Ulmus parvifolia, Seqoiadendron giganteum (maybe) Ficus Religiosa (definitely), Pyracantha fortuneana and Delonix regia, could possibly be grown year round under lights - with Elm (Ulmus), Pyracantha, & Sequoia, requiring a cooler winter, less than 20 C, better if you can get closer to 15 or 10 C, indoors this may not be possible.
The Baobab, Acacia & Delonix will slow or stop growing completely if temperatures drop below 25 C (roughly 76 F), the Baobab is especially sensitive to cool temperatures. You can force baobab into a complete dormancy, during which it will need zero water, its care is specialized, if you are lucky enough to sprout its seed, you will need to read up to keep it growing. Water while dormant and the baobab will rot away. Growth habit of baobab is not good for bonsai, but it is a cool houseplant. Delonix is also not considered a good bonsai species because it has large pinnate, compound leaves and tends to drop branches. Acacia is good for bonsai, but requires more intense sunlight than any of the other species listed.
Ulmus parvifolia is probably the most adaptable species on your list. It could be grown outdoors with some protection in winter. It could be grown as a subtropical, in an under lights set up. This one has possibility.
Sequoia is a whole trick bag unto itself. It is another species that at less than 30 meters tall basically looks like a juniper with coarse foliage. In nature it comes from a climate that is similar to a Mediterranean climate, except much of the year, during the dry seasons it gets heavy fog in habitat, and the tree actually gets 30 to 60% of its annual water demand met by absorbing fog that condenses on the foliage. It does not need a very cold rest in winter, though it has proven remarkably hardy, likely hardy outdoors to -15 C. So while you could get it to survive one or two seasons under lights, it would be happiest outdoors, it might be hardy in your area of Scotland, but if you are inland at elevation it won't be hardy. As to using it for bonsai, its growth habit is very upright, very apically dominant, and foliage looks almost identical to a juniper. It would be much easier to train a shimpaku juniper in a style to mimic a sequoia, A difficult species to work with.
The rest of the species you listed really need 90 to 120 days of temperatures below 4 C to break down dormancy hormones so new buds and shoots would grow in spring. This means that if you can not winter them outside you will need to refrigerate them to meet their chill requirement to get growth in spring. These should be winter hardy in your climate
Japanese Sakura
Hippophae Rhamnoins
Pyracantha fortuneana - usually grown outdoors, but I had it on indoors list as its chill requirement is fairly short.
Japanese Red cedar
Picea Glavca,
Cercis Candensis
Ulmus Parfivorla - with some protection should be winter hardy, again its chill requirement is fairly short.
Acer Ginnala - the most cold tolerant deciduous tree on your list. No protection needed for this one.
Malus Sargenti
So you can see, the cultural climate requirements of your choices are varied, making it impossible to grow them all well in the same space.
I recommend setting up a light garden indoors. Look at the natural temperature regime of your apartment. And purchasing young pre-bonsai plants of species that will tolerate your temperature range.
IF your apartment runs warm, over 20 C year round, maybe a bit warmer in summer, I recommend smaller leaved species of Ficus, you can try to make baobab work, also Jaboticaba, Eugenia, Carmona - aka Fukien tea, and dozens of other intermediate to warm growing subtropicals.
If your apartment is less than 20C all winter - Serissa should work well. Gardenia, Florists azalea (need less chill than Satsuki azalea) and you might be able to grow the most southern of the Juniper species Juniper procumbens. There is one grower in Michigan who grows Monterey Cypress under lights year round in his home, it can be done. There are many subtropical species that could also be grown, Citrus don't make good bonsai until they are over 25 years old, but then become nice bonsai. Best citrus for bonsai are the Fortunella Kumquats.
If you can rent yourself an outdoor garden space you could use the winter hardy species you listed, but without an outdoors space, they simply won't survive.
So my suggestion is to limit yourself to trees that will grow in the environment you have. There are plenty of choices, you just have to spend a little time to find them. And I recommend at this stage of learning bonsai to start with plants that are "pre-bonsai" where the first 3 to 10 years of growing are already out of the way.
Growing from seed is an art unto itself. Growing and developing stock to become pre-bonsai and eventually bonsai is part of the hobby, but this part is usually left up to nurserymen professionals. There is not a lot of literature about this activity. Visit Evergreen Gardenworks website and check their article archive. They have some good articles on growing seedlings to pre-bonsai. Read up.
http://www.evergreengardenworks.com/articles.htm

Leo Schordje

Member






---
Permissions in this forum:
You
cannot
reply to topics in this forum