This is my other Tilia, raw nursery material. i need to develop a canopy and i bought this one for the base, which i could only see from one side, but luckily enough it has a fantastic spread all around. this one was bought with the intention of cutting back hard into old wood and building a powerful tree, probably going to be shorter than my other Tilia, so this one will be all about a good winter image.

BobbyLane

Member





Very Cool! Really is a nice base with some great curves. Are the lowest branches to be removed later on to add some diameter?

appalachianOwl

Member





Hi Owl, i did some on it today, wired one or two for movement and cut back here and there. can do some more cutting back as and when buds pop.
Back

BobbyLane

Member





In the near future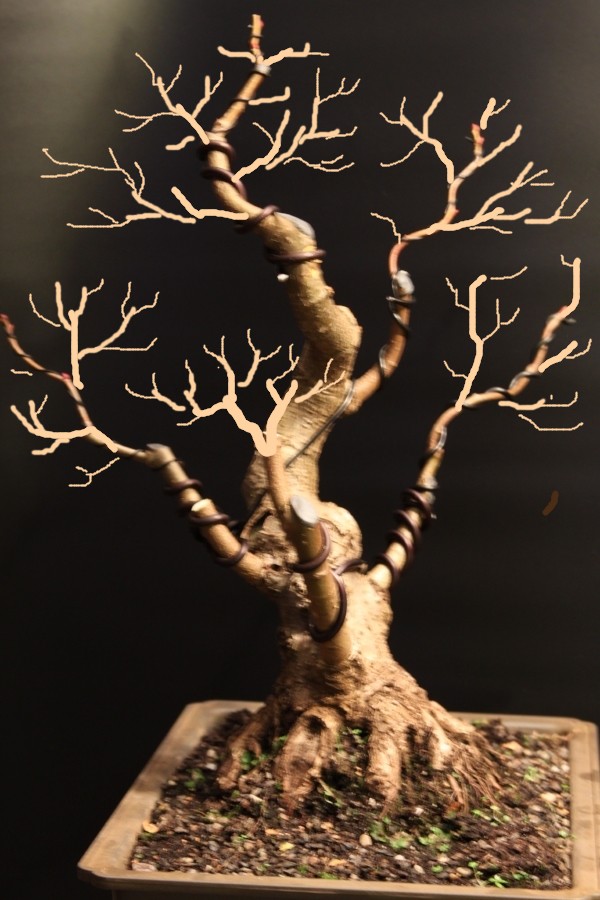 [/url]

abcd

Member





Thanks for the virt abcd. ill certainly be looking to build something along those lines...
why do you prefer that angle?

BobbyLane

Member





i agree , this face is better  
[/url]

abcd

Member





Thanks again buddy, we are on the same wave length

Im really looking forward to developing this one...btw the lines will be smoother in the top of the trunk where there's some scarring, after some light carving work.

BobbyLane

Member





On tilia, i cut the branches of past year at 3 buds , then at 2 buds the next year
Wood of tilia is not a hard wood, i think you should work with hand  carving tools , and dead woods are uncommon on tillia except hollows trunks
Some photographies of my tillia, cutting, 30 years old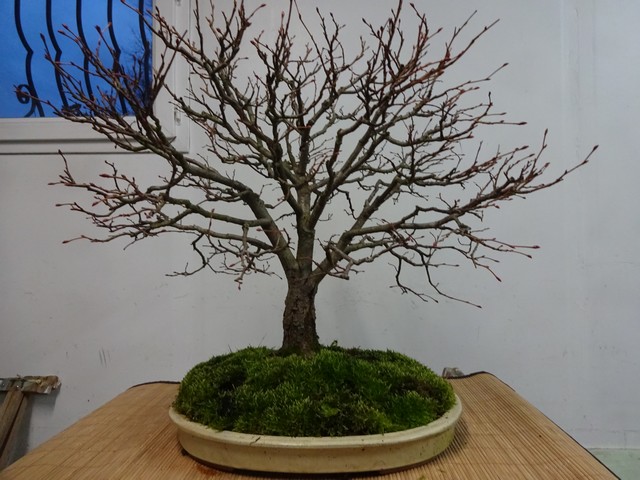 [/url]
the best period for exhibition is just before the opening of the reds buds
[/url]

abcd

Member





Hi abcd, nice Tilia you have there! do you have any pics of it in autumn leaf? have you had the leaves reduce much on it? Your technique sounds like a good plan.
Ive already done some smoothing out in the top of the trunk and cleaning rotted wood out of the Uro's. i wont be doing much more in the way of carving for this tree, it doesnt need it, i will try and put some more detail in the Uro's though.
can see what i did here
https://www.flickr.com/photos/138823275@N03/24582441341/in/album-72157663962550655/
I like the hole in the base, so may make that more visible and get some shadow inside it.

BobbyLane

Member





Thanks for posting these! Tilia bonsai are pretty rare around here, I think I've only seen a couple over the past 5 years. I have two T. cordata that are in the ground developing trunks, they probably won't be ready to be potted for at least 3-5 years. I did have them in pots for a year or two but was having some trouble with vigor...leaves tended to become yellow and sickly. Hopefully I can figure that out down the road.

abcd, what size is that tree (height)? It looks to have great ramification/twigginess considering that the species seems to be of somewhat coarse growth (based on what I've seen with my trees).

Chris

coh

Member






---
Permissions in this forum:
You
cannot
reply to topics in this forum