Hello,
I recently bought a really nice shohin Japanese Black Pine, and I'm having some trouble. It's dropped a few needles on its lowest branch (the far right branch, and also, the branch in the fourth image), and now, there's a only a sparse few needles left. The second lowest branch (the far left branch, and the branch in the third image), also seems fairly sparse, but I can't tell if that's just because Black Pines are apically dominant. So, I'm worried about losing the lowest branch, and possibly, the second to lowest branch (which seems less likely).
As far as background is concerned, I bought this from a bonsai nursery outside of Atlanta, GA, and then brought it back to NYC, where I live, by way of a few days in Washington DC. So, for those few days in transit it didn't have much sunlight (either sitting in the car, or else, by a window in a hotel room), but it was one for a few days, and nothing worse than a few days in the USPS's hands. But perhaps that diminished sunlight, if only for a few days, might have caused needles to drop?
Otherwise, perhaps they're dropping from the change in climate between Atlanta and NYC? It was a particularly warm winter in GA, and while it's also been particularly warm in NYC, it's still been colder than in Atlanta. Also, it seems like it's been particularly moist here too. I'm trying to water it less, as the soil has always seemed really moist, regardless of how often I water it.
Anyways, I suspect that the lack of sunlight for those few days, combined with the change in temperature, is leading to the problem. And, hopefully, being outside now will strengthen that branch up. But I don't know if my diagnosis is correct, and even if it is, I don't know if there's anything else I should be doing. Should I pluck some needles from the top? Basically, I want to save that branch, and I'm not quite sure what to do (or not to do) to save it. Any and all advice would really be appreciated.
Thanks everyone,
Jamie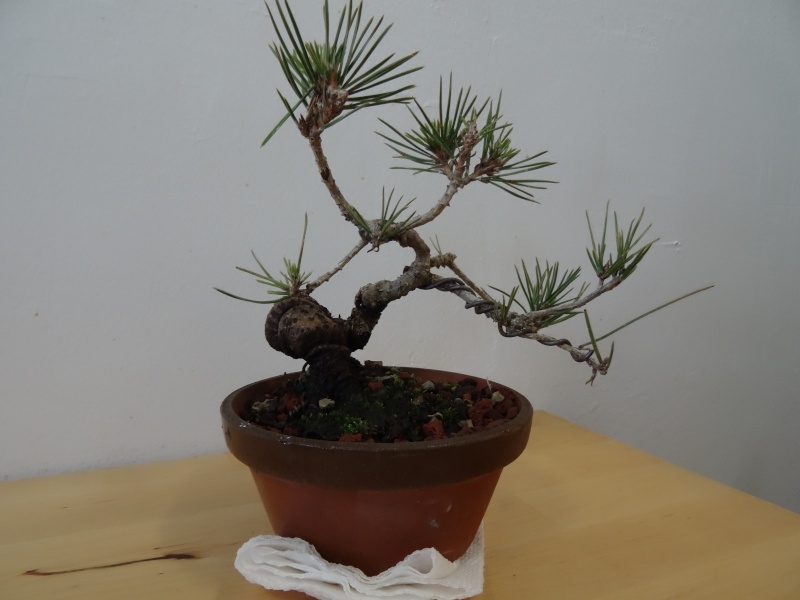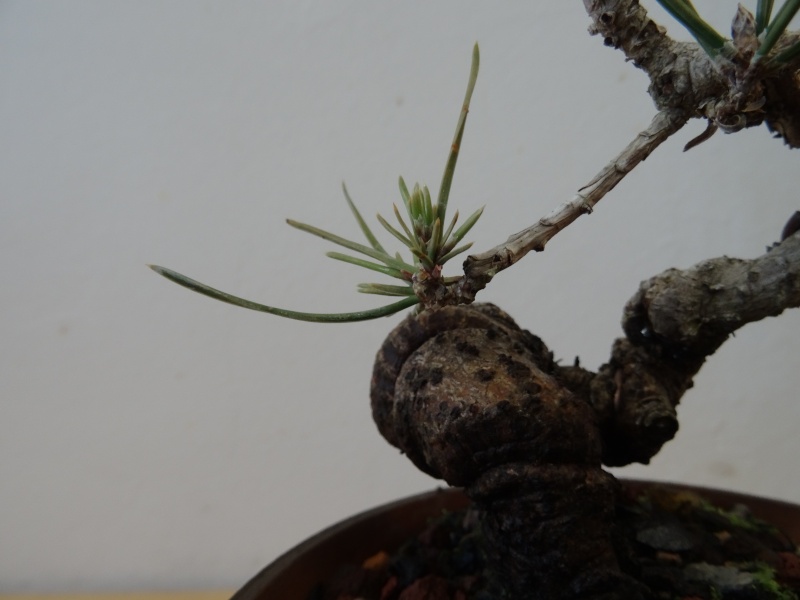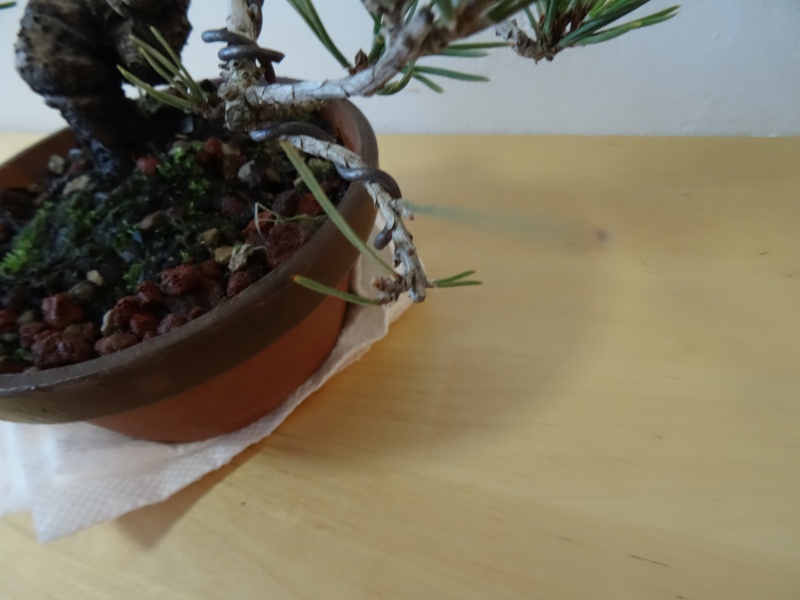 Hi Jamie.

When was the wire put on? And is that wire we can see on the thicker section of the trunk?

Second, what temperatures do you go down to in your area? My established Shohin pines - black, white and Scots - are all in winter protection now, either in an unheated glasshouse or in my garage where they are under lights. Do you expect to go below freezing in your area?


_________________
"Espouse elucidation"
_____________________________________
my website

fiona

Member





That looks like it will be a super tree one day. Furthermore, I've never owned a JBP in a pot. I have had 3 growing in the ground for 4 years though. So I'm no expert. I wouldn't pluck 1 needle from that tree. All my pines are bushy and look much healthier than that one. I'd protect from extreme cold (25 F) and get it as much sunlight as possible this winter. That would be my first goal. Next spring get it into the sun and fertilize. There are plenty of web resources that can instruct you from there.

steveb

Member





Thanks for the responses so far. As for cold, it's been flirting with low temperatures, but hasn't quite hit them yet. Today was actually 60 degrees, but tonight it will drop to 35 or so. But, generally, it's been hovering around an evening low of around freezing for the last little while. But it hasn't really hit the 20s yet. I was planning on winter boarding them with my local bonsai dealer soon, but he hasn't brought his outdoor trees in yet, as its been such a mild winter.

As for the wire, there is no wire on the main portion of the trunk. But that is wire on the branches. I believe it was wired fairly recently, and it's not the best job, but it seems fairly loose.
Jamie, I must say I don't like the look of this at all! It is teetering on the edge between life and death. All that is sustaining it are a few needles. A tree this size should have at least 4 times the amount of foliage to function in a healthy way. Wiring is out of the question for this plant. What you need to do now is try to hold it as is until your growing season begins. Definitely protect it from the cold as mentioned. Then you can check the roots and see if they are in a good condition. I hope they are because even repotting this tree will weaken it still further. If you can get it to bud up well in spring I would forget about shaping altogether for the entire season and concentrate in getting some vigor back into it. In other words let the new shoots grow without cutting until they have hardened off. Cut them off the following spring...maybe

Good luck.

MichaelS

Member






---
Permissions in this forum:
You
cannot
reply to topics in this forum