I  got this Pinus Nigra from a wholesaler down at  Dallas Farmers about three years ago.  I realize that at best it's a huge project.  But the base was so large (about 8" diameter), the overall taper and branch placement good enough that I had to give it a try.  Now, the defects:  (1) A couple of baseball sized bulges caused by branch whorls (2) very long, gangly branches with foliage only at the tips.
Anyone want to help me develop a plan of attack?
Tim Ahlen
Dallas TX
Zone 8
Front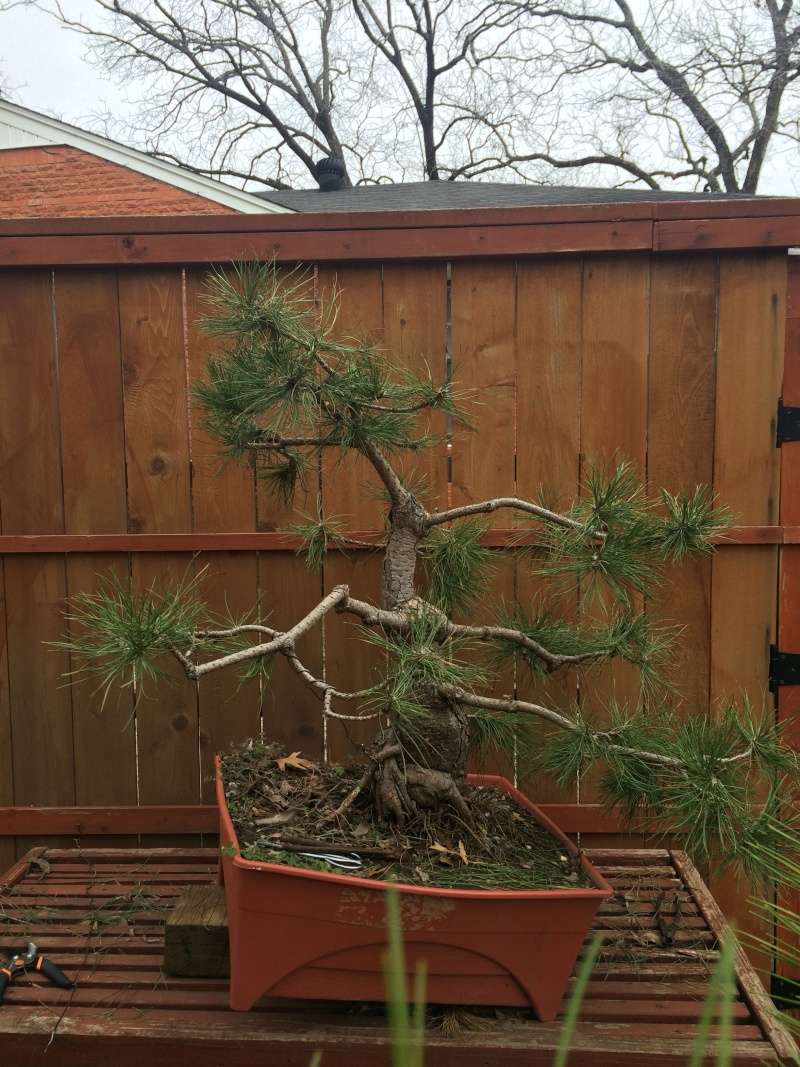 Side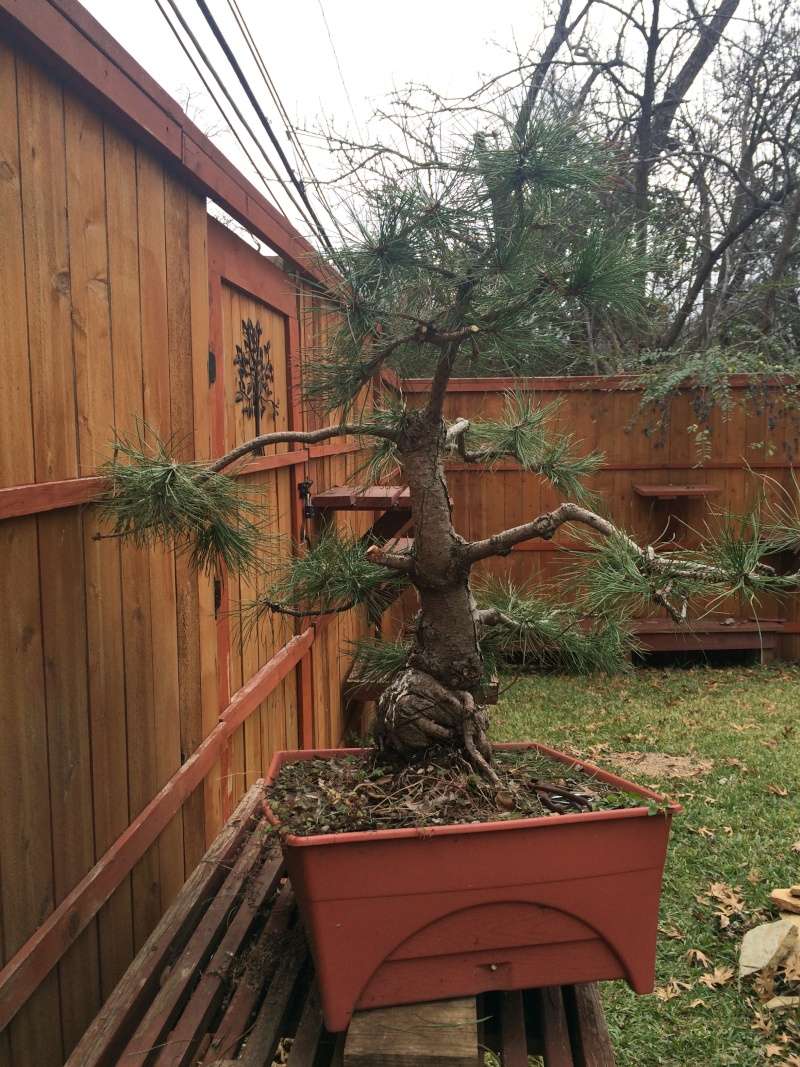 Here is the trunk line with the whorls virtually carved down: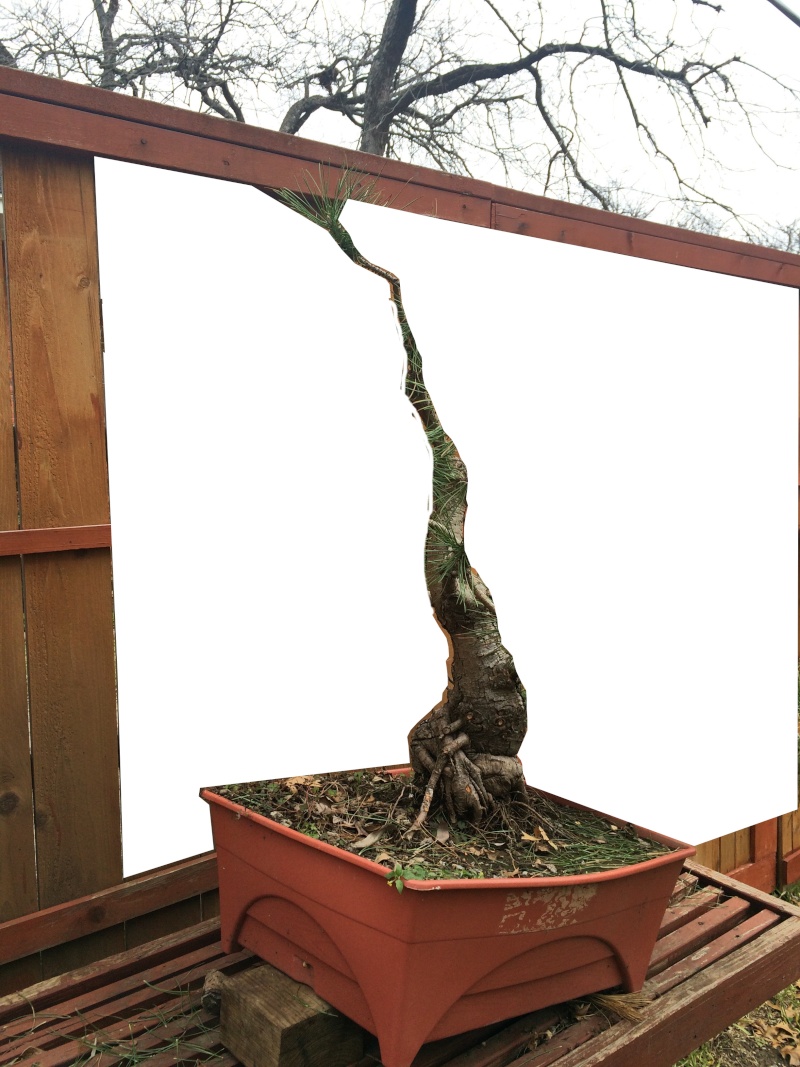 OK, my 2 cents worth.

Looks like lots of opportunities to do approach (in-arch) grafts to bring the foliage in closer to the trunk. I would probably do several of those this spring to get things started and give you more to work with.

You will most likely need to reduce the height - see above.

Personally, I do not like the tangled roots that help give the tree some of its basal girth. I would probably try to spread and/or reduce them over the next couple of repottings.

I have found that P. nigra can be decandled like P. thunbergiana in a strong growing year and will back bud a fair bit as a result. Last year we had an unseasonably warn winter, spring, and summer so I had one that responded very well to decandling. it had been in its grow box for about 2 years in a coarse soil mix and well fertilized so everything came together at the right time.
Yes, back buds, before anything else.

Marty,

fertiliser, what to give, a breakdown, type/ NPK plus micro / strength / how often - what to expect?
Thanks if you have the time.
Any before and after images?
Khaimraj

Khaimraj Seepersad

Member





I use a combination of organic granular fertlizer and inorganic liquid. I can generally find Dr. Earth lawn fertilizer (9-3-5) at a good price and use it as the base. I then add some blood meal, bone meal, Ironite, and epsom salts (the last 2 are not organic, but add iron and magnesium). This gets dumped in a few heaping Tablespoon piles on the surface of the pot. For the liquid I generally use something like Peters or Miracle Grow 20-20-20 and some Alaska Fish Fertilizer in a hose end sprayer once or sometimes twice a week. it is probably about 1/2 strength or a bit less. The other thing to mention is that the best performing of these is in a grow box with a hardware cloth bottom so the drainage is great.

I didn't take any pictures this past year that I can find. I was between rotatory cuff (Dec.) and hip replacement (July) surgery with a very busy work load so pictures were a very low priority.

---
Permissions in this forum:
You
cannot
reply to topics in this forum