I wanted to say a few words on Trunk Thickening.

Just having read an article on another list, where the author was encouraging new to Bonsai to ground grow, and at the same time putting down seeds, cuttings and so on.

What I have noted is that trees having active cambium [ heals wounds well and at times fast ] will in a mix of compost and sieved silica based builder's quartz, even in 1" deep pots, continue to thicken as the trunk goes.
First noticed on the local ficus, and now as I further experiment is happening on other tree types. When my experiments are more advanced I share more.
BUT I can also tell you the Texas Ebony does it as well.

So with time we may have a list trees that need to be slowed down to get refined branchlets. I suspect the Southern Chinese elm might fit into this category, as I recorded a 2.5" [6.5 cm ] on a specimen some years ago in under 6 months, growing in a 1/3 barrel [ 55 gal US ]

It is too soon to say much more, as these tests take some time.

However, think about this ---------- trees needing to be grown in shallow pots to control the trunk thickening too much and the branchlets going coarse.
The power of happy growing.
Laters.
Khaimraj




Khaimraj Seepersad

Member





Of course small pots slow trees down. That is why we take large trees and whack them down to size to go in the little pot. They don't thicken up fast enough in small pots. They like to grow fine twigs and smaller foliage in the little pot.
Mike,
I am talking about trees that in 1"/ 2.5 cm deeps pots can keep thickening their trunks, as though they were in the ground, and may have to - for - example - with 3" / 8 cm trunk [ and a 15" / 38 cm height ] have to stay in 1" deep pots as finished trees.
I have ficus for example, sitting in 1" deep pots, because the trunk continues to thicken, so much that my first attempts were minor disasters, with excessively large trunks, and mega wounds, now requiring specialised fixing.
Same will happen with Tamarinds.
Thanks for taking the time to respond.
Apologies for being unclear.
Until
Khaimraj
my early attempts and disasters -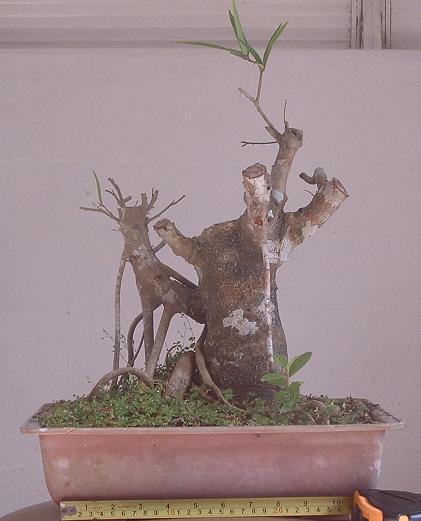 Attempt to control the excessive trunk thickening 2013 4th year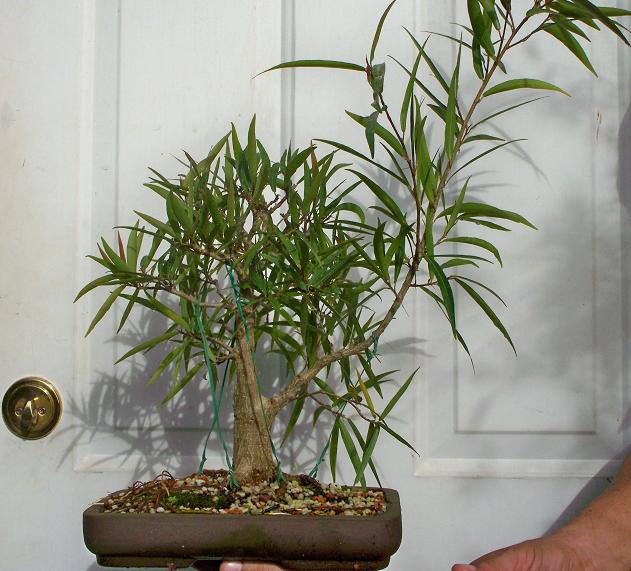 Last edited by Khaimraj Seepersad on Thu Nov 26, 2015 1:53 pm; edited 1 time in total (Reason for editing : information)

Khaimraj Seepersad

Member





Khaimraj:
Hi. I have most of my Tamarind seedlings in shallow pots. They are about 4 months old and seem to be healthy. I pruned the tops once already. Fast growers indeed. Most have first branches. My soil mix is quite similar to yours. Silica gravel with red scoria which looks like crushed brick- even if it is volcanic. I have some in the ground too; which, oddly are not growing as quickly. But I don't quite know what to do with them next. For instance: after they germinated in cardboard egg cartons, I just slipped them into shallow four inch pots. With two, sometimes three seedlings per pot. Probably a stupid thing to do. But I am stuck with that. So, at some point, I am going to have to separate them. My questions are when and how. We are still in the high eighties (F)- day and low seventies- night. That might continue all winter. Hurricane Sandra is going to brush the tip of Southern Baja tomorrow. The latest strong hurricane on record. Normally here it will be low 80s-day and low 60s-night for the winter, with the occasional dip into the 50s at night.
And thanks for your posts here. I always enjoy them. So few tropical growers posting (without lights,that is.)
Last edited by geo on Thu Nov 26, 2015 3:34 pm; edited 1 time in total (Reason for editing : information)

geo

Member





George,
Hello. The advice I got from the more experienced folk in the Philippines, was do all work on repotting or defoliation , major cuts after May.
So for 2015, intensive work is done until May 2016.
I would suggest ground growing, but please prepare the soil in advance and a distance about 4' to 5' apart in all directions between plants. Single plants, okay, not 2 or 3 in a hole

If you are lucky, you should see anywhere from 2" to 4" in a year on the trunk.
Do you know what height you are aiming for ? - 12" / 15" / 18" / 24" [ 35 to 61 cm ] ?
If so cut only when the trunk is at the almost thickness you want - 2.5" to 3" trunk, for example at 15" finished height - around 8 to 9" from soil level up, make the cut. Then allow the re-sprout, this will also give the back branch.
They heal well and the cut will close in a few years.
Remember we all get old, pots and soil can be heavy. So not to many at 24" [ 61 cm ]
Test please on expendables.
[ for the Tamarind I tend to use 1" trunk to 5" of height, but you can also use 1" trunk to 6" of height for more grace.]
They also like to be fed on their own leaves and chopped branchlets.
Happy Growing
Tamarinds are easy to look after and impressive with time.
The flowers are orchid like and abundant.
Laters.
Khaimraj

Khaimraj Seepersad

Member





George,

we seem to have lost most of our folk from Jamaica, South America, Puerto Rico, Mexico, The Philippines, India, Malaysia and Africa.
A great pity, because IBC was once very universal.
Until.
Khaimraj

Khaimraj Seepersad

Member





Last edited by geo on Thu Nov 26, 2015 8:42 pm; edited 1 time in total (Reason for editing : sp)

geo

Member





Here is the update for  27th Nov 2015
Trunk is around 3" [ 8 cm ] and branch extension continues as it was broken at the tip last month, accidentally by a bird.
Next, refinement of branchlets.
Feel free to comment yay or nay.
You might be able to make out a very thick root on the right side of the image, lifting the tree up.
Laters.
Khaimraj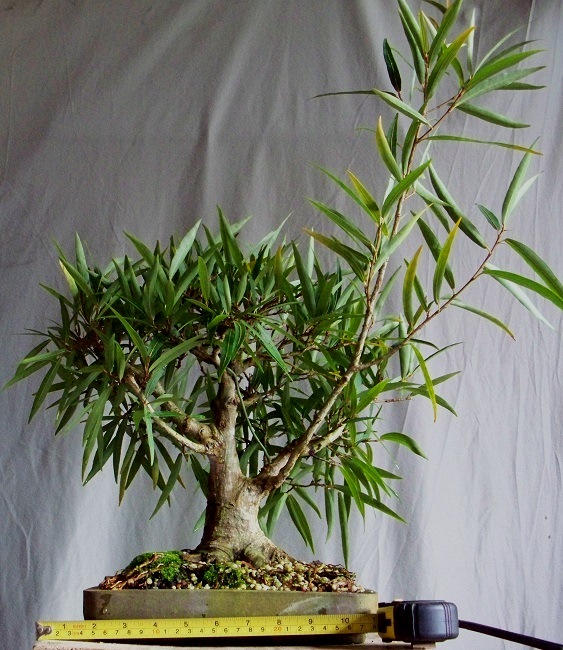 Khaimraj Seepersad

Member






---
Permissions in this forum:
You
cannot
reply to topics in this forum