Khaimraj Seepersad

Member





re: 1st picture - maybe a bit top and right heavy...
t'wer mine i would pull that right branch down almost to the ground to further emphasize its different direction (which i know is such an unusual suggestion that most everyone would disagree with) and then wire the branch tips back upward... maybe even snap it a bit, but not enough to kill the branch... just enough to suggest a survived previous trauma... pretty extreme, but it is a heavy branch and losing it does not look like an option

the trunk, bark and root flare remind me of my campeche bloodwood...
_________________

AAC Original Milwaukee Wi. Chapter - North America
aka beer city snake
link to ARBOR ARTS COLLECTIVE BLOG

kevin stoeveken

Member





Thanks for the reply Kevin.
Well next year we do test no. 11111111......... so anything is possible.
I am afraid most change will be slow, this is another one of our new victims, and I still have to find a few mature trees/shrubs in the Forest/Jungle.
It feels as though I should tighten back up the foliage, work out how best to use the defoliation bit and correct that first branch. It feels very stiff.
Can you say, chop it all off or back.
So after a repot in February or so, a month of fertiliser, it will probably be chop city.
By the way in leaf this tree drinks like a beast, only our heavy rain and morning/evening watering until the drainage hole drips, is keep it from drying out. Don't you just love experimental work?
Laters.
Khaimraj
maybe 2008 or 2009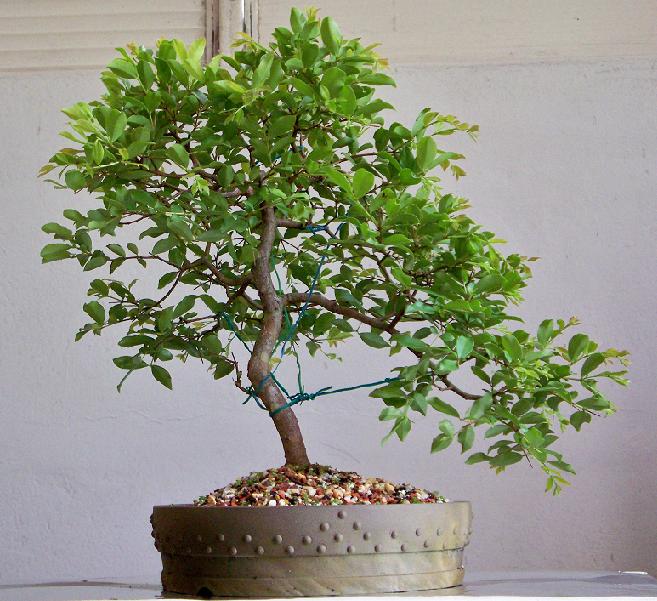 Khaimraj Seepersad

Member





True guava is Psidium guayava. I think you're saying you have something similar. Myrtaceae flowers all look pretty much alike. Does it ever set fruit? A lot of plants that used to belong to Eugenia are now in other genera. I don't think it looks like jaboticaba. Isn't there a university in Trinidad where you could take it for ID?
Iris

bonsaisr

Member





khai... my other take-away in this post is a great depiction of something i learned in my intermediate classes:

what appears to be fairly dramatic trunk movements in young material eventually become much much softer and less dramatic as time marches on... and this tree clearly show that.... in a good way.
_________________

AAC Original Milwaukee Wi. Chapter - North America
aka beer city snake
link to ARBOR ARTS COLLECTIVE BLOG

kevin stoeveken

Member





Ms. Iris,

thanks for taking the time to look. Yes, I had it identified at the University Herbarium, but I mixed up my notes. I will be at the Herbarium next week and have my carelessness corrected.
Laters.
Khaimraj

Khaimraj Seepersad

Member






---
Permissions in this forum:
You
cannot
reply to topics in this forum