... et coloribus non disputandum.
Actually, this proverb might not be true: it could be important to discuss about tastes and colours, or even dispute about what is, and what should be. But in the right place.
For instance, what do you think of this buxus, that was awarded a Gold Medal at a national exhibition in China in 1989? (NB: it's what is called "Yangzhou" style)?
[img]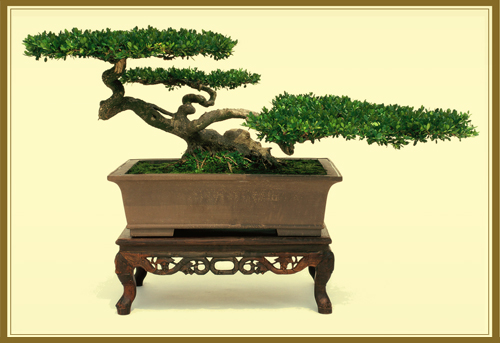 [/img]

AlainK

Member





I think it is "neat!"  (Table's a bit small, though.)


Thanks, Alain <g>
_________________
Jim Lewis - lewisjk@windstream.net - Western NC - People, when Columbus discovered this country, it was plumb full of nuts and berries. And I'm right here to tell you the berries are just about all gone. Uncle Dave Macon, old-time country musician

JimLewis

Member





It's not really my taste to be honest although it does have elements that I like.

The trunk movement is generally attractive and there may be a lot more interest there than is visible in the photo. Although the flat foliage pads look slightly odd to my eye that might simply be my unfamiliarity with this style. This may be highly stylised or it may just represent the way some trees grow in China. I don't know.

Either way the problem for me is with the lower right foliage pad which appears out of proportion and a different shape to the others. If it was a bit shorter and thinner like the other two the tree would work better I think but I know nothing about the Yanzghou style.

If it was mine I'd be tempted to try it in a shallower pot and round out the foliage pads abit but what do I know?

Regards

Richard



Richard S

Member





Richard S wrote:
... but what do I know?

Regards

Richard


About as much as I do I'm sure

This is of course an extreme example, but our view of trees in a pot is so strongly influenced by our culture. Even in "our culture(s)", forms are constantly evolving.
To me, a piece of art (like bonsai) has to have an emotional impact on the viewer. This is why I think that Oscar Wilde's theories about art miss the point: art is "political", it's part of the "polis" ( πόλις ), the city, the community of people living together, it's a symbolic representation of who the people in a given community are.
I don't belong to the culture of the "yangzhou" style, I find this tree rather puzzling, but at the same time I find it somehow attractive because of its "oddity" compared to my own standards. Placed in the right environment, it would probably look very different to my eyes (I'm a fan of Kung-Fu movies like "House of Flying Daggers"

)

AlainK

Member





Bonsai / Penjing,

appeals to the imagination/memory.
Imagination is the brain reshuffling images seen through the eyes.

This style does not exist on this island as trees go, but clouds do, So I could easily see it as trees in the mountains when the clouds come down. As they do frequently in our Northern range. The green becomes the cloud.

It also features a good deal of negative or empty space, so my eye shifts to patterns cut here and te here, especially if the background were a different colour /s.

In fact a little more and I see the scarlet ibis or white egrets sitting in the mangroves, come late evening.

Fun exercise.
Laters.
Khaimraj

Khaimraj Seepersad

Member





Thank you very much for your vision of this tree Khaimraj, it certainly gives me (and hopefully others too) a much better understanding of the tree.
This is a very valuable contribution, I appreciate


AlainK

Member





"In the Yangzhou school style...curved S-shaped branches on each main branch are tied together and trimmed to form a flat horizontal oval-shaped leaf crown that looks like a floating cloud or yunpian. This Yangzhou style aims to represent an aged cliff-hanging tree struggling to maintain its foothold on a steep mountain bluff...When the yunpian or floating clouds are spread out on a single horizontal plane but not more than two planes, the style is called taishi or platform style. When they hang in more than two planes, it is referred to as qiaoyunshi or handsome cloud style." - Adapted from The Chinese Art of Bonsai & Potted Landscapes by YC Shen, Unison Group, Inc. 1991
See also:
http://ibonsaiclub.forumotion.com/t8028-flat-top-style

_________________
"Eschew obfuscation"

John Quinn

Member





AlainK wrote:... et coloribus non disputandum.
Actually, this proverb might not be true: it could be important to discuss about tastes and colours, or even dispute about what is, and what should be. But in the right place

I do like such kind of discussions. I believe they are most educative
(on the condition the arguers remain... sober)


my nellie

Member






---
Permissions in this forum:
You
cannot
reply to topics in this forum