I bought this olive a couple of years ago from a nursery because of the fat base and tapering lower trunk with rough bark. Earlier in the summer I bare rooted it an chopped it down from about 5'. It is growing in a 100% inorganic media and is quite healthy. All of the growth seen is from just the last few months. It is shedding some lower leaves, but I understand this is normal. It grew vigorously, but all the growth is coming from the trunk about 3" from the soil line, however when I scratch the bark, the cambium in the top of the trunk is still green. Is it really dead? Should I remove it? Also, I know it is too late to work on olives, but I have a greenhouse and some horticultural heating mats, so I can at least get away with some pruning and wiring. Below are some pictures and some ideas I have. Going counter clockwise, on the bottom left is my orginal idea; I could also chop it and hollow it out to make a mame; I could chop it then let a sprout grow to form the upper trunk line; otherwise I could leave the tall part and hollow it out; also, I could cut it down and let it grow out and sprout again making more knobs to add character. Please excuse the rough 5 minute sketches.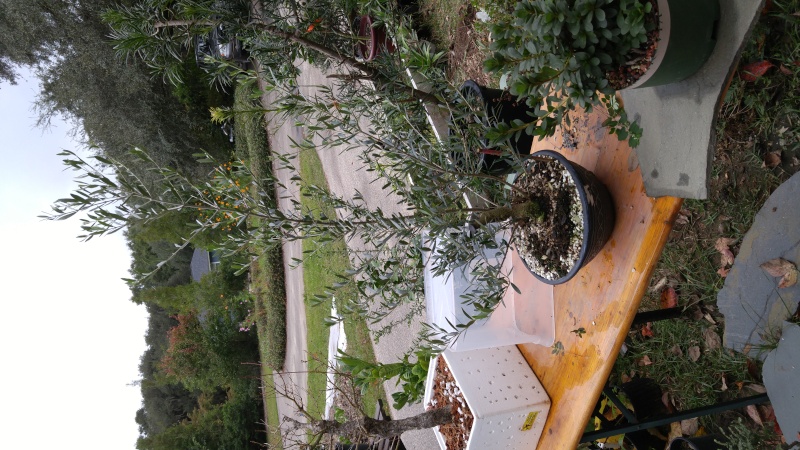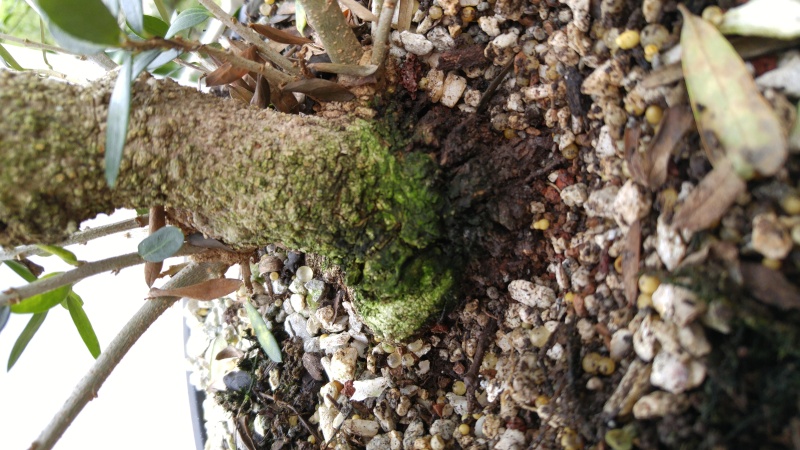 [/url
There is a bit of reverse taper, but it does not bother me.
It looks far from being dead, Olives are very hard to kill, ive bare rooted, chopped and flat bottomed two Olives in the last year n half and they are doing fine.
I like stocky powerful trees so i'd probably go for the first image in your sketches. dont think the inverse would be an issue if you went for a powerful, stout tree. if you google ancient Olive trees, thats how most of them look anyway. im currently growing one indoors on a humidity tray which sits on top of a heat mat, that shouldnt be a problem in your greenhouse. try not to keep them too wet and dont get the leaves wet when you are watering as that can cause leaves to shrivel n drop, dont mist it either.
It looks strong enough to carry out some styling work over winter, do the carving in stages, little at a time.
if was mine i wouldnt go for the cloud look, because that isnt how they look in nature. those branches might be a little tricky to wire now, you could try wiring one or two and if they snap, i wouldnt bother, just clip n grow it and style it with a broom shape canopy like the old ancient olives

BobbyLane

Member





Thanks for the suggestions. I wasn't planning on making clouds, but they are faster to draw than individual leaves. Do you think that the top will still sprout, or should I cut it off and just use the bottom sprouts that make up the growth shown in the photo?
They will sprout from all over the trunk and parts of the top edges, but not between the cambium layer at the top like an elm would do, you will also get back budding when you cut back the branches that you already have.
if you're wanting to make a taller tree, you can either grow up a leader from one of those branches or just make a dead wood feature at the top, personally i would make a smaller tree.

BobbyLane

Member






---
Permissions in this forum:
You
cannot
reply to topics in this forum