Dear all,
I would like to share new acquired pemphis acidula, I wanted upright to follow the movement as shown.
Could anyone suggest what design should best for my tree.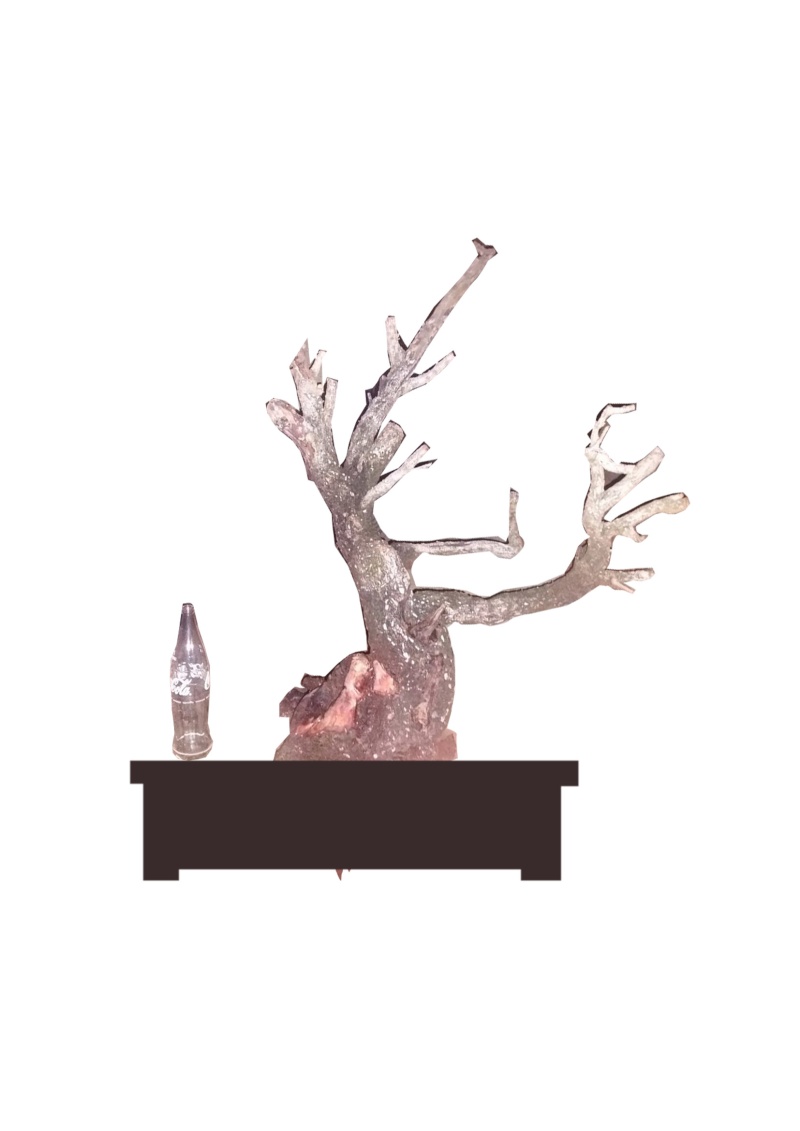 " />
Thanks in advance.
Regards,
Hide

geo

Member





Mr. C,

Great material. I see an informal upright. Try different angles. My initial feeling is raise the left side and rotate 10 to 15 degrees left or right.

The "front" as shown in the photo can be described as the "obvious front" which can sometimes be improved by rotating the tree. If possible show this tree to a fellow (experienced) bonsai practitioner in your area to get some better advice.

Best regards,

Augustine
In case you missed it here's the issue of concern geo points out:
Justification:
This species is a robust species, and is widespread and common in some regions. The main threat to this species is collection for use in the ornamental bonsai trade. There has been an estimated 21% decline in mangrove area within this species range since 1980. Additionally, mangrove species are more at risk from coastal development and extraction at the extremes of their distribution, and are likely to be contracting in these areas more than in other areas. It is also likely that changes in climate due to global warming will further affect these parts of the range. Although there are overall range declines in many areas, they are not enough to reach any of the threatened category thresholds.
_________________
Jim Lewis - lewisjk@windstream.net - Western NC - People, when Columbus discovered this country, it was plumb full of nuts and berries. And I'm right here to tell you the berries are just about all gone. Uncle Dave Macon, old-time country musician

JimLewis

Member





Now testing seedling from Budi, to see how fast it grows and thickens, additionally airlayering.
So we maybe able to train this tree, without harming the environment.
Wish me luck.
Laters.
Khaimraj

* Also found a shrub, that has the seed pod of the Buttonwood, but smaller leaves and more branches - stay tuned.


Khaimraj Seepersad

Member





This plant is found from Africa to pacific Asia. crushide71 is from the Philippines. There are over 7000 islands in the Philippines, which means that there is probably a lot of mangroves. Before we start raising red flags lets look for specific data about Pemphis in the Philippines being over harvested for the bonsai trade or what ever Eco crisis we all want to stop.
cheers all

Toshiro

Member





George,

I'm fully aware, but do you also consider all the factors? why and the reality?.
This is a chain Hunters+Designers(seller)+Collectors, one has a defined purpose and specific goal.

How could you protect this species? we look to the chain and I'll leave for you to decide who to stop.

Hide
The age old question. Other than sometimes enforceable,sometimes laughingly unenforceable,laws-the only way to make any kind of difference in this cruel,human world-is to shoulder individual responsibility for one's actions. Hunters(I like your choice of word there),especially the ones who do it for the money,need to be watched closely. The bonsai enthusiast must be aware of the issues as they impact each species. And especially the species that grow in her or his area. I don't know the threat to this tree in the Philippines. You must.

George.

geo

Member





geo wrote:the only way to make any kind of difference in this cruel,human world-is to shoulder individual responsibility for one's actions.
George.
amen.
and not just in regard to the subject at hand, but in regard to everything we do every day.
_________________

AAC Original Milwaukee Wi. Chapter - North America
aka beer city snake
link to ARBOR ARTS COLLECTIVE BLOG

kevin stoeveken

Member






---
Permissions in this forum:
You
cannot
reply to topics in this forum