Hi Friends
I am new to bonsai.I have made a few small bonsai.I present my first bonsai Bourgainvillia to you ,my bonsai friends and teachers.This photo is taken
today Tue Aug 18.Recently an old couple family gave this juniper tree to me because they were not able to take care of it.The old tree,s pot was full of roots,
i changed the pot with a little bigger one pouring some bonsai soil at bottom and on the surface of pot not touching the roots. keep watering every day for past 30 days,because the weather was about 95 to 100F here in Iran Tehran city  in last month.The tree height is 44" trunk diameter at base is 1.4,"
the first vigor branch 4.8" from the base second vigor 12" from the base and a twisted(180 deg) vigor back branch 28" from the base.I am thinking if i could make a Bunjin or literate bonsai. Please if this style is good for this specification, how height should the apex be?Could vigor twisted branch at
28" be the bonsai apex?.If you are not agree with this style please offer your advice.I appreciate your guidance.                
                                                                                                                                                Best Luck    Aziz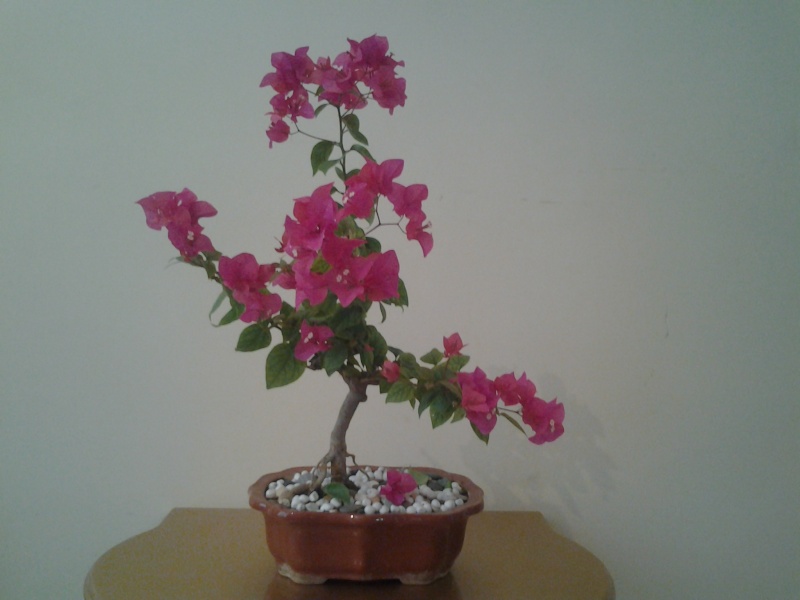 [/url
[url=http://www.servimg.com/view/19299571/9]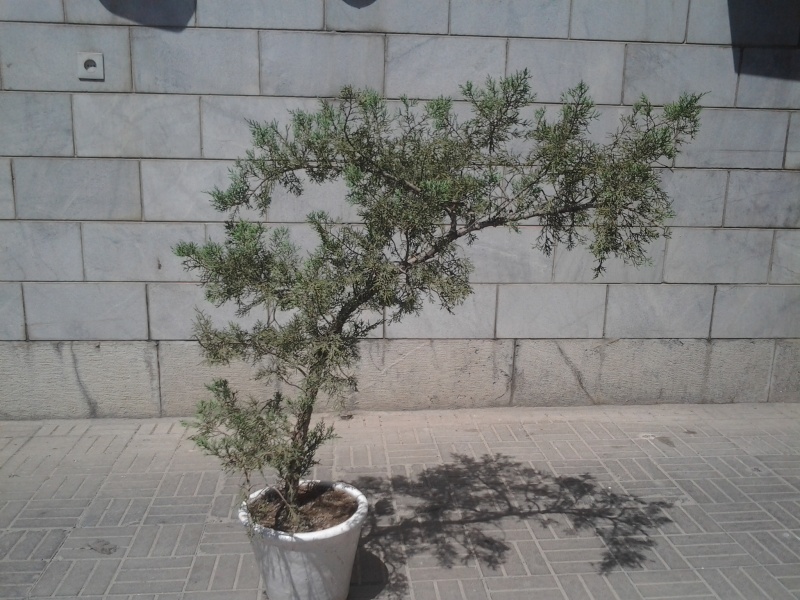 Last edited by aziz ghasemi on Wed Aug 19, 2015 3:27 am; edited 1 time in total
Personally I don't see a bunjin in the juniper - the trunk is long and thin, but it is a nice gentle curve. I would probably cut it back to about 1/3 height now (above the branches there) and then more fully repot in the spring (remove or take out 2 wedges on opposite sides). You might even cut back to the lowest branch and build the tree from there in the future, but I would keep the branches at 1/3 height for a couple of years to build strength in the tree after repotting. If it is as root bound as you indicated, it will take 2 or 3 repottings to get the roots sorted out and have a strong tree.

Nice little bouganvillea. I would cut the long branches back after flowering to start to build some ramification.
Hi Dear Martv

Thanks for comprehensive guidance about this tree. Considering the weather temp (varying between 90 to 100 F in Aug) here in Tehran Iran, when
is the best time to shorten the tree? .I was thinking waiting till fall when weather gets cooler then snap and shorten the tree for the first action to start
changing it to bonsai.Am i right please?
Best luck Aziz

Aziz - I don't see any reason to wait until it cools off to shorten the tree. In fact, less foliage will place less stress on the roots to supply enough water in the hot temperatures. You might also want to use a chopstick or similar tool to punch some holes into the top of the rootball so that water can get into it if the tree was extremely root bound. Potting up with good soil around the rootball cane be a good way to get some roots to start to grow out of the main ball, but different drainage rates make it difficult to keep the different parts moist and with neither getting water logged.

---
Permissions in this forum:
You
cannot
reply to topics in this forum