Hi! I'm a new bonsai owner, I've had my little guy for almost three weeks and have noticed a few things I can't seem to find the answers to. He was pretty bare when I got him with empty branches, should I be doing anything to those branches to encourage more growth? Also, I've got some growth on top, yay! But in the first week some of my leaves developed these brown spots on them. I've read that they can be cause by too much water or too little sunlight but not what to do. I have adjusted the watering schedule and amount of sunlight but should I leave them on the tree or do they need to be removed?

Hope I don't sound like too much of a rookie, I just really want my tree to flourish. Thanks
A picture would help. Did you buy the tree locally -- in Detroit? Is it a Box Store tree, or from a proper bonsai grower?

Figs have a habit of losing leaves when they are moved to a new environment. Is it indoors or out?

Water is crucial for figs. They don't like wet soil. Try to keep them on the dry side of damp.
_________________
Jim Lewis - lewisjk@windstream.net - Western NC - People, when Columbus discovered this country, it was plumb full of nuts and berries. And I'm right here to tell you the berries are just about all gone. Uncle Dave Macon, old-time country musician

JimLewis

Member





url=http://www.servimg.com/view/19282186/4]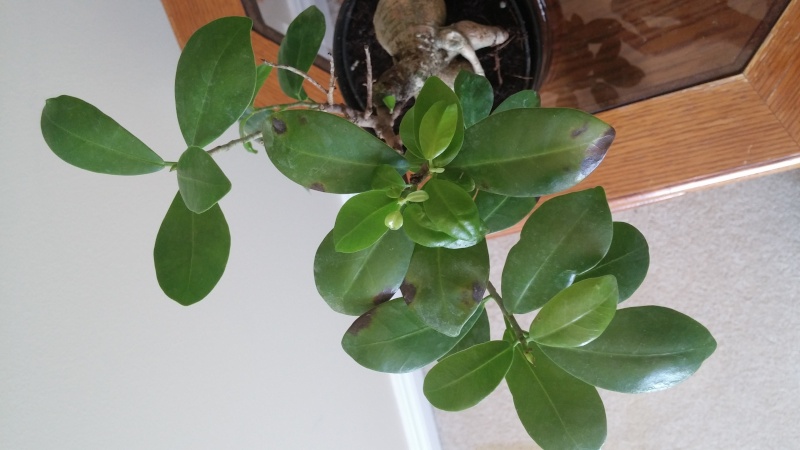 [/url]
So here are some of the spots and growth. It is from a store and I will be moving in a few days to the east coast and am especially worried it will take it's toll on my tree.
while i cannot address the brown spots, i can say that ficus are pretty tough...
just be prepared for them to "pout" occasionally when being moved...

he very well could drop every leaf in your move, but dont panic...
when you get to where you are going, just get him into some dappled sun/shade, gradually getting him into full sun and he should be fine...
_________________

AAC Original Milwaukee Wi. Chapter - North America
aka beer city snake
link to ARBOR ARTS COLLECTIVE BLOG

kevin stoeveken

Member





Once looking healthier and putting on new leaves, you can cut the growing ends off current branches to encourage backbudding.

A note about watering: ficus are forgiving, but as mentioned like to be a little more dry than some others. This doesn't mean that you should only give it sips of water. Wait until fairly dry and then water thoroughly. Add water to the soil until running out the drainage, let that soak in for 5 minutes, then repeat a couple more times. When soil is allowed to dry it can become hydrophobic and resist getting wet again- especially the peat based potting soils that trees too often have unless sold by a knowledgeable bonsai grower.

Precarious

Member





Hi,

Key to growth is providing lots of light. If it is not in a sunny spot, do move it there. However, going from shade into full sun is too much to do this in one go. So ideally you have it in a spot with only a few hours afternoon/early morning sun, before you move them into full sun.

leatherback

Member






---
Permissions in this forum:
You
cannot
reply to topics in this forum