I got this as nursery stock for a pretty decent price. I passed it up initially because of the price but i couldn't stop thinking about it. After talking with the owner, gave me a 40% discount because he is into bonsai (has over 30 trees) and I was planning on using this for bonsai. So a 10 minute look around turned into a 2 hour adventure. I left with it and here i am. I removed all of the dead branches and cleaned it up a bit as you'll see in the last 6 pictures. I have been into bonsai for about a year(I have 2 other pre-bonsai), so I have been reading everything i can. I just wanted some ideas as to where to go with this tree. For now I think I want to focus on bring everything closer towards the trunk. At the nursery I was told that this is a good time to prune these (I live in Ky) and they can take heavy pruning. I'm just not absolutely sure where to be pruning. I have some idea, I just wanted to be positive about what I'm doing. Thanks for looking and thanks for your help.
Pictures Here
I have this as a 20 year old plant in my Japanese garden, but never considered it for bonsai. Why? Because it is shrubby and lacks woody development even after 20 years. There are better plants to use imho.



_________________
"It is not the strongest of the species that survives, nor the most intelligent. It is the one that is the most adaptable to change." - Charles Darwin.

Kev Bailey

Admin





Thanks for your response but it wasn't really what I was looking for. This is roughly 7-8 years old and has plenty of woody development. I saw this same species as a bonsai at the nursery. I'm not worried about the time I'll have to spend on this project. What do I have other than time? Ive talked to a few people with many many years of experience and have never heard this before.
Kev's comment may not be what you wanted to hear, but it is valid. Even after turning woody, the stems are VERY stiff and straight, and almost impossible to bend.
The best I can see for this one would be a raft. The colored lines indicate branches that (I think) would have to go. ALL branches should be cut somewhere near the border of the picture below. It will sprout freely and careful consideration will tell you which of the new sprouts you want to keep and which you may want to wire before the branch goes woody -- though I think clip and grow is the best way with this very unhandy plant.
Personally, I think the nurseryman -- as a bonsaiest -- should have warned you away from Spirea. Anything for a sale, though.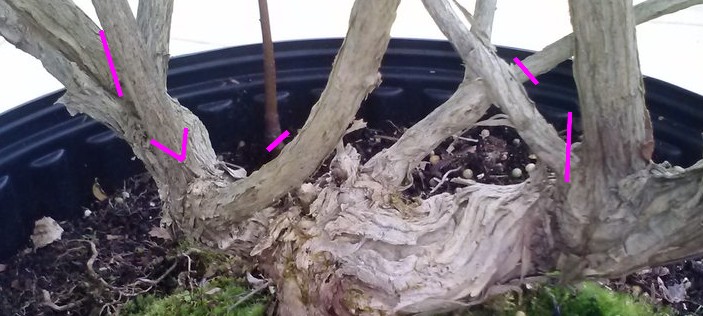 _________________
Jim Lewis - lewisjk@windstream.net - Western NC - People, when Columbus discovered this country, it was plumb full of nuts and berries. And I'm right here to tell you the berries are just about all gone. Uncle Dave Macon, old-time country musician

JimLewis

Member






---
Permissions in this forum:
You
cannot
reply to topics in this forum