This is a green Japanese Maple that was trained over a rock about 3 years ago.  I really don't know which would be the best front.  I always thought I would like seeing the entire side of the rock (first picture), but now I like how the roots flare over both sides of the rock.  Which do you think would be the best front?
Also, I don't like the 6 inches of straight trunk right on top of the rock and want it to start bending and branching closer to the rock.  I picture a very short trunk with multiple clump style branches.  I plan on chopping it back in a few months but have only chopped trident maples.  How safe is it to trunk chop Japanese Maples?  The tree grew like crazy this past summer.  The other option I have is to approach graph branches.  I have enough to put them most any where I want.
Thanks in advance for the advice.
Steve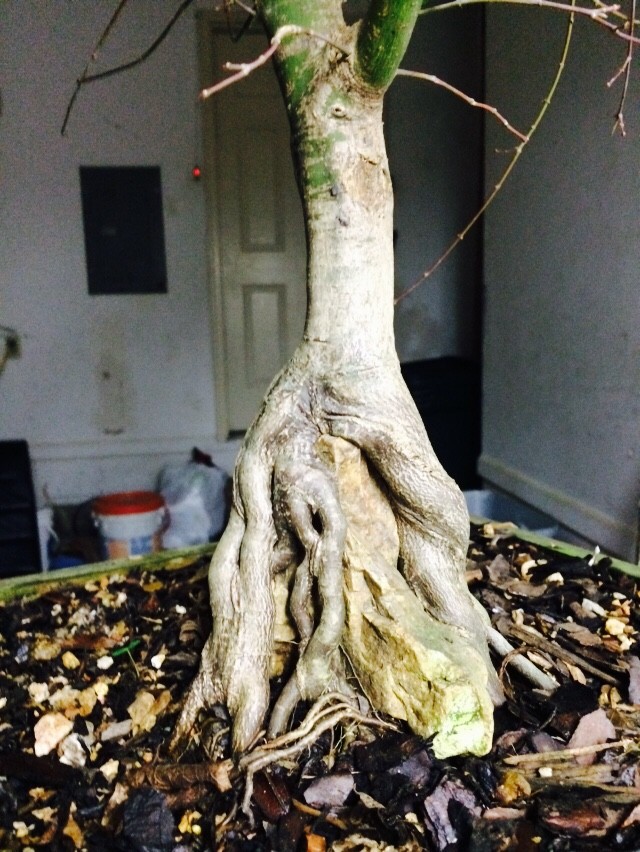 steveb

Member





I like the 2nd view the best. Japanese maples generally respond well to trunk chops. However, if you want to play it safe chop just about some of the small branches and then chop lower once it throws shoots lower. You could also do some thread grafts from the long branches about which might be faster.
The second pic is much the better, more natural looking, front.

You should be able to chop wherever you want.
_________________
Jim Lewis - lewisjk@windstream.net - Western NC - People, when Columbus discovered this country, it was plumb full of nuts and berries. And I'm right here to tell you the berries are just about all gone. Uncle Dave Macon, old-time country musician

JimLewis

Member





I agree with the second pic as the front, is very appealing. I've never chopped below existing branches on a J Maple, but if you want to decide EXACTLY where your branches will be, then thread grafting is a good way to go about it.
Thanks Jim and Judy for the replies. If I can't get the branches exactly where I want by thread grafting, I'll chop it. The branches are mostly at the top and I'll have to bend them down quite a bit. I'll post pictures in a couple of months

Thanks again guys.

steveb

Member






steveb

Member





Well I'm not sure that's a better front but if proves nothing else it proves that the tree looks good from all angles!

Very nice!

Regards

Richard

Richard S

Member





Thanks Richard.  I should have posted the original front as well.  The roots now cover most of the rock from that view. I'm new to root over rock and am learning that it take years to learn what works and what doesn't. 

Thanks again

steveb

Member






steveb

Member





Why choose a front?

Your tree roots look great from several angles. Style the top so it also looks good from several angles and plant it in a round pot!

Regards

Richard

Richard S

Member





_________________

AAC Original Milwaukee Wi. Chapter - North America
aka beer city snake
link to ARBOR ARTS COLLECTIVE BLOG

kevin stoeveken

Member






---
Permissions in this forum:
You
cannot
reply to topics in this forum