because he or she may have a used mirror that they'd part with......
Ever notice how tricky it can be when it comes to discerning if wire is biting in. Over the years I've noticed it's easier to tell on the underside of most branches. hence the use of a mirror. I find the little mirrors the dentist use as a quick and easy method to see what's going on...


dick benbow

Member





Interesting method, and I have that difficulty! Why do you think it shows there quicker?


Precarious

Member





must have something to do with our application, up lifting the wire too snug or something. Don't think it has anything to do with the tree itself....hope this idea works as well for all as it has for me....

dick benbow

Member





Good tip, Dick.

Something to get your teeth into.
_________________
"Espouse elucidation"
_____________________________________
my website

fiona

Member





Here's my reaction : I must be a gymnosperm - my underside keeps getting bigger  

I'm sorry to get all serious on you - I really do love puns, double entendres, and most all sorts of word play - but I just can't help myself.  

First, it is implicit that Dick is talking about conifers (i.e., gymnosperms). It is well known that conifers produce reaction wood on the underside. Extra growth occurs underneith to keep the branch from sagging or to upright a leaning trunk, for that matter. If we could wire angiosperms for long periods as we do conifers, we wouldn't need any mirrors, because the extra growth is on top!
Gymnosperms produce reaction wood to push up against gravity.
Angiosperms produce reaction wood to pull up against gravity.
Here's a picture of a branch stump on a big ol' Douglas fir (the lopped off branch originally emerged perpendicular to the trunk and then bent upwards)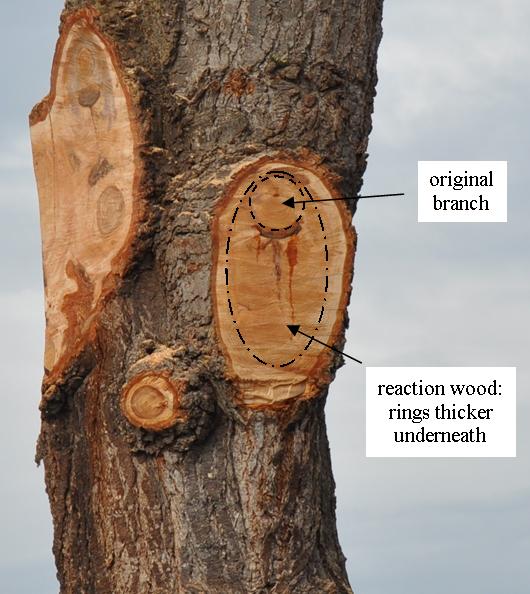 0soyoung

Member





well, i'll be... chalk today up to another day of learning something new... thanks for getting serious on us.
0soyoung wrote:I really do love puns, double entendres, and most all sorts of word play
well, maybe you dont
always
love word play

(and that is truly said in jest re: our last PMs)
as you know, i do too and i was wondering how many puns, etc fiona could fit into two simple sentences

peace oso
kevin
_________________

AAC Original Milwaukee Wi. Chapter - North America
aka beer city snake
link to ARBOR ARTS COLLECTIVE BLOG

kevin stoeveken

Member





They say it takes a "villiage" and am grateful for another resident of Washington state to fill us in.
I hereby award you an honorary IBC "attaboy"...

dick benbow

Member





The punitentiary is fast filling up.

Precarious

Member






---
Permissions in this forum:
You
cannot
reply to topics in this forum