Reading the blurbs by sellers, it looks like I could grow the shrub in with my tropical bonsai all winter then outside in the summer. Has anyone tried this? My wife and I are trying to cut out coffee and drink tea instead. It might be fun to grow the shrub, harvest and steam or bake the leaves and make tea. And who knows if a bonsai might come out of such a plant.


Precarious

Member





hey david... yes i scored one earlier this winter on the garden center's orphan rack...
aint no reason you shouldnt be able to trunk it up, chop it down, and bonsai it out...

maybe wont be a show worthy one, but as our man leo is fond of saying:
"EAT YOUR BONSAI" or in this case, drink your bonsai...

if you want i can throw up a pic of my tea stick, but not in a tea pot
_________________

AAC Original Milwaukee Wi. Chapter - North America
aka beer city snake
link to ARBOR ARTS COLLECTIVE BLOG

kevin stoeveken

Member





Yeah Kev, do it if no trouble!

Precarious

Member





minimal perspiration...
i wasnt joking when i called it a tea stick
but on the orphan rack i think it was only $3 or so...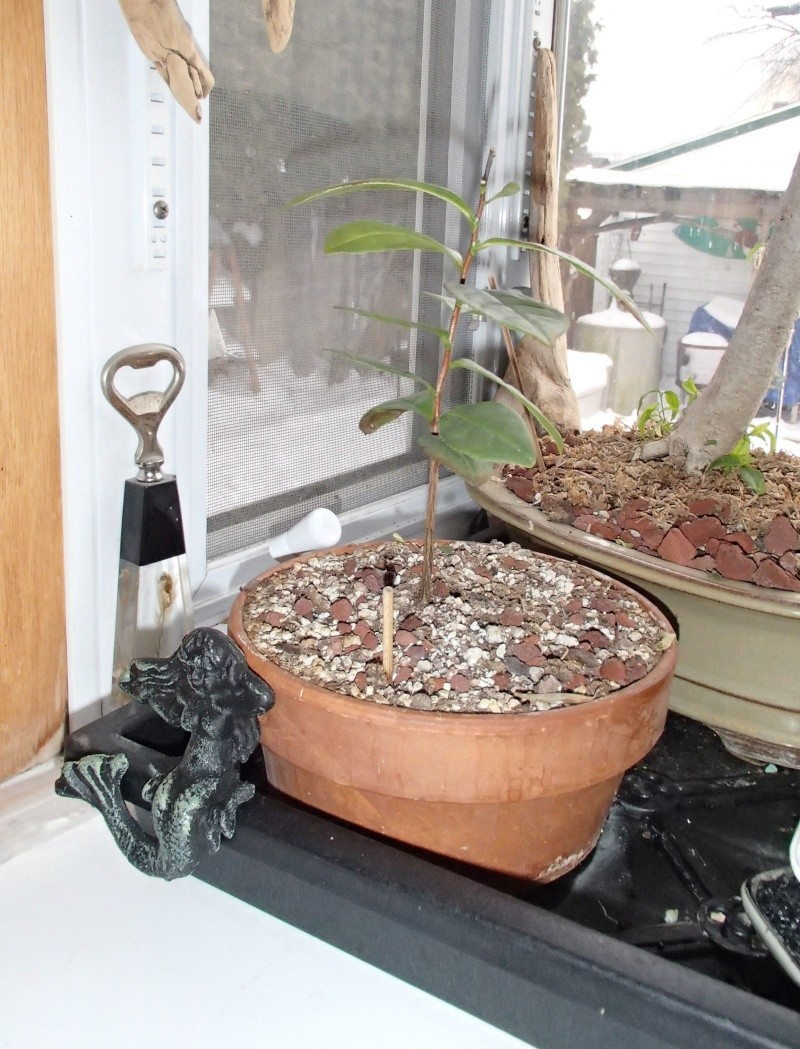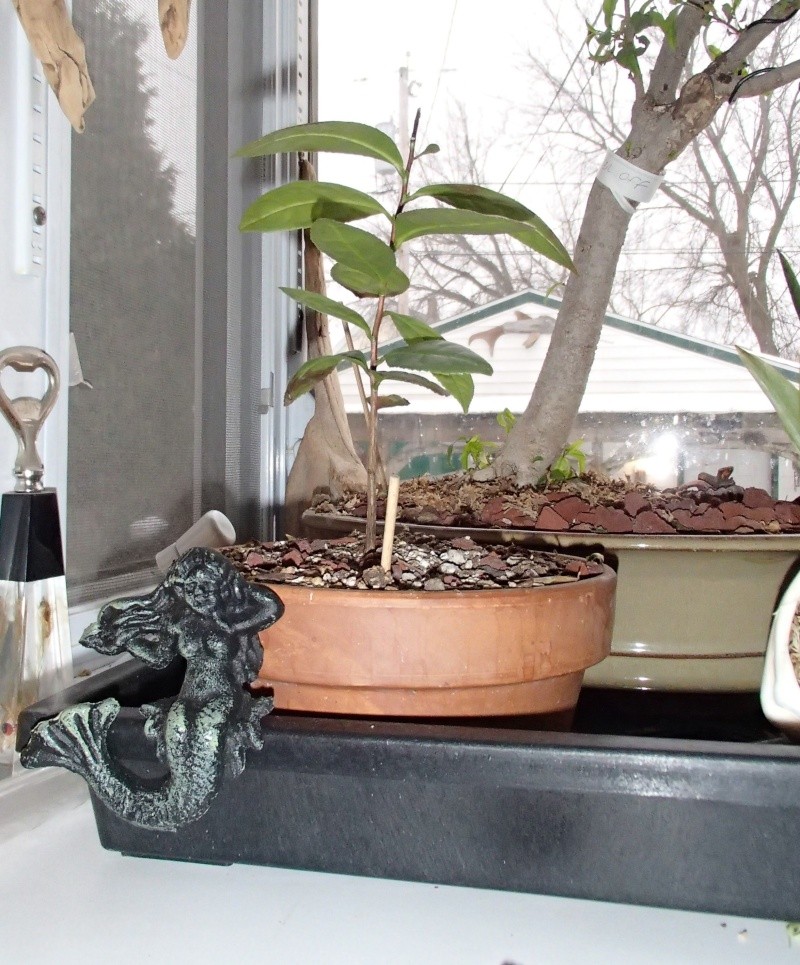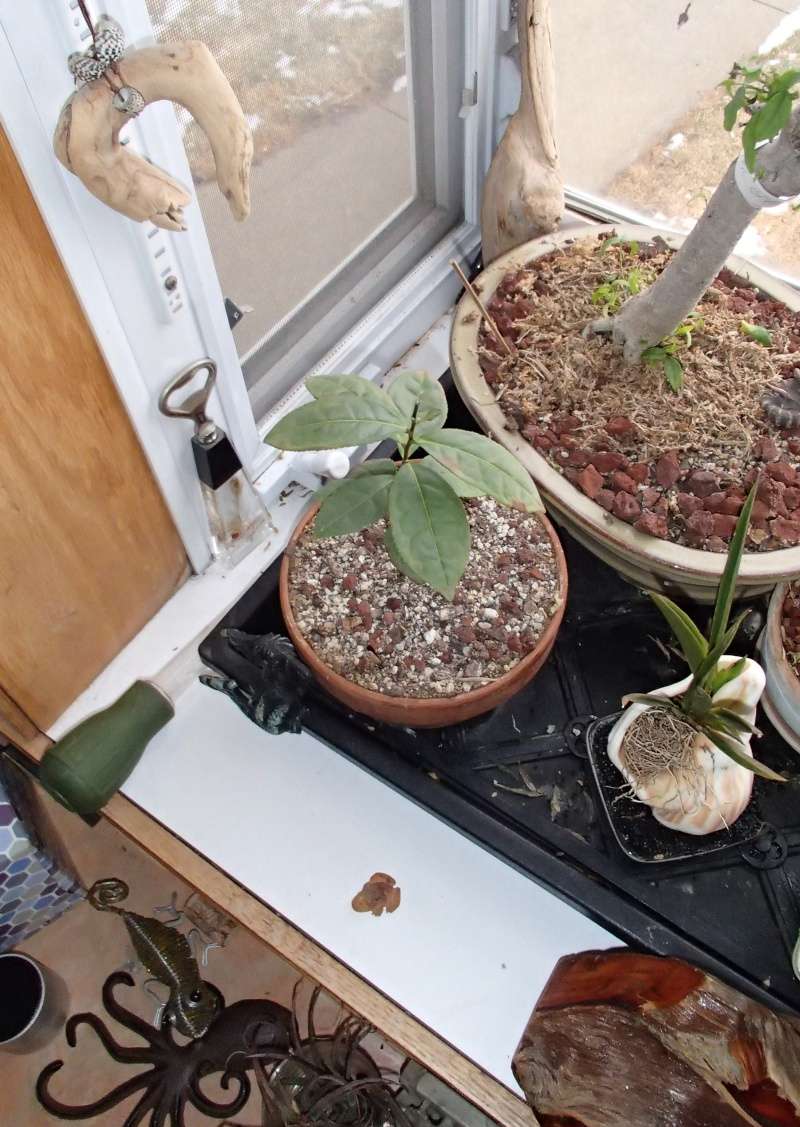 and a link to a care sheet
http://www.bonsaitoolchest.com/download/camellia.pdf
(i love the bonsai toolchest website archives of care sheets as they seem to be a good overall snapshot of care)
looking at that, i guess they can become quite attractive specimens...
i will post a progress report on mine in a decade or so...
_________________

AAC Original Milwaukee Wi. Chapter - North America
aka beer city snake
link to ARBOR ARTS COLLECTIVE BLOG

kevin stoeveken

Member





I think it has achieved stickhood (or will soon

). Thanks for pics and link. I may have to experiment with these also...

Precarious

Member





I'm surrounded by camellia, some of them are huge. And I'm always on the look-out for interesting branches to layer, which is rare, most are  straight and boring, but I have a few. They layer easily. And I grow some for tea. Pick the top 3 leaves when the top one is just emerging, massage them in your hands or a cloth, dry them in the sun (or lamps) and you have ocha. Tea is a new industry on this island. Many acres are under cultivation. If you want the highest  concentration of beneficial polyphenols you can buzz the dry leaves in a coffee grinder. Camellia bonsai was a favorite of tokugawa Ieyasu.
Last edited by Bruce Winter on Mon Feb 09, 2015 7:23 am; edited 1 time in total
I'm not familiar with C. sinensis, but I've been working with a C. sasanqua for about 4 years now. It spends the summers outside and then spends the winters in my unheated mudroom, average temp 35-40 but occasional colder spells. It tolerates light freezes with no problem. Blooms in the late fall/early winter. Flowers are somewhat large and I've thought about looking for a C. sinensis or another variety that has smaller flowers.

Chris

coh

Member





Bruce is right, C sinensis, tea, has been a favorite bonsai for the Tokugawa family for generations. K. Murata's book
Four Season's of Bonsai
has an image or two of Tea as bonsai. Tea makes a decent bonsai, leaves reduce to smaller sizes than many other species of camellia, and the flowers are smaller too though just as nice. Most C. sinensis varieties have single white flowers, but there is a pink flower form too. So using tea as bonsai is a time honored tradition.
Camellia Forest
http://www.camforest.com/
has 6 cultivars of Tea listed. Also check Camellia Forest for species Camellia that have smaller leaves and flowers. C brevistyla, C. cuspidata, C fraterna, C. handelii, C. obtusifolia, C. parvilimba, C. transnokoensis, & C. yuhsienensis are all listed as having smaller leaves. Most have white flowers, though some have other colors. hybrids from these species could have smaller leaves also. While I'm killing time this afternoon, I did not take the additional time to scour the hybrid lists for the hybrids with small leaves.

Note that C. handelii and C. parvilimba have leaves at only one inch, so imagine what could be done with bonsai leaf reduction techniques.
My decade ago foray into Camellia horticulture was not successful, but I am thinking about trying again, hence the research into smaller leaved varieties. Once I get confident about keeping Satsuki azaleas alive, I will 'branch out' and return to Camellia. So far my latest batch of Satsuki is in year 5, so I might be getting close to revisiting Camellia.

Leo Schordje

Member






---
Permissions in this forum:
You
cannot
reply to topics in this forum