So a buddy of mine has a massive taxus he wanted to pull out of his yard. He asked me if I wanted it but it had to go today.
We pulled it with an excavator so we were able to get a pretty big rootball. The rootball is about 4ft. x 2.5 ft x 20 inches deep.
The average temperatures outside have been 0-30f over the past couple weeks. However, today it was 53f and tomorrow is going to be 43f. It won't freeze again here until mid-week.
Trunk diameter is 15-20 inches. Branching starts 15 inches from the roots.
It was lifted previously about three years ago. The root ball rooted in place at that time. So the rootball shown in the pic came out pretty easily.
There were some thinner anchor roots and some feeder roots at the end of those, but otherwise the rootball lifted without much effort.
The tree is big and with the field dirt its very very very heavy. Had to wench it off the trailer. I used boards to keep the wench strap from compressing the live veins.
It's sitting in the place it fell off the trailer right now.
I'm going to buy some topsoil in the morning and bury it as is. Too heavy to move anywhere right now and I figure there's enough feeder roots in the remaining rootball that it should be ok overnight. Taxus typically develop dense feeder roots around the trunks and this one appears to have many in to remaining rootball.
Was it worth the effort? Any other thoughts on after care? I'm thinking when spring rolls around that the field dirt should be gently removed retaining as many feeder roots as possible. I see little point in leaving it in field dirt come spring. Unless someone thinks otherwise.
And then transplanting into one of my 4ft x 8ft shallow planter boxes. The boxes have heavy rock content in them so they are pretty free draining.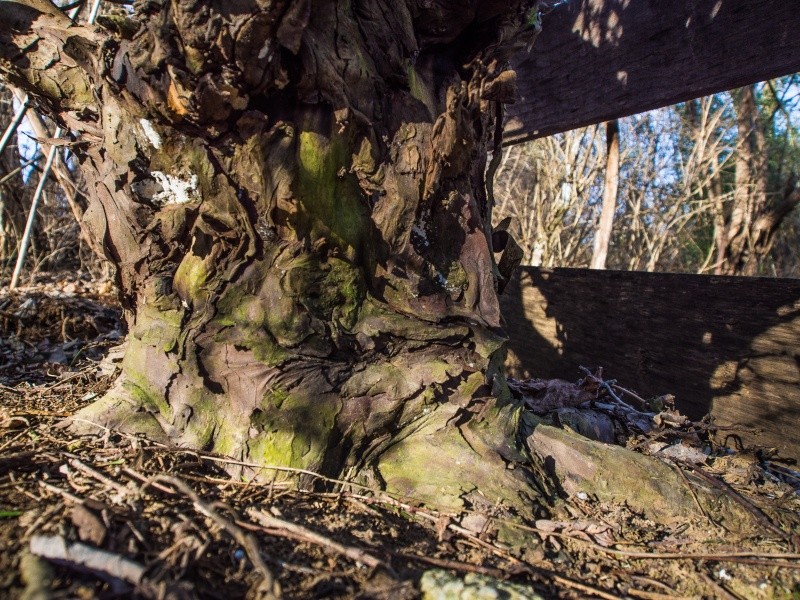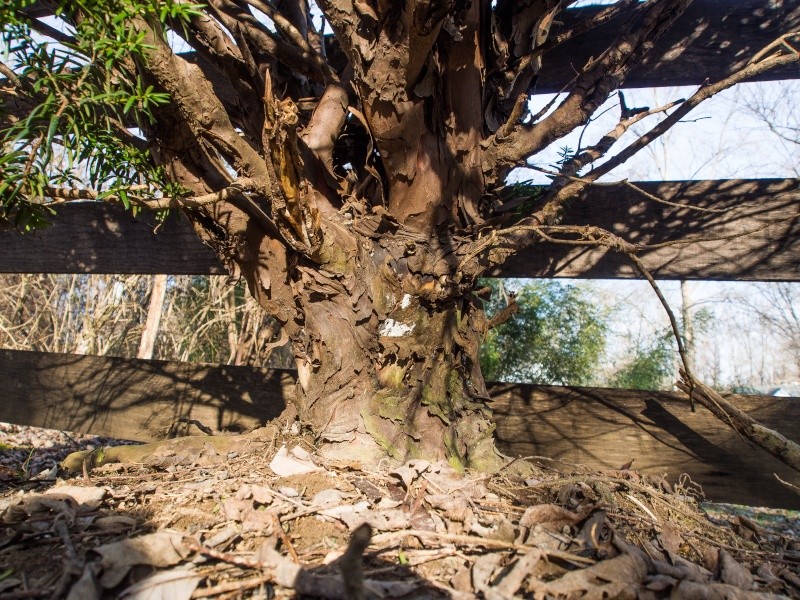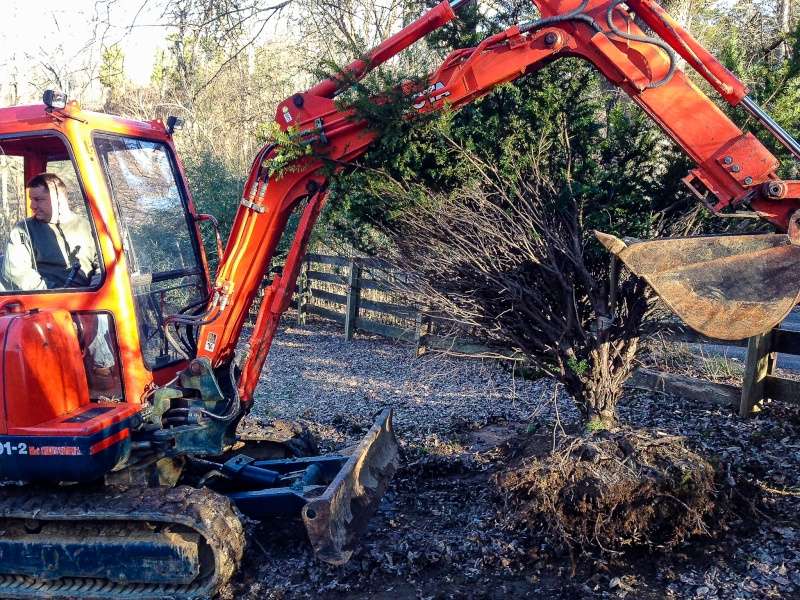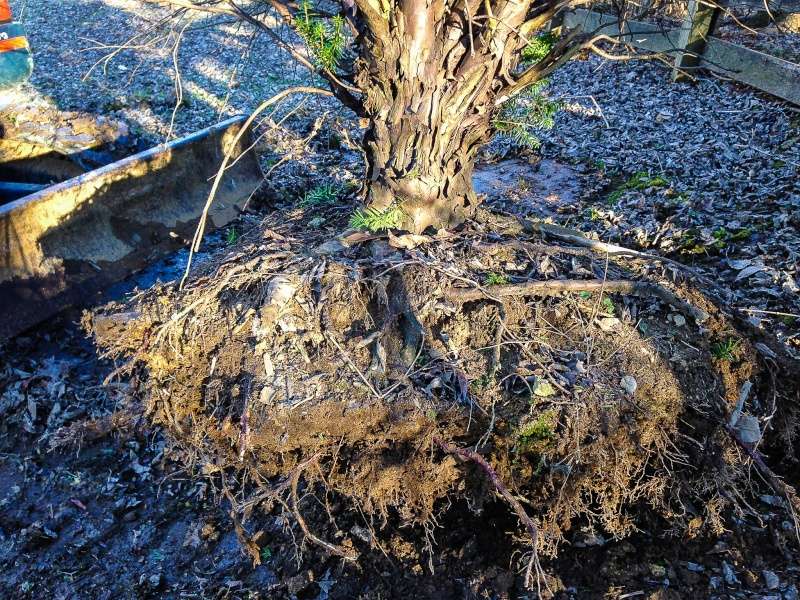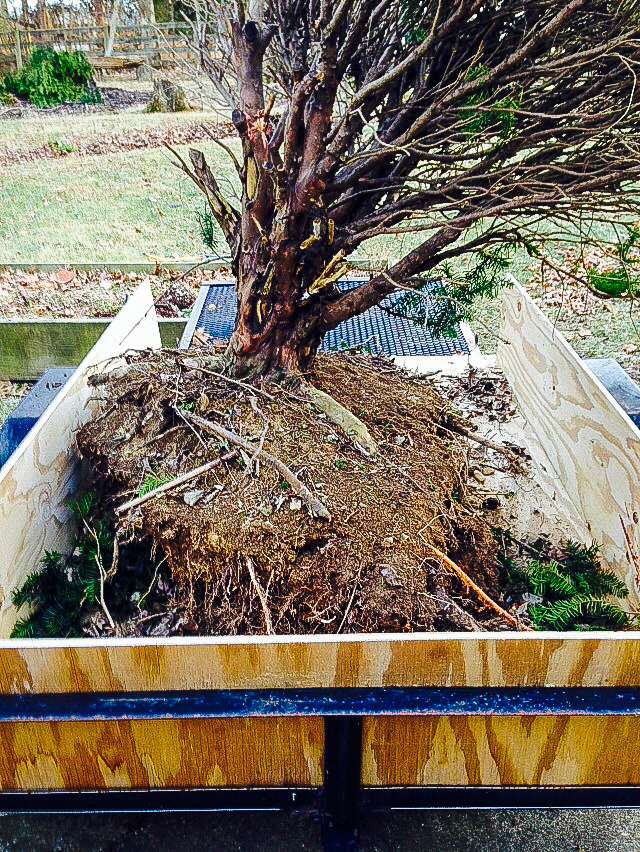 Last edited by Michael T on Sun Jan 18, 2015 2:03 am; edited 6 times in total
Here in central md we've dug many in thw winter. You'll need to keep it sheltered and out of the wind.

Be advised that the big boys are very hard work. Where are you going to plant? Ground or container?

It will be a long term project and sounds like a 3 or 4 man tree.
Or one tractor with a bucket.


Last edited by Michael T on Sun Jan 18, 2015 2:08 am; edited 1 time in total
Last edited by Michael T on Sun Jan 18, 2015 2:08 am; edited 1 time in total
Wow, after you added the pictures all I can say it that is outstanding. Glad you went for it.
Last edited by Leo Schordje on Mon Jan 19, 2015 3:14 pm; edited 1 time in total

Leo Schordje

Member





Wow! That's a serious lump of tree. Good luck.

Richard S

Member






---
Permissions in this forum:
You
cannot
reply to topics in this forum