This is Hedera helix 'Duck Foot,' AGM/RHS, the American Ivy Society 2004 Ivy of the Year. The Award of Garden Merit from the Royal Horticultural Society means essentially, this is worth growing.
The Japanese pot is 4 inches (10 cm) tall. I bought the plant in 2012 from Violet Barn in Naples. I will get back to you with the URL.
http://www.violetbarn.com
This is absolutely the best ivy cultivar for bonsai training that I have found. It is a fast grower and needs frequent pinching & pruning. The leaves are fairly small to begin with and reduce to shohin tiny very easily. It is listed as hardy to USDA Zone 5 and can take dormancy, but I grow it under fluorescent lights with the tropicals for the winter. It is staged leaning backwards to improve sap flow to the tail, which is how I treat all cascades.
Needs more work, but this is how it looks at present.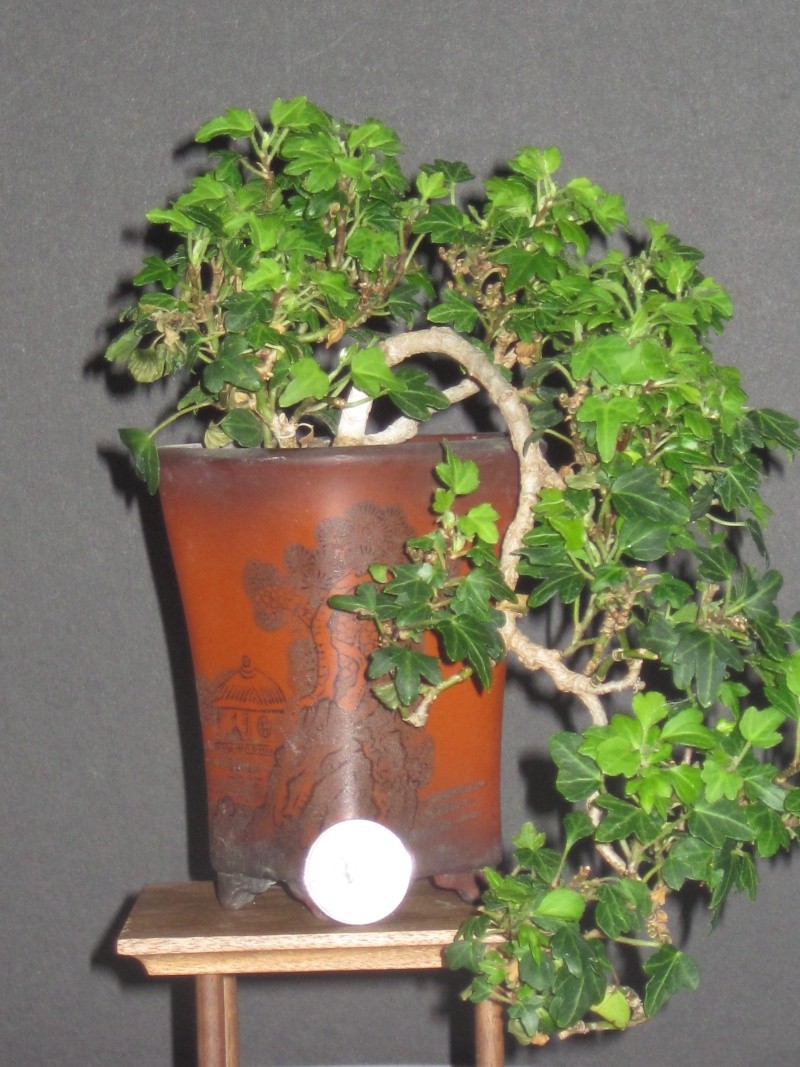 Iris
Last edited by bonsaisr on Wed Jan 14, 2015 9:31 pm; edited 1 time in total (Reason for editing : add url)

bonsaisr

Member





I like it!
I've seen very few Ivy used in bonsai thanks for sharing!


Xavier de Lapeyre

Member





Despite its versatility as a houseplant, Hedera helix is basically a temperate species. I don't imagine you would see many where you are.
Iris

bonsaisr

Member





Iris,

I like your ivy bonsai very much. Thank you.

Augustine
I discovered that I started a thread on this ivy three years ago (probably when I bought it). As you can see, I have answered most of my own questions. I now pot it in all shohin mix.

Since I occasionally do things backwards, I had to have a tree for a pot, a very elegant Japanese shohin cascade pot that I bought several years ago for an ivy bonsai, which of course died of unknown causes. This time I am trying Hedera helix 'Duck Foot,' an awarded cultivar. I wired it for a three line cascade, and potted it with the lower half of the pot regular mix and the root ball in mame mix. Picture will follow.
I couldn't find any decent pictures of English ivy bonsai, oddly enough, no cascades. I have seen them occasionally at shows. Anybody have one for inspiration? I would also appreciate any suggestions for styling & health. Since this is a self-branching cultivar, I have plenty of branches to work with.
One question is where to put it for the winter. 'Duck Foot' is reportedly very hardy, possibly even to Zone 5. How long should I leave it outdoors? Will it appreciate a cold period? Should I put it in the sunporch at all (where I winter the dormant temperate trees), or just under fluorescent lights?

bonsaisr

Member





Nice cascade, and I love the pot.
If it were mine, to help keep the lower part of the cascade healthy I would keep the foliage trimmed to a minimal amount. I would keep the bulk of the foliage on the cascading branches. This is in addition to tilting the pot for growing that you are already doing. Your cascade branches look vigorous, as is, so my thought is just a suggestion.
One example from the golden State Bonsai Federation Collection. I believe the photo is from Jonas Dupuich, on his Bonsai Tonight site.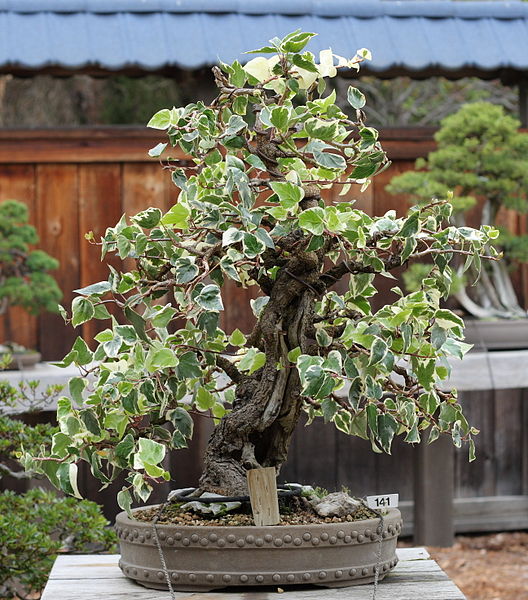 Leo Schordje

Member





Leo, your suggestions are what I would do for most cascades. However, Hedera helix being a vine, it takes much less effort to keep the tail vigorous. I prune the plant frequently.
Looking at the Internet, there are very few cascade ivies. People keep trying to train English ivy as a tree, which leaves me cold. I believe in styling a bonsai according to its natural growth habit, unless it is in nature just a heap of disorganized chlorophyll. Then you style it any way you like.

bonsaisr

Member






-Daniel-

Member






---
Permissions in this forum:
You
cannot
reply to topics in this forum