Just to share "season's greetings" with this pine decorated with my origami.  I'd given most of my mini origami away this year so I had to fold some more.  I finished 33 stars since last week and a few other objects. I did the tiny shell seen in the moss today.  My wife wants me to do a mate to it so she can make earrings with them. I acquired the pine with a high bid at our club auction at the December meeting. It's been outside until today and I have a nylon stocking to cover the pot before I bury it tomorrow.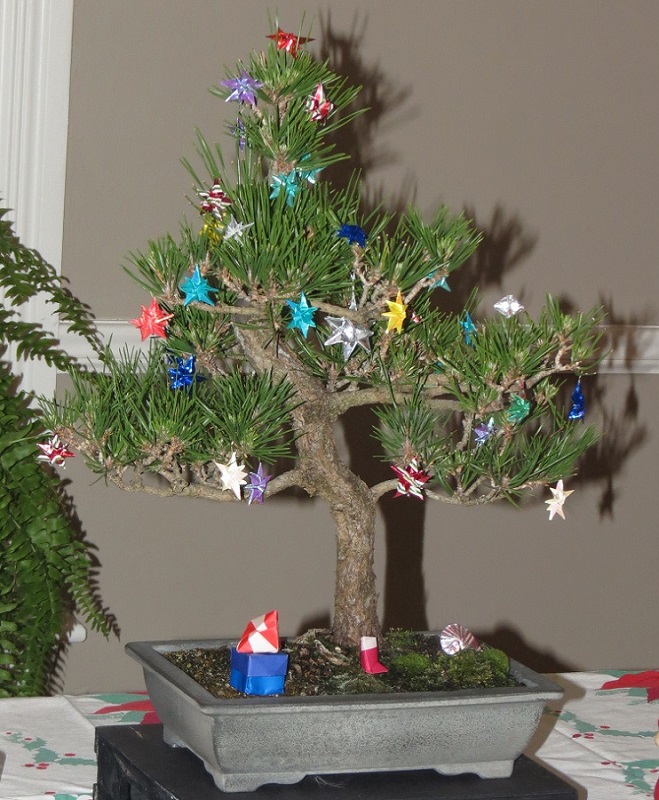 Great tree and origami too!

Hope you enjoy your new tree and have a good Xmas season!

William N. Valavanis

Member





_________________

AAC Original Milwaukee Wi. Chapter - North America
aka beer city snake
link to ARBOR ARTS COLLECTIVE BLOG

kevin stoeveken

Member





A lot of work paid off for this lovely image! That shell looks so intricate!

Todd Ellis

Member





The tree is nestled in my yard with it's new buddies. The photo was the first that I've been able to post here on IBC, My next step is to get them where they're supposed to go. I've folded a lot of paper over the years but doing miniatures is a challenge. There are a lot of skills one can gain doing origami that can help in working on Bonsai trees. The shell is from Tomoko Fuse's book "Spirals" and the 5 pointed star is folded from a pentagon instead of a square. There is a 4 point star called "Saar Star" that folds almost exactly as it but the sink fold in the center is 1/3 deep in the square section and is 1/2 deep in the center portion of the 5 point star.
I'm always making discoveries with paper as I use all kinds. I like to use gift wrap for ornaments but as in the case of the spiral I had to contend with the shiny surface and following the progression to make smaller creases to the tiny point was an effort. I've committed myself to do another in that size as I'd noted in my post. There are some good origami tutorials now on youtube. Sara Adams is very good and she does the shell. I still have a couple of winter months to get a lot more folding done for next year and I have a few of my own designs that I want to try in miniature size. I can recommend several good sources if anyone wants to try this.

Have a Happy New Year

Bob T.

---
Permissions in this forum:
You
cannot
reply to topics in this forum